Earlier this week, a series of wildfires began ripping through Napa, Sonoma and Mendocino Counties, causing mandatory evacuations, rampant property damage and taking the lives of at least 17 people. Extraordinarily high wind gusts up to 50 mph have swept through communities in Northern California, leaving complete destruction in its wake.
According to The Washington Post, flames have reached more than 170,000 acres since Sunday when the fires began. The cause is still unknown. The President declared a state of emergency, allowing emergency funds to go to clearing debris and supplies for shelters. Nearly 25,000 have fled their homes to shelters in seven counties.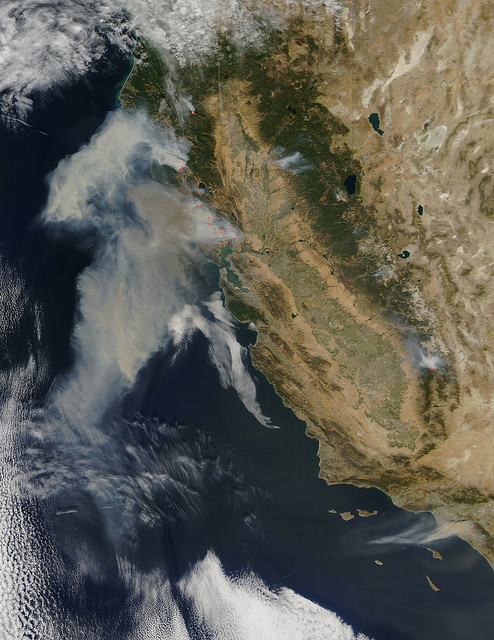 The area is well known for its wine production, an industry that is taking a very hard hit from the wildfires. It is also known as a productive cannabis growing area as part of the Emerald Triangle, synonymous with high quality, outdoor cannabis farms. A number of cannabis farms have been severely impacted by the flames.
We've received numerous reports of growers fleeing their homes and farms to get to safety. The LA Times reported that at least seven cannabis farms have been engulfed in flames. According to Amanda Reiman, vice president of community relations at Flow Kana, a distribution company working with cannabis farmers in the Emerald Triangle, they are in active evacuations and the fire is only about 5% contained. "It will be a while before we know the extent of the damage to our farmers and our community," says Reiman. "The Emerald Triangle is a large region and central Mendocino county contributes a lot. Our farmers are resilient, but right now we are all focused on safety and vigilance."
Kristin Nevedal, founder and chair of International Cannabis Farmers Association (ICFA), says she's received information about cannabis farms being destroyed. "The true extent of damage to farms, lives and communities won't unfortunately be known for sometime," says Nevedal. "There is no rain in the immediate forecast, conditions are dry and we have had high winds." Nevedal says the damage goes way beyond just a business setback. "Traditional sun grown cannabis farmers often live on the property they farm, so for many, a forest fire can mean not only loosing the crop but also their homes," says Nevedal. "While there are fire insurance policies available for houses and outbuildings, the operational infrastructure components and the crop itself can be challenging or impossible to insure." She says things like water storage tanks, water supply systems, irrigation systems, fences, water pumps and solar systems might not be insured at all. "Law enforcement in Mendocino is coordinating, to the best of their ability, with evacuees who have fire damage or have been evacuated, to insure public safety while assisting folks with repopulating their property and/or assessing the status of fire damage," says Nevedal.
Because California is expected to implement their full adult use legalization in early 2018, the wildfires are particularly devastating to businesses that have been gearing up for the new market. To make matters worse, the fires came during peak harvest time, while growers are cutting plants and preparing their entire crops for distribution and sale.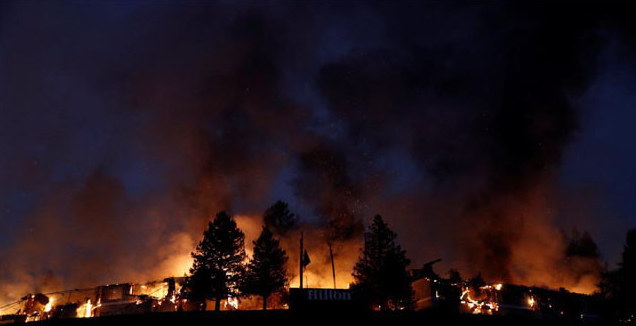 Devika Maskey, founder of TSO Sonoma, a cannabis farm in Sonoma County, could only speak briefly because her farm is under evacuation orders. "We are getting all personnel off the hill to safety," says Maskey. "The wind will be picking up to 40-50mph again later today." Those high winds have the potential to spread the flames quicker, destroying more property and putting more lives at risk.
Maskey says the wildfires are having an enormous impact on their crops this year. "We do not have enough time to harvest the outdoor crop," says Maskey. "So far there has been clear skies, but if the fire gets closer it can taint the buds with a smoky smell and flavor."
Maskey says she has a number of friends in the cannabis space that have been severely affected already. "We do have a few friends that have lost their farms already," says Maskey. "About a dozen other friends and family members who have lost their homes." In Sonoma County alone, 5,000 people have been evacuated to shelters as of Wednesday morning, reports The Washington Post. "This has been a devastating week for many people and businesses," says Maskey. "Our priority is getting everyone off the hill and to safety." If you want to help the cannabis growers impacted by the fires, Maskey recommends donating to this growers relief fund or donate to the North Bay Fire Relief fund here. 
This list of charities, including GoFundMe pages, food banks and shelters in need of supplies and donations, is also a helpful resource to figure out how you can help those impacted by the fires.