Jason Neely founded Stratos in 2014, when he and a small group of people left the pharmaceutical industry in search of a new endeavor in the cannabis marketplace. The concept was straightforward: Apply pharmaceutical methodologyof production to cannabis products. Back then, Stratos offered a range of THC-infused tablets in the Colorado market.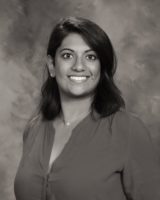 Brenda Verghese, vice president of research & development, was one of five people on staff when Stratos launched. Now they have about 30 team members. Consumers were looking for a cannabis product that would be consistent and reliable every time, taking the guesswork out of infused products dosage. That's where Brenda Verghese found her skillset useful.
Transitioning to the pharmaceutical industry right out of college, Verghese started her career as a chemist and worked her way up to the R&D business development sector. "I specializedin formulations and taking a product from concept to commercialization in the pharmaceutical space," says Verghese. "Jason Neely approached me with the idea of a cannabis company and focusing on making products as effective and consistent as possible, so really bringing pharmaceutical science into the cannabis space. In the matter of 4 years we grew substantially, mainly focusing on the efficacy of products."
Soon after the success of their THC products became apparent, Stratos launched a CBD line, quickly growing their portfolio to include things like tinctures and topicals as well. According to Verghese, they are hoping that what's been established on the THC side of their business as far as reproducibility and consistency is something that consumers will also experience on the CBD side. "Quality and consistency have definitely driven our growth," says Verghese. "That is what consumers appreciate most- the fact that every tablet, tincture or swipe of a topical product is going to be consistent and the same dose every time." This is what speaks to their background in the pharmaceutical sciences, FDA regulation has taught the Stratos team to create really robust and consistent formulations.
Quality in manufacturing starts at the source for Stratos: their suppliers. They take a hard look at their supply of raw materials and active ingredients, making sure it meets their standards. "The supplier needs to allow us to do an initial audit and periodic audits," says Verghese. "We require documentation to verify the purity and quality of oil. We also do internal testing upon receipt of the materials, verifying that the COAs [certificates of analysis] match their claims."
Verghese says maintaining that attention to detail as their company grows is crucial. They implement robust SOPs and in-process quality checks in addition to process testing. They test their products 5-6 times within one production batch. Much of that is thanks to Amy Davison, director of operations and compliance, and her 15 years of experience in quality and regulatory compliance in the pharmaceutical industry.
Back in August of 2018, Amy Davison wrote an article on safety and dosing accuracy for Cannabis Industry Journal. Take a look at this excerpt to get an idea of their quality controls:
Product testing alone cannot assess quality for an entire lot or batch of product; therefore, each step of the manufacturing process must be controlled through Good Manufacturing Practices (GMP). Process validation is an aspect of GMPs used by the pharmaceutical industry to create consistency in a product's quality, safety and efficacy. There are three main stages to process validation: process design, process qualification and continued process verification. Implementing these stages ensures that quality, including dosing accuracy, is maintained for each manufactured batch of product.
Fast forward to today and Stratos is looking at expanding their CBD products line significantly. While their THC-infused products might have a stronger brand presence in Colorado, the CBD line offers substantial growth potential, given their ability to ship nationwide as well as online ordering. "We are always evaluating different markets and looking for what suits Stratos and our consumer base,"says Verghese.