The Brand Marketing Byte showcases highlights from Pioneer Intelligence's Cannabis Brand Marketing Snapshots, featuring data-led case studies covering marketing and business development activities of U.S. licensed cannabis companies.
Here is a data-led, shallow dive on GrowHealthy:
GrowHealthy – Basking in Sunshine
Although Florida may only have a medical market and a relatively restrictive regulatory framework, a handful of companies are leading the pack in dominating the new market. Even though the medical cannabis market is fairly young and the state has not adopted adult use yet, the market's growth trajectory is very encouraging.
GrowHealthy (GH) is one of those companies capitalizing on market growth with a number of expansion plans. They already have 16 dispensaries open for business throughout Florida and have plans to add to that considerably.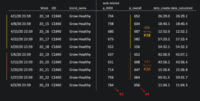 In the past few months, GH has taken a number of steps to enhance their web presence. Perhaps as a reaction to the COVID-19 crisis, GH, along with many other companies in the cannabis space, have started aggressively improving their websites.
With the pandemic wreaking havoc on the national economy, cannabis companies are not immune. However, in the early days of the health crisis, Florida deemed the medical cannabis market 'essential.' That proved to be a boon for cannabis companies in the state like GH, who pivoted to curbside pickup and delivery quickly.
In order to capitalize on curbside pickup and delivery, a strong web presence is very important. GH saw a solid rise in web traffic in the past few months, thanks in part to their continuing expansion of brick-and-mortar dispensaries. Adding to their boost in web traffic, GH saw increased strength in their backlinks profile, indicating further increases in future web traffic.
In May, GH shot up to the 20th hottest brand in the United States, up from the 38th slot in April, according to the Pioneer Index. We can attribute this jump to the brand's performance in web-related activities. The trend continued into the first week of June, as GH's web activities were the 2nd best nationwide, with the company becoming the 4th hottest brand in the Pioneer Index.