According to a press release released by Emerald Scientific, their spring Emerald Test had a 25% increase in participation over the fall 2017 test.
77 laboratories from 18 states and two foreign countries participated in the bi-annual Emerald Test, an inter-laboratory comparison and proficiency testing (PT) program. The program is a tool for labs to demonstrate their competence to existing clients, potential customers, regulatory agencies and accreditation bodies.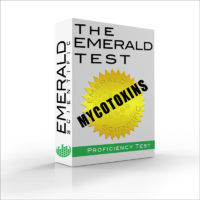 Overall, the company shipped 314 PT samples, with the majority in a hemp or hemp oil matrix. According to the press release, the new PTs including potency in hemp oil, STEC, Aspergillus Mold and Mycotoxins attracted a good deal of labs. "Many laboratories have been regular participants which speaks volumes about their commitment to quality assurance, regulatory compliance, and consumer safety," says Ken Groggel, director of Emerald Scientific's proficiency testing program. "The collegial attitude of open communication and shared experience increases our knowledge and ensures continued success for all involved. Our goal is to establish an industry benchmark for cannabis testing while providing valuable feedback to each laboratory's quality assurance system."
This marks the first time the Emerald Test used two potency PTs- the original in solution and a new hemp oil matrix. "Of the 62 labs that participated in the Potency PT, 48 took the PT in solution with 47 receiving an Emerald Badge," reads the press release. "Another 23 labs took the PT in hemp oil, with 22 awarded an Emerald Badge. Nine labs took both PTs."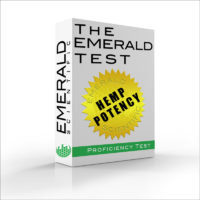 39 labs took PTs in APC, Total Coliform, E. coli, Enterobacteriaceae and Yeast/Mold and 38 of those received the badge. 45 reported results for Salmonella and 42 of them were able to correctly identify the contaminated sample. 12 labs took the Aspergillus Mold PT and 11 of them were awarded the badge. 24 participated in the pesticides PT and 19 of them met criteria for the badge, while four of them did not report results.
The press release noted that the pesticides and residual solvents in hemp oil PTs were some of the more challenging tests in the spring program. 43 labs reported results for the residual solvents in hemp oil PT and only 31 received badges. The terpenes in hemp oil PT was also a challenging test where 21 labs participated and only 11 received the badge, marking the lowest passing rate of all the PTs.
The advisory panel for The Emerald Test consists of chemists, accreditation providers, laboratory owners, and other industry experts to keep it representative of industry needs. "The Emerald Test is the most comprehensive testing program in the world for the cannabis industry, but as the market grows more testing will be needed," says Groggel. "We intend to continue introducing new proficiency tests while expanding the menu of matrix choices in response to laboratory requests and regulatory requirements."
According to the press release, their fall program is open for enrollment until today. Testing begins in mid-October.