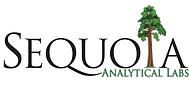 Last month, Sequoia Analytical Labs admitted that they falsified hundreds of pesticide tests for batches of cannabis products. The Sacramento-based laboratory faked data on 22 different pesticide tests for more than 700 batches over a period of four months.
According to a notice posted on Sequoia's website, the skewed results were originally found due to a "faulty instrument" but "it was further discovered" that the lab director knew about it and was fraudulently posting the results in order to hand out certificates of analysis. The lab director in question has since been fired and Sequoia voluntarily relinquished their state license.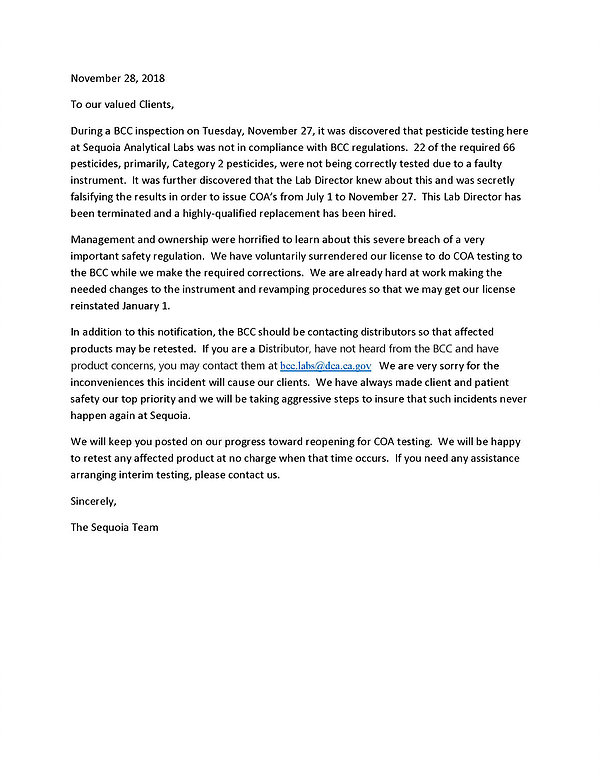 Joe Devlin, Sacramento's chief of cannabis enforcement, told KCRA3 News "We're going to be taking a look at suspending or possibly revoking their permit." He followed that up with saying that California needs more testing labs. "The shortage of labs has really created a bottleneck in the supply chain across the state," says Devlin. There are only 43 licensed laboratories in the state of California as of this time, and just three of those are in Sacramento.
The Bureau of Cannabis Control (BCC), the regulatory authority overseeing the cannabis testing market in California, has not commented on this story, but they did reach out to distributors who had sent batches to Sequoia for testing. "Any cannabis goods from these batches, returned by consumers to the retailer, must be destroyed," reads the BCC letter. "Any cannabis goods returned from a retailer's inventory or remaining in your inventory may be destroyed, or may be re-sampled and re-tested after obtaining approval from the Bureau. Any cannabis goods from these batches may not be released to a retailer without re-sampling and re-testing."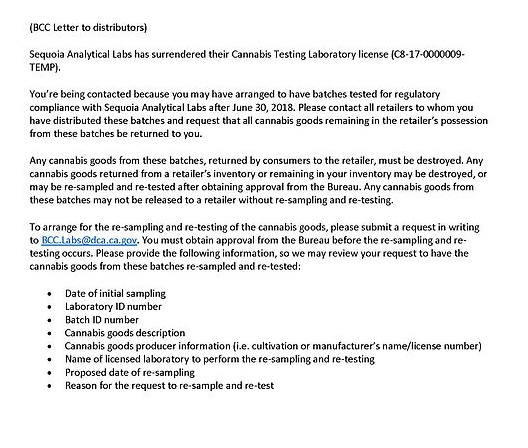 Sequoia Analytical Labs posted two notices on their homepage, one was a letter to their clients informing them of the fraud and the other is that BCC letter to distributors doing the same. "Management and ownership were horrified to learn about this severe breach of a very important safety regulation," reads the notice. "We have voluntarily surrendered our license to do COA testing to the BCC while we make the required corrections. We are already hard at work making the needed changes to the instrument and revamping procedures so that we may get our license reinstated January 1."
As of today, the lab's license has not been reinstated.