The Boston Beer Company, Inc., known for brands like Sam Adams, Truly, Twisted Tea and Dogfish Head, has announced their entry into the cannabis market. According to the press release, the craft beer company is launching TeaPot, a new brand of cannabis infused-iced teas. Your cousin from Boston is getting into the cannabis game.
The line of canned, THC-infused beverages will hit stores in Canada this July. The cannabis beverages will be produced at Peak Processing Solutions in Windsor, Ontario and distributed by Entourage Health based in Toronto, Ontario.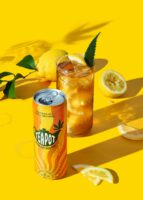 The first product of the brand is called Good Day Iced Tea and is strain-specific. It will be formulated with lemon black tea and infused with "Pedro's Sweet Sativa," a strain grown by Entourage Health in Ontario. More products will be announced in the next few months, the company says.
The press release emphasizes the size and growth of the cannabis beverage market, citing Headset retail data showing the Canadian beverage market is about double the size of its American counterpart and growing at an astounding 850% in the past two years. It's no secret that the cannabis beverage sector is a rapidly growing market for cannabis brands. Canopy Growth has been targeting this portion of the market for years and Molson Coors launched a joint venture last year. A lot of other companies have been slowly getting more and more involved as of late.
The U.S. cannabis beverage market is certainly lagging behind our neighbors to the North, mostly stymied by slow state-by-state legalization, patchwork regulations and restrictive federal policies. Of the beverage giants and companies that have entered the space, most are doing so cautiously.
Dave Burwick, CEO of the Boston Beer Company, hinted at their desire to enter the U.S. market, but says they'll focus on Canada in the meantime. "As we await further progress on U.S. regulations, we'll continue to develop an exciting product pipeline in the federally regulated market of Canada," says Burwick. "While beer is our middle name, we've also introduced successful hard teas, hard ciders, hard seltzers, and canned cocktails. We're encouraged by the continued growth of the cannabis beverage category and we believe it's one of the next innovation frontiers."