In the cannabis industry, it's crucial to be able to predict the future, to adapt and survive in a competitive industry that is arguably regulated more closely than any other.
From licensing to buildout, there are a growing number of barriers to entering the cannabis industry as a cultivator. Those who are lucky to successfully establish a grow operation are well aware that one of the crucial hurdles is managing space to maximize facility efficiency and capacity.
To stay profitable, the more plants you can grow and harvest at a time in a continuous cycle, the better. From an economic and environmental perspective, managing cost, space and time comes down to automation and efficiencies. One of the most efficient ways we optimize is through the practice of vertical farming.
Vertical farming maximizes canopy square footage while minimizing Cost of Goods Sold (COGs) to produce high-quality cannabis at scale year-round, and the industry is slowly finding that this method is an incredibly efficient and profitable way to maximize cannabis output.
Yellow Dream Farm is our family-owned cannabis cultivation, manufacturing and distribution company based in San Bernardino County, California, often known as the Silicon Valley of cannabis. Our craft, boutique-style cannabis is grown from floor to ceiling in the 30,000-square-foot facility. We're using cutting-edge technology that's only come to market in the last five years and using a variety of sustainable practices. With environmental and feeding efficiencies, we're able to harvest 300 pounds per week when compared to 150 pounds per week from a facility of the same size.
Vertical Farming for Space Optimization
Like any medical field, cannabis has seen large numbers of outside investments into the space, bringing ideologies and efficiencies from other time-tested industries. One such efficiency is vertical farming – a practice already seen in large-scale agriculture.
We choose vertical farming to maximize our canopy square footage and minimize COGs to produce high-quality cannabis at scale. The barrier to entry into the cannabis industry is expensive, and you must utilize every square inch to stay profitable. We believe vertical farming is the most efficient and most profitable way to maximize output and our numbers can back that up; for example, we can produce double the amount of flower than the average single-tier room with the same square footage, without doubling the cost.
Our rooms contain double stacks to double room capacity by using ceiling heights instead of square footage. Even though vertical farming has larger start-up costs, we can maximize square footage and output, allowing us to get a better and faster ROI. Vertical farming can be done in many different ways but the way we built our facility was always with a sustainable outlook. We also look to improve and remove human error; with full irrigation control and crop steering technologies, we can recalibrate sensors, irrigation media and environmental sensors when needed based on successes, challenges or environmental constraints. Additionally, we have a few other sustainable practices that make a difference.
Water Conservation, Lighting and Automation
Being a California-based grower, water conservation is a key part of our operations. With San Bernardino County being located in the heart of the high desert, conserving water is not only a requirement but a competitive advantage. Our practices provide cost savings which we then pass along to our customers. Each cannabis plant on average requires between a half gallon and one gallon of water per day, which we then recirculate through condensate water from our A/C and dehumidifiers. All runoff nutrient water is re-filtered and reused to get the most out of our nutrients before discarding waste. Our freezer panel walls hold temperatures at consistent rates, and we have a fully automated system to dial in specific needs at any given time.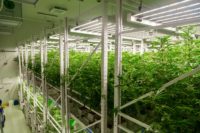 Lighting is another major environmental and capital cost. Our primary lighting system is LED technology, and we use LED spectrums to find which spectrum benefits the plant most. With LEDs, our energy consumption is 30 percent less.
Vertical Farming Is the Future of Cannabis and Agriculture
Vertical farming has been hailed as the future of many agricultural industries and cannabis is no different. We already see large vertical farms in most legal states, but surprisingly it's still not a common style of growing. As the price per pound steadily declines in California, being able to keep COGs down will allow vertical farmers to sustain and thrive in this volatile industry.
In order to adapt, grow and leave a positive mark on the industry, we must pave the way for new styles of growing and utilizing new technology and science that was not available to growers in the past. We can use these advanced new technologies to make real-time changes to each sector of our facility and optimize both people power, and energy efficiency. And most importantly, we'll be able to produce top-quality cannabis for adults to enjoy at affordable prices.
For more information, visit Yellow Dream Farm.