According to a press release, the University of Colorado at Boulder is offering a new course focused on cannabis science through the Continuing Education program at the university during the upcoming Summer and Fall semesters.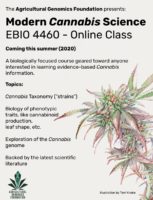 The class is called Modern Cannabis Science and will involve a lot of genetic research. The course is sponsored by the Agricultural Genomics Foundation, a non-profit dedicated to scientific research and education in cannabis. In the press release, they describe the course as meant for students who are well informed, but "seek a deeper appreciation of scientific advancements in cannabis genetics."
Here's a snapshot of what students can expect to learn from it:
In Modern Cannabis Science, we will explore the range of Cannabis research currently available covering topics such as evolutionary history and global distribution, sex chromosomes, genetic contribution to chemotype, and analyses to aid law enforcement and forensic investigations. We will examine how genetic data allow us to understand relationships between strains and common categories in the Cannabis genus, and why this is important for breeding, policy-making, and medical purposes.
The press release suggests students who enroll can expect to use this knowledge in the cannabis industry. "For example, a budtender will be able to more accurately recommend strains to users," reads the press release. "Similarly, medical personnel will more fully understand the relationship between strains, the compounds they produce, and how to properly advise Cannabis patients."
For more information, take a look at the course here.