The United States Department of Agriculture (USDA) issued a Final Rule (FR) on hemp testing that went into effect on 22nd March 2021. Consequently, all hemp testing laboratories must familiarize themselves with what is stipulated in the FR and do all that is required to comply.
The 2014 Farm Bill put to an end to years of hemp prohibition, at least to some extent. It also paved the way for the 2018 Farm Bill that brought hemp at par with other agricultural crops. States, through their departments of agriculture and institutions of higher learning, were allowed to cultivate industrial hemp for research purposes, under what was called the hemp pilot programs. Some states also allowed individuals to cultivate hemp to investigate the economic and agronomic viability of the crop. This increased the acreage of industrial hemp from zero to about 90,000 by 2018 when the Agricultural Act that legalized hemp was passed. Some of the states that participated in this program included Colorado, Kentucky, Montana, and Oregon.
As expected of a new project, some challenges cropped up, including:
Inconsistency in the quality of hemp produced for research
Varying hemp laws between states
Maintaining regular supplies of inputs such as seeds and pest control
Lack of appropriate knowledge and technology
The 2018 Farm Bill addressed some of these challenges through the Hemp Farming Act that proposed to remove hemp from Schedule 1 of the Controlled Substances Act. Hemp, in this case, refers to cannabis sativa that contains less than 0.3% THC by "dry weight." Proposals in the hemp act were incorporated into the 2018 U.S. Farm Bill and it became law in December 2018, thus making hemp legal at the federal level.
Unlike other agricultural commodities, hemp is a highly regulated crop because of its close association with cannabis which is still under Schedule 1 controlled substances. Once hemp exceeds the 0.3% THC threshold, it becomes classified as cannabis and is, therefore, governed under a different set of regulations.
The next step after the legalization of hemp was to roll out a nationwide hemp cultivation and distribution program. Consequently, the U.S. Food and Drug Administration (FDA) was instructed to develop a national framework to regulate the production of hemp in the U.S. An Interim Final Rule (IFR) was published in October 2019 to set the ball rolling. A final rule was published as an improvement of the IFR in January 2021. The Final Rule was created based on public comments received during the period as well as direct lessons learned in the 2020 growing season. The Final Rule took effect on 22nd March, 2021.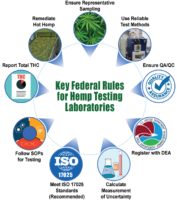 The USDA requires that all hemp be tested by a third-party laboratory to ensure that quality is maintained and that the THC threshold is not exceeded. The Final Rule made significant changes to the USDA's hemp testing rules that will affect how laboratories carry out their operations. While the guidelines were issued on January 15, 2021, they went into effect on March 22 of the same year. If you are a hemp-testing laboratory, here are the most important changes that you should brace for.
Nine Changes Hemp Testing Labs Must Comply With
Changes in sampling 
Previously, samples to be tested were restricted to the top third portion of the hemp plant. With the Final Rule, samples can be taken anywhere from 5-8 inches from the main stem (including the leaves and flowers). This provision offers greater flexibility and reduces the chances of "hot" hemp.
Laboratories shall use specific testing methods
According to the Final Rule, hemp-testing laboratories must use reliable methods to test for THC concentration. This includes methods such as post-decarboxylation; they take into consideration the conversion of THCA to THC after decarboxylation. Currently, methods that meet these requirements include gas chromatography and liquid chromatography.
The USDA also expects that laboratories demonstrate consistent testing reliability and validity. The test methods used must have high specificity for THC and other tested compounds.
Negligence limit raised to 1% THC
Negligence limit refers to the extra wiggle room that is advanced to hemp farmers in regards to THC testing. In the IFR, hemp that tested above 0.3% THC but lower than 0.5% was considered negligence and not a violation of federal laws. This limit for negligence has now been pushed from 0.5% to 1%. As much as the Final Rule has maintained the THC limit for hemp at 0.3%, growers now have a wider margin of error to work with.
For hemp-testing laboratories, all samples that test above 0.3% THC are still considered hot hemp and must be destroyed or remediated. However, samples testing below 1% THC are considered a negligent violation and not a criminal offense.
All hemp testing laboratories need to be DEA registered
The Final Rule made it mandatory for all hemp-testing laboratories to be registered with the Drug Enforcement Agency (DEA). Getting this registration is time intensive and the number of registered laboratories is few. With this in mind, the USDA had extended the registration deadline to the last day of 2022. After the expiry of this period, laboratories that are not registered with the DEA will be barred from conducting hemp testing.
Laboratories to calculate Measure of Uncertainty (MU)
With the Final Rule, laboratories are expected to calculate and include the MU when reporting test results. The Guide to the Expression of Uncertainty in Measurement (GUM) defines MU as "a parameter, associated with the result of a measurement, which characterizes the dispersion of the values that could reasonably be attributed to the measurand."
While there is no upper or lower limit for the MU, it is controlled using performance standards such as AOAC Standard Method Performance Requirements. Organizations such as ISO and Eurachem also provide guidelines for calculating MU. Hemp testing laboratories can refer to those guidelines as well.
Adherence to the ISO 17025 standards
While this is not an enforceable rule, the USDA strongly recommends all hemp testing laboratories be ISO 17025 compliant.
Laboratory SOPs
Testing laboratories must have an internal SOP for testing and retesting hemp. This SOP should be available upon request by state sampling agents or other responsible agents. Laboratory managers should ensure that all staff members follow the SOPs.
Reporting of THC
Once a laboratory has completed the test, whether failed or passed, they should share the results with all stakeholders:
The licensed producer
The appropriate State Department of Agriculture or Tribe
The USDA using AMS Form 22.
The THC should be reported on a "dry weight" basis.
Remediating and retestingof hot hemp
Once a laboratory finds a sample that has tested above 0.3% THC, it has to flag it as "hot" hemp. Previously, all hot hemp had to be destroyed but with the FR, parts of the hemp (excluding the flowers) can be salvaged.

The licensed producers (LP) are required to shred the hemp into biomass and send a sample back to the laboratory for retesting. The laboratory shall use the same procedure to retest the biomass and report the results back to the LP and the USDA.
The hemp final rule took full effect on the last day of 2021. The only extended deadline is the one requiring that all hemp-testing laboratories be registered with the DEA that still has a few more months to go.
Fast Track Your Laboratory's Preparedness with a LIMS
Becoming compliant with USDA's hemp testing rules can be quite challenging for a laboratory simply because there's too much to keep up with. A laboratory must monitor samples, analyze and report test results, and at the same time maintain internal quality protocols.
Fortunately, digitization can help streamline processes and accelerate the preparedness of laboratories for the new federal rules. A cloud-based Laboratory Management Information System (LIMS) takes the hard work out of compliance by keeping track of compliance processes seamlessly and in real-time.
A LIMS enables laboratories to:
Track samples through their lifecycle
Automatically share results with stakeholders
Flag hot hemp samples
Generate certificates of analysis (COAs) in prescribed formats
Meet regulatory compliances
Manage SOPs, staff training, and QA/QC protocols
Hemp that tests above the 0.3% THC mark is considered cannabis and is therefore illegal under federal law. Consequently, hemp testing is a highly sensitive process that is strictly regulated. Hemp-testing laboratories must optimize their processes to ensure efficiency at all times and assure the validity of their test results. This can be made possible with a LIMS.