Employees with substance abuse issues could cause problems for their employers. Recent legalization of cannabis has prompted organization to re-evaluate their drug testing policies in anticipation of increased usage among employees and potential hires (Rotermann, 2020). Cannabis use has increased from 14.9% to 16.8% post-legalization in Canada. Policies that enable routine cannabis-testing of employees, though beneficial in some cases, might negatively affect the perceptions of individuals toward the organizations that hold these policies. Specifically, job applicants may perceive the administration of such policies as unfair. I investigated the influence of cannabis testing policy and its perceived fairness on job applicants' perception of organizational attractiveness and their intention to apply to a job vacancy.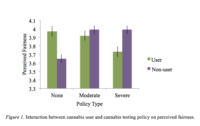 A recruitment notice was presented to potential participants, which included a link to the survey. After reading and signing the consent form, participants were randomly assigned one of the three drug testing conditions (severe, moderate, none). Severe drug testing policies include testing pre-employment, randomly during the employment period, and in response to suspicious behavior. Moderate drug testing policies include administering drug testing pre-employment and in cases of suspicion. None is the control (i.e., no testing policy in place). The corresponding vignette was presented, followed by the survey questionnaire (measures on organizational attractiveness, intention to apply, perceived fairness, and perceived stigma), demographic questions, and questions on cannabis usage.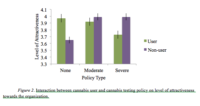 Cannabis user's perceived fairness of cannabis testing was higher within organizations with no compared to severe testing situations (Figure 1). However, for individuals who do not ingest cannabis, the perceived fairness was higher for organizations with severe compared to no cannabis testing policy. This suggests that cannabis users deem cannabis testing as unfair regardless of the type of policy. This supports previous research findings on recreational use of cannabis and job seekers' perception of drug testing (Paronto et al., 2002). Based on Gilliland's (1993) model of organizational justice and perceived fairness, there are 10 procedural rules categorized into three categories: formal characteristics of selection system, explanations offered during the selection process, and interpersonal treatments that help form the applicants' perceived fairness. In the current study, the no-cannabis testing job advertisement was seen as valid (one of Gilliland's procedural rules is selection information) and honest (one of Gilliland's procedural rules is honesty) by the cannabis users; however, moderate and severe testing was not seen in the same light, which might explain why we see decreased perceived fairness for cannabis testing. Those two procedural rules violate reasonableness leading to decreased perception of organizational fairness among cannabis users for cannabis testing.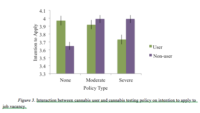 The current study also supported past research by confirming that the individuals who ingest cannabis demonstrated increased levels of organizational attractiveness and intention to apply to organizations that had none compared to severe cannabis testing policies. If the organization is testing for cannabis use pre-employment or randomly, in addition to post-accident/suspicious behavior (i.e., severe policy), cannabis users' level of organization attractiveness and intention to apply is much lower. This could be due to the fact that cannabis has been legalized in Canada and 11 states in the US  (Leafly, 2020). Individuals might feel that severe testing is an invasion of their privacy given that they are not doing anything illegal. Furthermore, job applicants perceived drug-testing as harassment toward individuals and claimed it represents a repressive work environment. Given that, this feeling could prevent an applicant from applying or considering the available job.
Implications: This study has important implications for employers and organizations in general. Even though it is important to have cannabis testing policies in place, it is equally important to consider the impact of cannabis testing on the potential talent pool. Such perceptions of drug testing may lead talented applicants to self-select out of the job pool. This would lead to a decreased number of applicants for a job available to the employer. Therefore, knowing the attitudes and intentions of individuals who ingest cannabis toward moderate and severe testing policies will provide employers with solid research-based evidence from which to design programs and policies surrounding cannabis testing.