Rep. Earl Blumenauer (D-OR) and Rep. Ed Perlmutter (D-CO) introduced legislation this week that would allow cannabis businesses to become eligible for federal assistance in the wake of the coronavirus pandemic. The bill, called the Emergency Cannabis Small Business Health and Safety Act, would allow cannabis businesses, as well as business that provide services to cannabis businesses, to qualify for federal government relief funding through the Small Business Administration (SBA).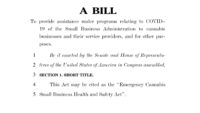 As of now, cannabis businesses and some companies that provide services to cannabis businesses are completely ineligible to receive any SBA funding, largely due to the Schedule I status of cannabis (excluding hemp). The SBA currently does not provide any financial assistance to small businesses "engaged in federally illegal activity," which includes both the Paycheck Protection Program as well as the SBA's Economic Injury Disaster Loan Program.
Last week, Rep. Blumenauer and more than 30 of his colleagues sent a letter to Speaker Nancy Pelosi and Minority Leader Kevin McCarthy, insisting that cannabis companies become eligible for federal funding. According to an NCIA press release, Senators Jacky Rosen (D-NV) and Ron Wyden (D-OR) sent a similar letter to Senate leadership earlier this week.