Cannabis infused products manufacturing is quickly becoming a massive new market. With companies producing everything from gummies to lotions, there is a lot of room for growth as consumer data is showing a larger shift away from smokable products to ingestible or infused products.
This is the third article in a series where we interview leaders in the national infused products market. In this third piece, we talk with Liz Conway, Regional President of Florida at Parallel. Liz started with Parallel in 2019 after transitioning from her healthcare IT consulting practice. She now heads up Florida operations for Parallel which runs the Surterra Wellness brand.

Next week, we'll sit down with Stephanie Gorecki, vice president of product development at Cresco Labs. Stay tuned for more!
Aaron Green: Liz, very nice to meet you. Can you tell me how did you get involved at Parallel?
Liz Conway: Well, I'll give a little bit of background. Previously, I was working in healthcare technology and in that field, really coming out of health care reform. I was also living in Northern California and so was conscious of a bunch of startups that needed help with highly regulated spaces and policy and how to navigate both the today and the tomorrow of "Hey, we're trying to build something super fast, but we're not interfacing with government well enough to know how to build what we're building and not be set back again."
And so cannabis actually came to me. I started working with some early stage cannabis IT companies and I was the principal where I founded a firm to do this very thing, which was to help highly regulated companies get through what is today, what is tomorrow, and what can we change. I was really fortunate to be living in Northern California, and I started to help them navigate the California rules.
Then in 2016, when California went adult use, that was just a major time to turn everything on its head and see what we could get. From there, it was history. I started to work with companies, both nationally and in Canada, and met some of the folks with Parallel and was a consultant with them for a while and then joined the team.
Aaron: So, are you in Florida now?
Liz: I relocated to Florida in January 2019.
Aaron: At Parallel, how do you think about differentiating in the market?
Liz: I think that we differentiate in terms of the quality of our product, of course, and I will speak specifically to Florida where our focus is still a medical market. Every day we are trying to manage the vertical from end-to-end so that we can get the products that our people want as quickly as possible over a vast territory. Well-being is such a critical ethos that everything we do comes down to, "alright, what does this mean for well-being and how are we delivering that both in the customer experience as well as in the product?"
Aaron: With regards to differentiation, can you speak to any products in particular that you feel are differentiated in the Florida market?
Liz: In the Florida market, I think that we were the first to launch thera-gels, and the thera-gels really are medicated jelly. You can use it sublingually, or take it as an oral to swallow. From that we developed thera-chews. That line, it's really great tasting, it's long lasting, and the effects are getting great reviews from the patients. So that's one area that I think we distinguish ourselves and we're a forerunner in the Florida market.
Aaron: So, if you take one of those products as an example, can you walk us through your process for creating a new product like that?
Liz: Well, so remembering that we're part of companies in other states, because Parallel operates in Nevada, Massachusetts and in Texas. So, we're not developing products on our own, but we certainly are doing Florida market analysis to say, what should come next, we are listening to our customers, we listen to our people, we've got 39 stores across the state. We have a number of employees who are always listening. We also have employees who are part of the medical program who are using the products to address different needs and they are looking at our competitors.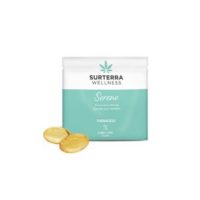 So, we're doing some competitive analysis. We're also knowing what it is that we're really good at, and we take it through a product development lifecycle that involves testing because we are fully vertical. In Florida, we have to always ask ourselves are we able to do this end-to-end and thus far, we've been fortunate enough to either build or buy that capability.
Aaron: You mentioned there's 39 stores in Florida? Are those dispensaries?
Liz: Yeah, they are our stores. There are other stores that other companies have, but we're the second largest footprint in the state and all over from the very edges of Pensacola down to the Florida Keys, and then over to Miami and up through Tallahassee. So, covering really all corners in the state.
Aaron: Now, with those stores do you also market your products in other people's stores?
Liz: No. The vertical really means that our stores only carry our own products. We're marketed in Florida as Surterra Wellness and that's the name of our stores. Anywhere you go that there's a Surterra Wellness, you have the same product sets and we're not allowed to sell other folks' products. It's a big difference between Florida and other states.
I'll tell you one of the nice things is, when I have a product, I know that we grew it. I know every single quality step along the way. I don't have to go and then look at other vendors and constantly monitor their quality. Everything that we do, we touched it from the very first moment hitting the ground. So it's nice.
Aaron: Can you walk me through one of your most recent product launches? And if you can, the full lifecycle from the initial marketing briefing up to commercialization?
Liz: Well, I can do some of that. Speaking specifically about those thera-chews – that oral dosing mechanism – we've got it in a couple of different flavors. We said to ourselves, "hey, there's a real need in this market for people to experience something that was like an edible, because Florida just launched edibles." But we didn't consider this as an edible because they weren't allowed at that point. We knew from other states that particularly patients like to dose, you know, with something that is long lasting and flavorful. And so we said, "how can we bring this to market as an oral-dosing product?" And so we conceived the machinery that was able to do it. We had to do quite a bit of tooling.
Prior to that, we did some market testing from our customers and our associates as well as our brand team to say "is this going to be right? Can we bring it to market?" We did the projections around anticipated demand and program growth as well as the cost. We had to figure out what it would it take to adjust the machinery. Will it work? We did some pretty significant testing on that machinery and a lot of flavor testing.
We're fortunate enough to have one of only four licensed kitchens that can do this kind of R&D in Florida. We're licensed by the Department of Health for cannabis R&D on an edibles-type kitchen. So we were really fortunate to be able to do that to bring it to market. And from there, it really took on a life of its own. The flavors were tested across all of us (non-dosed flavors, obviously) and we voted on the best products to hit the shelves.
Aaron: When you're making that decision, how much of the decision was weighted by market demand from your existing customers, and just observing other markets and seeing how products perform in other markets?
Liz: Data is not as prolific as I'd like it to be in cannabis. When you hit the edge of that state line, your consumer is very different, your stores are very different, your marketing capability is very different. So we really had to look across the US and say, "how are products like this performing? Is that how Florida is going to perform?" We did use that state-by-state evidence as well as our own evidence — the response to therapy gels — if we have thera-gels, what type are we selling in terms of dosage and flavors. There are slight differences there in effect-states. And so it was a little bit of both.
Aaron: Next question gets more into like the supply chain. How do you go about sourcing ingredients for your products?
Liz: So again, in a fully verticalized state, we have to source 100% of the active cannabinoid ingredients. Then we have an authorized vendor list that we've worked with for other things in terms of flavors and terpenes. Then we have to go back to the DoH to make sure that the other ingredients, whether that be sweeteners, or the kind of wrapping on those thera-gels are okay — the gelatin elements in particular.
"The Florida environment all day long is the biggest hurdle that I think we face."We use an authorized vendor list. One of the great things that we've done recently is to focus our vendor list on minority women and veteran-owned businesses, and so really looking deep in the supply chain to source whatever we can from a diversity of suppliers. I love that original ethos of cannabis to be of the people, by the people and for the people, as well homegrown.
Aaron: Can you give me an example of a challenge that you run into frequently?
Liz: Well, I'll say in Florida, if you're growing your own cannabis, it's way different than if you're growing it in Colorado or California. So, I'm going to start there. The great news is that after Florida allowed us to start selling smokable flower last fall, we've come such a long way. We've got new indoor grow facilities. It's making the environmental issues much, much lower.
"I think that the best thing that we can do is try to look five years ahead and ask what could this look like?"Bringing those on-line is going to bring a much more consistent consumer experience because while I know consumers have a lot of tolerance for variations in their cannabis, but as the industry matures, they're going to treat us much more like other CPG companies. They're not going to want that variation. Between that and then Florida's new testing regulations which also are making sure that the product that's delivered only meets what's on the label.
The Florida environment all day long is the biggest hurdle that I think we face. The humidity is much higher here than in other states.
We're also looking at live resin. What I am watching is the next generation. A lot of live products get us really close to the plant. We've done so much to pull out of the plant but where are we going to preserve that original plant in all of its most original formats without having to necessarily smoke the flower itself. We're working with the Florida Department of Health to help them understand live resin products from a health standpoint.
Aaron: What trends are you following in the industry?
Liz: As you can imagine, as the regional president of a division that goes really end-to-end on monitoring trends in edibles and infused products, medical and recreational, I'm watching the election pretty closely. It will impact banking. It could potentially impact interstate commerce and it could potentially impact research.
I'm also watching things like HR trends, what's happening in who we employ, our leadership, and how we deal with some of the emerging union issues around the country. I think that the best thing that we can do is try to look five years ahead and ask what could this look like? Where do we put our investment dollars now to meet the future, as well as where do we put our regulatory efforts for the best public policy to have the outcomes that we want consumers to trust us with? I know that's a really broad answer, but from where I sit, it really is what I'm looking at, across a universe of excitement, but it includes challenges also.
Aaron: The last question is, what would you like to learn more about in the cannabis industry?
Liz: Well, of course, if I had a crystal ball, that would be great. I think the data is always missing. The more data that we could get, there's so much out there that people are using cannabis for and we just don't understand the impacts on how is this wonderful well-being product helping so many people because a lot of people don't like to talk about it. So the more data about our consumers and what they like and what they don't like, even across state lines, as we could aggregate that in a uniform way. I think it would help a lot of the people who are fearful of cannabis and it would help a lot of us who are in the business, get the consumers exactly spot on what they want, which at the end of the day is why we're all here.
Aaron: Thank you Liz, that's the end of the interview.