"Data" is a hard concept to picture. It's even harder to visualize what your data is saying about your business. Many important insights are processed on different systems, never to see the light of day.
In the digital advertising industry, we call this "data silos." In the cannabis industry, we call this the cost of doing business.
Without traditional tech tools or a source of truth on market sentiment and trends, there's no common picture that can show us the day-to-day behavior of today's cannabis consumer. Companies are often guessing what consumers want based only on the data they have available.
To keep growing, dispensaries and brands have to modernize how they understand, activate and measure customer data. Luckily, it may be easier than you think to start making better use of your customer data right away, which means it's easy to simplify how you connect to both existing and new consumers, driving more engagement and revenue.
Cannabis companies that started digital-first have a head start on legacy businesses: phone numbers, emails, customer preferences are all first-party data that can help you find and advertise to new customers.
Here's how:
1. Build Your Customer Database with a Rewards Program.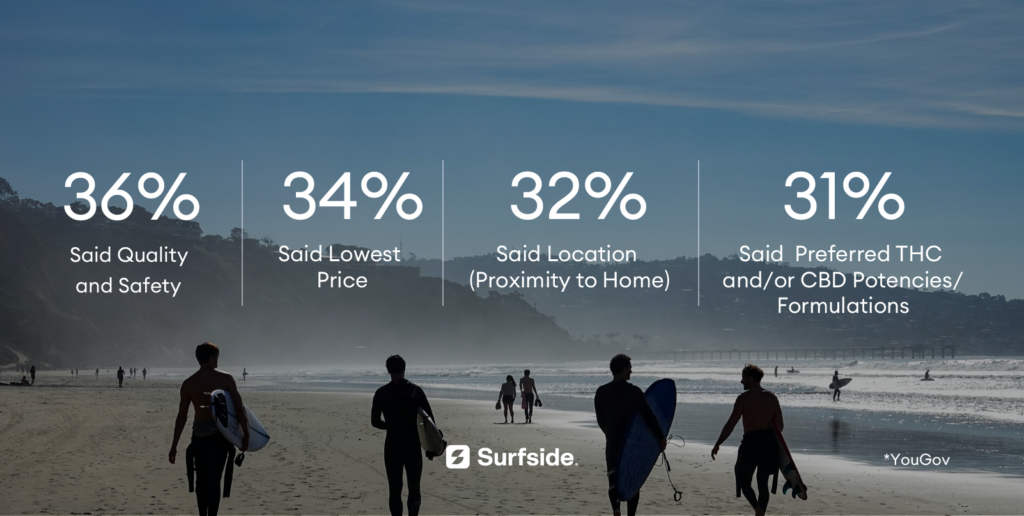 A 2022 YouGov survey found that when cannabis consumers are asked about how they make purchasing decisions:
36% said quality and safety
34% said lowest price
32% said location (proximity to home)
31% said preferred products
Most cannabis businesses know the power of rewards programs, but usually depend on steep discounts to get customers back in the door. Rewards programs can also offer promotions for new product releases, exclusive access, community events and other things that offer information about things you know your customers already care about.
The most valuable thing about a rewards program isn't just the sales – it's the data. If a customer makes a profile with an email and a phone number, you have the basic building blocks for a first-party data strategy. Just make sure you have a way to keep that data organized on the back-end.
Want the real secret? Segment your email and SMS list by what you know your customers want. Send different communications for different customer groups and behaviors – like edible users and pre-roll buyers or monthly buyers and weekly buyers. Figure out what resonates and repeat!
2. Budtenders that Care. 
A relationship with a budtender is sometimes transactional. Other times, it's confessional, fun, or, if a consumer is new to buying cannabis or trying different products, educational.
As one survey found: 22% of customers always decide what to buy based on budtender advice and 69% said they seriously consider their opinions.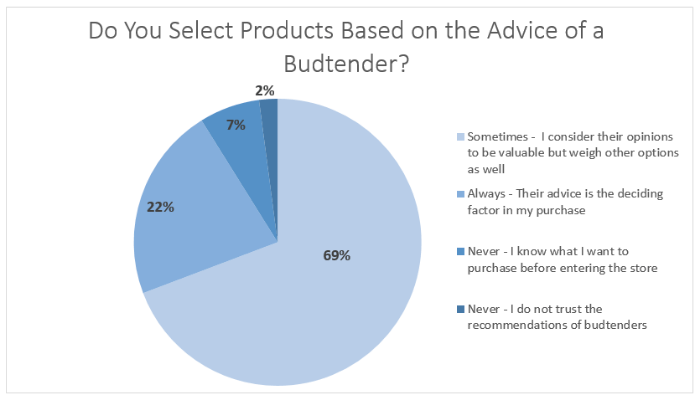 Good budtenders get to know the customers and can become advocates for staying in touch. Training them to sign up customers for a rewards program or exclusive offers can help build the relationship that keeps people coming back and allows you to stay in touch. This is how you can link your data efforts with your frontline employees.
3. Find a Secure Way to Manage Your Customer Data. 
To segment customer data and build customer profiles with additional information – like purchase history or demographics – you need to find a solution built for a growing customer database. Some options, like an email marketing platform, can get you halfway there. But a lot of companies still rely on Google Sheets, which can take hours to understand and end up exposing a lot of customer data out in the open.
The right customer data platform should help you connect and integrate all your different data sources, from website and ecommerce platform to point-of-sale. This allows you to understand macro and micro market trends by making your customer segments transparent and easy to manage as they move down the path to purchase. You can also identify which segments drive the most value over time and what attributes and behaviors they have in common.
By managing customer data from one platform, you can dramatically increase the transparency across all the valuable insights that affect your business. And then make use of those in your next big advertising campaign.
Combining Co-Marketing with Community
You can avoid the cannabis data squeeze by modernizing how you handle customer data. Dispensaries with advanced data management practices are often processing thousands of transactions a day and constantly enriching their understanding of customers and their target markets. Unlike dispensaries, brands don't have the same volume of new data. This has a lot of implications when you're trying to reach new customers, because when a brand launches a digital advertising campaign, a lot of budget can get wasted if the audiences are based on a limited dataset.
That's where co-marketing digital advertising campaigns can help. Cannabis companies collaborate to activate events and retail displays. To really build awareness and drive sales, cannabis brands should reach a dispensary's existing customers and advertise in coordination with the dispensary. With the right dataset, you can show ads just to a dispensary's best customers, and the ones most likely to buy your product.
The most exciting part about the future of the cannabis industry all comes down to data. The community grew together, and now businesses can innovate together – building a better customer experience by understanding every stage in the journey. In a relationship-first industry, cannabis digital advertising has to be as personalized as a budtender's recommendations.