According to a press release published earlier this month, the Bio-Rad iQ-Check Aspergilllus Real-Time PCR Detection Kit has received AOAC International approval. The test covers detection for four different Aspergillus species: A. flavus, A. fumigatus, A. niger, and A. terreus.
The detection kit covers those Aspergillus species for testing in cannabis flower and cannabis concentrates, produced with our without solvents. The PCR detection kit was validated through the AOAC Research Institute's Performance Tested Method Program. They conducted a study that resulted in "no significant difference" between the PCR detection kit and the reference method.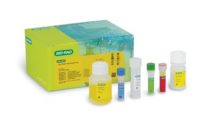 The kit was evaluated on "robustness, product consistency, stability, inclusivity and exclusivity, and matrix studies," the press release says. Bio-Rad also received approval and validation on the iQ-Check Free DNA Removal Solution, part of the workflow for testing cannabis flower.
The test kit uses gene amplification and real-time PCR detection. Following enrichment and DNA extraction, the test runs their PCR technology, then runs the CFX Manager IDE software to automatically generate and analyze results.
Bio'Rad has also recently received AOAC approval for other microbial testing methods in cannabis, including their iQ-Check Salmonella II, iQ-Check STEC VirX, and iQ-Check STEC SerO II PCR Detection Kits.