A utility study can help cannabis growers, cultivators and processors identify opportunities for sales and use tax savings by exposing potential refunds. Thirty-five states currently allow a sales tax exemption for utilities used in manufacturing or processing activities. Thirty-four states have published guidance that provides for a formal utility study process while one state, Mississippi, does not have formal guidance. For Mississippi, the process is to work with the state contacts to secure the exemption.
Generally, the exemption includes the purchase of electricity, natural gas and water and typically applies to the percentage of electricity, natural gas and water used or consumed within the manufacturing process as defined by state statutes and regulations. However, in some states purchased electricity, natural gas and water might be 100% exempt if certain usage percentages are met or exceeded. Facilities that grow, cultivate and process cannabis generally use significant kilowatt hours of electricity in the manufacturing process, and this exemption can result in sizeable tax savings. Without the proper analysis, unwary taxpayers might unknowingly leave significant utility savings on the table.
How to qualify
To qualify for the exemption, states require eligible taxpayers to perform a utility study to analyze the usage of utilities within the manufacturing process versus the taxable use of utilities (such as in general and administrative and office areas). Some states have a predominant use provision under which if 51% or more of an electric or gas meter is used in manufacturing then 100% of the meter's tax is exempt, while many other states will exempt only the exact percentage of qualified usage as calculated by the utility study.
Some states require the study to be conducted by a third-party provider. Texas requires that the utility study be performed by a certified professional engineer. Taxpayers that engage a third party to conduct a utility study would be wise to consider completing a cost segregation analysis on their facility at the same time, as the two analyses together could bring extra value and savings.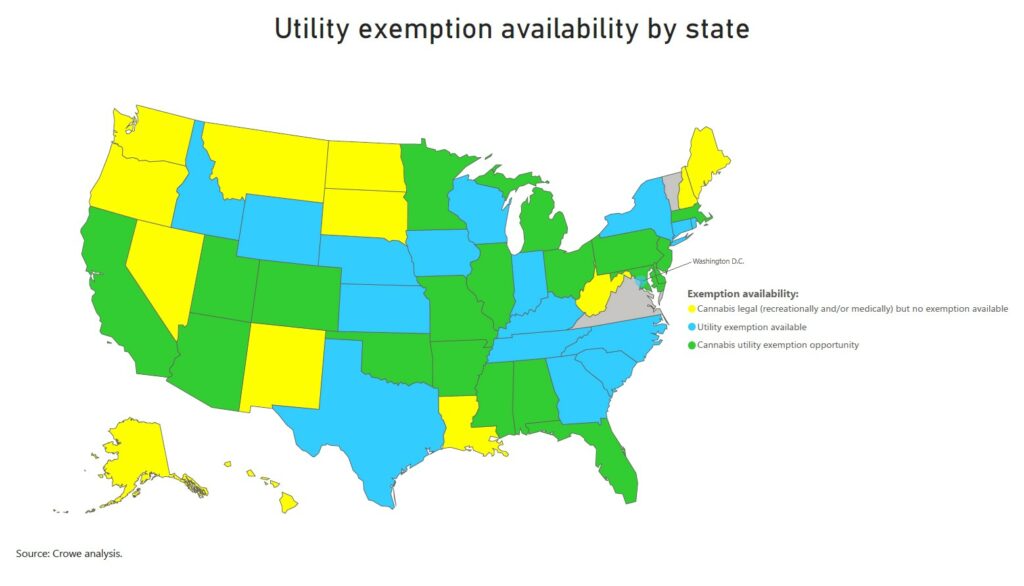 Study process
An energy analysis and comparison should help establish the qualified utility usage percentage used in claiming the sales tax exemption. Once the usage percentage has been calculated in the respective state, it makes sense to review invoices from utility vendors to quantify any sales and use tax overpayment amount.
Refunds for sales and use taxes previously paid can then be requested directly from the state taxing authorities or any vendors retroactively back to the state's open statute of limitations (typically three to four years). Taxpayers should also establish the exemption prospectively to obtain the benefit of not paying sales and use tax on the amount of manufacturing usage on future invoices. An updated exemption analysis might be needed every three to four years, depending upon the applicable state rules, or when the processing area undergoes a significant update, such as adding new machinery and equipment to the facility or removing machinery and equipment from the facility.
Other sales and use tax refund opportunities
In addition to the exemption on qualified utilities, many states extend the manufacturing exemption to qualified machinery, equipment, and consumables. Generally, to qualify the equipment must cause a physical or chemical change upon the product and be predominantly or directly and exclusively used in the manufacturing process. The exemption may apply to supplies and consumables that are used or consumed in the process as well. Agricultural exemptions are also available for cannabis growers, cultivators, and processors to potentially qualify for.
Qualified organizations only. Independence and regulatory restrictions may apply. Some firm services may not be available to all clients. Given the continued evolution and inconsistency of various state and federal cannabis-related laws, any company should seek competent legal advice relating to its involvement in the cannabis industry, including when considering a potential public offering as a cannabis-related company.