After nearly a decade of conversation and education on the Hill, the Senate Banking, Housing and Urban Affairs Committee finally held a markup on the Secure and Fair Regulation (SAFER) Banking Act. Previously known as the SAFE Banking Act, the "R" was included to account for Sen. Jack Reed's (D-RI) concerns with Section 10. The senator shared his concerns publicly on May 11 during the "Examining Cannabis Banking Challenges of Small Businesses and Workers" hearing. Sen. Reed said that Section 10's language "would make it more difficult for federal regulators to raise the alarm about relationships with any customer that presents significant risks to the bank" and shared that such a provision is "not limited to the marijuana industry or the cannabis industry," but that it "could allow pyramid schemes or all sorts of other interesting activity to go on without an effective response by the regulator." Since then, he and a group of bipartisan members, including Majority Leader Chuck Schumer (D-NY), Senate Banking Committee Chair Sherrod Brown (D-OH), and Sens. Steve Daines (R-MT), Cynthia Lummis (R-WY), Kevin Cramer (R-ND) and Kyrsten Sinema (I-AZ), have worked endlessly to develop language to resolve such concerns while maintaining GOP support, leading to the SAFER Banking Act.

The difference between the SAFE Banking Act and the SAFER Banking Act can mainly be found in Section 10. Changes focus on and determines:
How regulators terminate bank accounts;
How the Federal Deposit Insurance Corporation (FDIC) develops guidance for financial institutions serving state-licensed cannabis businesses;
How income derived from state-legal cannabis business activity is managed;
That personal and political beliefs cannot impact a financial regulator's decision making;
That federal banking regulators and state banking supervisors and their secretaries of Commerce and Treasury would create rules to increase access to deposit accounts and how such individuals would enhance customer relationships with rural, low- and moderate-income, unbanked and tribal communities; and
How the FDIC would conduct a biennial survey and report on barriers for small- and medium-sized businesses.
During the markup on Wednesday, members introduced and discussed a range of amendments related to criminal justice reform, the racial wealth gap, federal regulators and their processes, rescheduling and the opioid epidemic. In total, there were six amendments, one by Chairman Brown, as well as Sens. Mike Crapo (R-ID), Bill Hagerty (R-TN), Mike Rounds (R-SD) and two by Sen. Raphael Warnock (D-GA). Sen. Brown's amendment, which would make technical changes to the bill, was the only amendment to prevail on a 17-6 vote.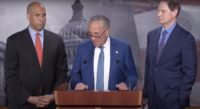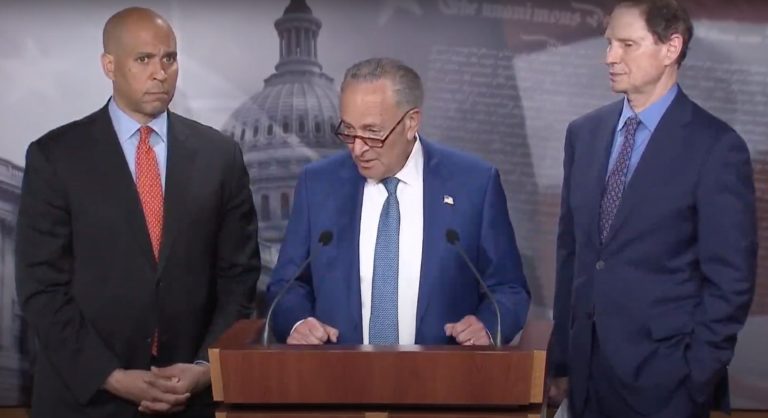 To begin the markup, Chair Brown said that propelling this legislation is a critical step in reversing the damage done by the war on drugs and clarified that the SAFER Banking Act would create a better financial system for small and medium-sized cannabis businesses that lack access to such traditional banking services. Sen. Daines, who served as the committee ranking member in place of Sen. Tim Scott (R-SC), who was in California preparing for the Republican presidential debate, shared that although he opposes legalization or decriminalization, he agreed to sponsor and support the SAFER Banking Act because it would fix the current banking system for cannabis businesses nationwide. After hearing remarks from Sens. Lummis, Catherine Cortez Masto (D-NV) and Sinema, the committee voted on the bill, and approved its passage to the Senate floor on a 14-9 vote. Senators voting in favor of the bill were Brown, Tester, Warren, Reed, Menendez (by proxy), Smith (by proxy), Warner, Fetterman, Cortez-Masto, Sinema, Van Hollen, Lummis, Cramer and Daines, and voting against the measure were Sens. Warnock, Scott (by proxy), Crapo, Tillis, Kennedy, Haggerty, Vance and Britt.
After the vote, Sen. Jeff Merkley (D-OR) thanked Sen. Rand Paul (R-KY) and former Republican Sen. Cory Gardner (CO) for their early efforts and for bringing the legislation and issue to the chamber's attention and concluded that he hopes to have a robust discussion with the full Senate chamber.
With the bill out of committee, it heads to the Senate floor for additional input, discussion and potentially a vote. Majority Leader Schumer has said he intends to bring the SAFER Banking Act to the floor "with all due speed" and noted that he is committed to attaching Rep. Dave Joyce's (R-OH) Harnessing Opportunities by Pursuing Expungement (HOPE) Act and Rep. Brian Mast's (R-FL) Gun Rights and Marijuana (GRAM) Act to the final legislation. Sen. Schumer also shared that such provisions would address the war on drugs, bolster social equity and criminal justice reform and protect Second Amendment rights for medical cannabis patients.
When the SAFER Banking Act will receive floor time remains unclear, but Leader Schumer has made numerous representations that he would like to see it done this year.