On Wednesday, April 17, Georgia Governor Brian Kemp signed HB 324 into law, closing a loophole that has been around for years, which prevented the cultivation of cannabis in-state. Before the signing of this bill, possession of medical cannabis was technically legal, but the cultivation of it was still illegal under state law, preventing legal patient access entirely.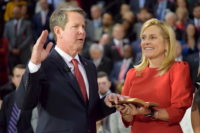 Back in 2015, Georgia's legislature legalized medical cannabis with less than 5% THC, as well as CBD oil for a number of qualifying conditions. Since then, the state has added more qualifying conditions such as chronic pain and PTSD, bringing the total to sixteen types of illnesses that would qualify patients for medical cannabis.
Governor Kemp signing HB 324 into law sets in motion the process to establish a regulatory framework for six growing licenses in the state. According to WSB-TV Atlanta, the new law goes into effect on July 1, but it could take up to two years to establish legitimate cultivation operations in the state. The law gives a state commission the authority to investigate and establish the regulations further.
That state commission will give priority to pharmacies for distributing cannabis, but reserves the right to establish licenses for independent retail locations as well. According to ABCNews, "The commission can also attempt to legally obtain the oil from other states. Two universities will be allowed to seek federal approval to research and produce the oil."