Controlling your grow environment doesn't start when you germinate your first seeds, it starts before you build your grow. There are steps you can take that will have a significant impact on mold growth and contamination, and these will vary based on the grow environment you choose.
Below is a roadmap to where each grow environment stands in terms of mold and contamination risk, and simple steps you can take to mitigate these factors.
Outdoor
The benefits of an outdoor grow are significant – using natural sunlight to grow plants is both inexpensive and environmentally sound. However, it allows the least amount of control and makes plants susceptible to weather conditions and outdoor contaminants including dust, wind, rain and insects. Depending on humidity and precipitation levels, mold can be a big issue as well.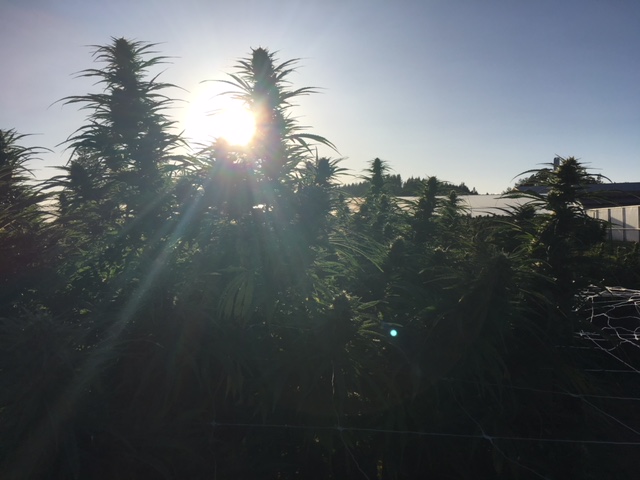 When selecting an outdoor area for a cannabis farm, there are two important factors to consider: location and neighboring farmland. Geographical environments and sub-climates vary and once you have purchased land, you are committed, so be sure to consider these factors prior to purchase.
While arid desert climates have abundant sunlight and long growing seasons, flat, dry lands are subject to dust-storms, flash floods and exceedingly high winds that can damage crops. Conversely, more protected areas often have high humidity and rainfall late in the season, which can create huge issues with bud rot and mold. Neighboring farms also have an impact on your grow, so be sure to find out what they cultivate, what they spray, their harvest schedule and how they run their operation. Large farming equipment kicks up a lot of contaminant-laden dust and can damage crops by displacing insects to your farm if they harvest before you. Pesticide drift is also a major issue as even tiny amounts from a neighbor's farm can cause your crops to fail testing, depending on what state you are in.
With outdoor grow environments always at the mercy of Mother Nature, any cultivator is wise to control contamination potential on the ground. Cover soil and protect your crop by planting cover crops and laying plastic mulch on as much ground as reasonable. In many cases it makes sense to irrigate uncultivated parts of your farm just to keep dust down.
Greenhouse
Greenhouses are the future of cannabis cultivation. They allow growers to capture the full spectrum and power of the sun while lessening environmental impact and operating expenses, while still being able to precisely control the environment to grow great cannabis. With recent advancements in greenhouse technology such as automated control systems, positive pressure, geothermal heating or cooling and LED supplemental lighting, greenhouses are the future. However, older or economy greenhouses that take in unfiltered air from outside still have a medium amount of mold and contamination risk.
Before building your greenhouse, study the area while taking into account climate, weather conditions and sun exposure. Excessively windy areas can blow in contaminants, and extremely hot climates make cooling the greenhouse interior a challenging and costly endeavor.
There are several simple operational tactics to reduce contaminants in a greenhouse. Add a thrip screen to keep insects out, thoroughly clean pad walls with an oxidizing agent after each cycle, and keep plants at least 10 feet from pad walls. Plan to flip the entire greenhouse at once so that you can clean the greenhouse top to bottom before your next crop. A continuous harvest in your greenhouse allows contaminants to jump from one plant to the next and reduces the ability to control your environment and eliminate problems at the end of a cycle. Lastly, open shade curtains slowly in the morning. This prevents temperature inversion and condensation, which can cause water drops to fall from the ceiling and transfer contaminants onto plants below.
Indoor
An indoor environment offers ultimate control to any grow operation. Cultivators can grow high-quality cannabis with the smallest potential for yeast and mold growth. Unfortunately, indoor environments are extremely expensive, inefficient and environmentally costly.
With indoor grow environments, keeping mold and contaminants at bay comes down to following a regimented plan that keeps all grow aspects clean and in order. To keep your grow environment clean, change HVAC filters multiple times a month. It's also important to install HEPA filters and UV lights in HVAC systems to further reduce contamination threats. Clearly mark air returns if they are near the ground and keep those areas free of clutter. They are the lungs of your grow. Also, stop using brooms in the grow space. They stir up a lot of contaminants that have settled to the floor. Instead, use HEPA filter backpack vacuums or install a central vacuum system. Set up a "dirty room" for anything messy on a separate HVAC system, and be sure to thoroughly clean pots after every harvest cycle.
Learn more about reducing mold and contaminants in an indoor or greenhouse grow in another article from our series: 10 Ways to Reduce Mold in Your Grow.