This is Part 5 in The 3-Legged Stool of Successful Grow Operations series. Click here to see Part 1, here to see Part 2,  here to see Part 3, and here to see part 4. Stay tuned for the final piece in the series, Part 6, coming in the new year.
Genetics
With climate and cultivation methods explored, today, we cover the third leg in the primary stool, genetics. Some would say good genetics is all that you need and anyone can be successful with good genetics. We all know that this is not experience talking. Things can go wrong, even with great genetics. Here are some inputs how to pick great genetics so you have them on your side.
Hybrids & Strains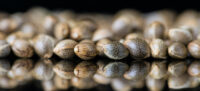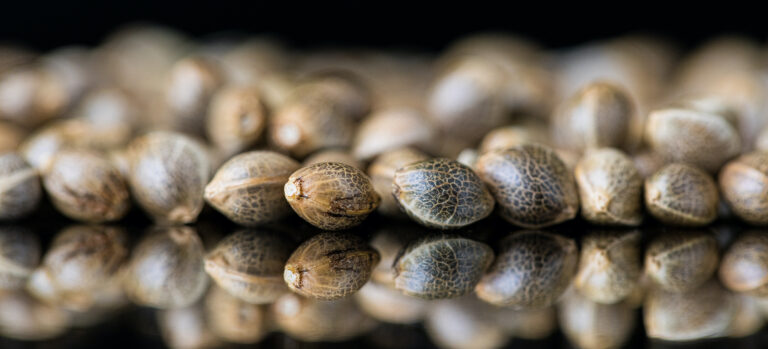 Everything successful cultivators grow is aligned to their consumer audience. This is hard to predict as the desires in your market will migrate over time as one variety will be highly popular and poof, it's not, so constant change is necessary. Finding the right flower at the right time is the trick.
The first thing to decide in your pursuit of the ideal phenotype (or pheno-hunt) are your target customers. Assuming you've made the choice to go "top-shelf" for aeroponic or hydroponic flower, your variety selection comes down to filial breeder seeds or stable strains from suppliers you know.
Filial hybrids are developed by professional breeders. Two distinct inbred strains are repetitively crossed until their traits are highly consistent. At this point, these carefully inbred lines are crossed to selectively mix the two well defined sets of traits. Filial hybrids are stable and you can usually rely on the robust nature of these seeds.
Strains, on the other hand, are the cross of two strains but they may not be inbred stable filial strains. Sometimes this results in something amazing, but just as randomly, the traits can morph into something disappointing.
Our advice here is to pay the premium and start with high quality reliable stock.
Uniformity
Consistency? Will you grow one variety or multiple varieties per room and per harvest; will they grow well together? Do they grow and test out in a consistent manner (plant size, color, bud size & yield, tested terpene profiles, aroma, disease resistance or tolerance). Are you growing for top shelf flower or bulk extraction? I will focus this discussion on top shelf flower. Premium seeds from professional filial hybrids are not a guarantee, but they are designed to be stable and consistent in their growth and results targeting high performance.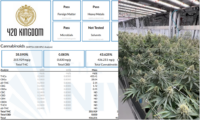 Here, experience counts and reliable seed vendors tend to be well established with filial lines that are worth the investment. Once you acquire your genetics, how to leverage that investment?
Killer Genetics
What traits does your consumer want? Initial searches usually target THC or CBD levels and they evolve to special terpene profiles or pleasing aromas. Flower or bud shape, color, size, density, and stickiness are also traits that can differentiate your genetics. As a producer, you also want to target yield including tall or stretching genetics, or short and fast flowering, germination rates (sometimes they don't) and percentage of likely hermaphroditing (seldom zero). The qualitative aspects (smoking characteristics) of your production flower that deliver a unique customer experience, both real and imagined, wrap up your brand experience.
So, as you can guess, one size does not fit all types of consumers. Very high yielders that are immediately targeted for extraction offer very different values than perhaps a smaller yielding very potent top shelf smokeable bud. It is a good strategy to plan for a handful of strains that you can bring to market so you have something that will hit the sweet-spot when you deliver your harvests.
Seeds
Seeds with documented guarantees from reliable sources eliminate the characteristic risk, and with the right testing reports, they guarantee no pathogens as well.
The challenge of seeds can be genetic variation, as discussed above, depending on the stability of the commercial breeder. This potential variance can lead to surprises and disappointment. Starting from seed also takes more time to germinate the seeds, exterminate the males, grow mother plants, take cuttings, and start the cycle. This can add 12-16 weeks to your go-green targets for your flower rooms. Be sure to integrate this cycle time planning into your production cycle.
Clones
Insourced clones are the fastest way to go green and move through veg to produce flowering plants and bud harvest. Clones are created by taking a branch cutting from a "mother" plant and typically "rooting" that cutting using an aeroponic cloning system. This clone process can take a few days or weeks depending on the grow environment and aeroponics process. A rooted clone maintains the genetic characteristics and phenotype of the mother plant.
The typical way smaller grow shops get started is through buying clones that are made from these rooted branch cuttings. The combination of mother plants, clones, and sometimes "veg" plants are gathered together in a "nursery". Nurseries need to be stable for long periods of time to produce the veg growth necessary for cuttings. This time delay makes it harder for the nursery provider to keep the area sterile, without disease, and without pests. If the mothers carry a disease, they are likely to transfer that biologic over to the cuttings. If the media that the clones are grown in picks up root gnats, they will travel with the clones into your facility. The short answer is source your clones from professionally run operations. This trust is worth every penny.
Insourcing clones allows you to avoid the cost and complexity of running a "nursery", but this also moves the pest management and quality of mother stock and clones outside of your control zone. In other words, you depend on the clone supplier for both healthy plants AND availability. No clone available from your supplier means no flower in your grow rooms. Your production revenue depends on the reliability of your clone supplier in many ways.
In some grow operations, the nursery is extended to cover the vegetative growth stage of cannabis plants or "veg." In other approaches, a flower room is occupied for an additional week or two for veg growth. We at AEssenseGrows are strong advocates of running all cloning and vegging activity in a vertical aeroponic nursery in parallel to your flower rooms
Mothers, clone, and veg stages all grow with a vegetative growth light schedule (18 hours on, 6 hours off). The typical process is to take a cutting from a mother plant, place that in an aeroponic "cloner" for 10-12 days until a healthy set of roots is formed for the cutting. That clone is then typically pinched off at the top of the plant at which point the veg stage can begin. Light intensity is gradually increased and the plants are typically vegged for an additional 2 weeks, at this point, you have a bushy veg plant that is ready for a 12/12 light cycle and flowering.
In aeroponics, all of this is done in nursery space. If you choose to use soil or grow media approaches, a series of increasingly larger buckets or rockwool cubes are needed to manage the veg stage and the transition to flower. This can be done in a dedicated veg room or for the first week or two in the flower rooms
Tissue Culture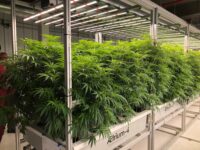 Another method for creating your young plants is tissue culture. This is the method of harvesting genetic material from an existing plant with desired characteristics. These genetic samples can be contamination free and even supplied by a genetic bank. A portion of these tissues are cultured in a gel grow tray and the plant will develop roots with a stalk that reaches upward for light energy.
These plant starts are hardened in a similar method to cloning and typically, these starts are grown into mothers that supply your cuttings for the clone cycle. This is an advanced method, so plan for research and development with expected delays to the front end of your sourcing cycle if you choose this path.
Strain Examples
Selecting the best genetics for your market is an art form. Many choices abound. High yielding dense classic strains are Blue Dream, Skittles, Sour Diesel and Girl Scout Cookies. Each of these deliver a typical 18%-24% THC content from fast growing, medium height high plants that yield dense buds. Very potent THC genetics that are popular currently are various "OG" genetics, Bruce Banner, various "Cake" genetics and Kush options. Variants of these run from 25% to 35% THC content.
This Chapter's Hero Award
Every customer produces great results for their markets but we are very impressed by the genetic selections by 420Kingdom in the central valley of California. Jeffrey Thorn is the owner there and continues to impress with a range of high potency genetics that demand premium prices and sell out regularly in their highly competitive market.
With good genetics for your consumers, you are positioned to be successful. Advanced cultivation methods like aeroponics and hydroponics can give you a lift and the right environment and nutrition helps you tie this all together. Our next and last chapter will cover consistency and repeatability through Standard Operating Procedures (SOPs).