According to a press release published on April 3, Keystone State Testing (doing business as Dakota State Testing) became the first laboratory authorized to test cannabis in North Dakota. The lab also obtained their ISO 17025 accreditation for cannabis testing from the American Association of Laboratory Accreditation (A2LA), which is another first achievement for cannabis testing in the state of North Dakota.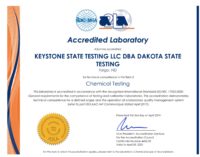 Dr. Kelly Greenland, chief science officer at Keystone State Testing, says the North Dakota Department of Health set a high standard for the cannabis lab testing industry in the state. "Keystone State Testing is once again proud to of this monumental achievement and critical milestone in the company's history to have met the highest levels of standards set forth by both A2LA and the North Dakota Department of Health," says Greenland. "Keystone chose A2LA as its Accreditation Body due to their reputation in the industry, their diverse clientele, and the quality of their assessors.  A2LA's assessors have spent decades in their respective fields, which helps to ensure that Keystone is providing the best services possible to their clients, regulators and patients."
Keystone State Testing's ISO 17025 accreditation scope covers 11 testing methods at their facility in Fargo, North Dakota. Those methods include: Cannabinoid potency analysis, cannabinoid profile, moisture content, residual solvents, water activity, along with microbiological tests like total yeast and mold count, E. coli, Salmonella, total aerobic microbial count, among others.