Your plastic cannabis packaging has a big responsibility. It contains and protects your product, communicates pertinent product information and delivers the first brand impression to your consumers. In order for plastic packaging to fulfill these important roles, you must take care to store and handle it properly.
Following storage condition requirements for plastic bottles helps protect your cannabis product, your company and your customers. It doesn't matter if your cannabis packaging is HDPE (high density polyethylene), PP (polyethylene) or PET (polyethylene terephthalate), proper storage is imperative to maintain the integrity of the product until you're ready to fill it.
Bottle and closure storage conditions such as time, temperature and humidity can have an effect on plastic containers. The exposure and age of a sample can also affect shrinkage, impact properties and the stress crack resistance of the container. Not to mention the potential threat of contamination to your cannabis product and the poor impression of your brand in the eyes of your consumers.
You may be wondering how to obtain storage information. The best place to start is with your cannabis packaging partner. Your supplier should be ready and willing to share all vital storage information with you. The best suppliers realize that there is more to a business relationship than just the financial transaction of buying packaging. The first step in proper storage is to identify the type of material that was used to manufacture your bottles and closures.
Know Your Bottle Material Type – HDPE
If you are utilizing HDPE for your cannabis packaging, the storage time should be minimal and a strict first-in-first-out inventory should be maintained. Many end users will re-approve bottles after two or three years to ensure they are damage-free.
In addition, elevated storage temperatures allow plastic containers to further shrink and harsh conditions can actually cause severe distortion. The degree of distortion and shrinkage depends on the design and how the bottles have been stored. Higher storage temperatures also accelerate the aging process of the container. A moderate storage temperature should be provided to safeguard consistent bottle dimensions and properties. It is routinely reported that HDPE bottles can withstand temperatures of 110°F/33°C for brief periods.
Although humidity itself will not degrade the plastic container, a humid environment can have a direct impact on the secondary packaging, such as the cardboard cartons used for shipping. If you use stretch wrap and/or control warehouse conditions, secondary packaging problems can be alleviated.
HDPE bottles and closures should be kept as clean as possible – it is best to leave them in the original sealed cartons. The storage area should be kept clean, dry and dust, odor, insect, and rodent-free. Following this rule will help to build consumer trust in your brand. No one wants to purchase cannabis products in dirty, dusty contaminated packages.
Using PET Bottles?
PET bottles should also be used in a first-in-first-out system to limit the time in storage. Long-term storage should be accomplished using a sealed polyethylene plastic bag or lined drums, totes, bins, Gaylord containers, supersacks or seabulks. The plastic liner will help prevent dust and dirt from entering the bottles.
Elevated storage temperatures (above 100°F/38°C) allow empty PET bottles to shrink, mainly due to relaxation of the oriented and partially oriented regions of the bottle. Extreme temperature conditions (above 131°F/55°C) can cause severe distortion of the amorphous areas of the bottle, including the finish and neck. Moderate storage temperature should be maintained to ensure consistent bottle dimensions and properties.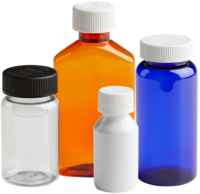 To help protect PET bottles from contamination, the storage area should be kept clean, dry and dust, odor, insect, and rodent-free. Additionally, the storage area should be approved for food storage. PET bottles should not be stored in direct sunlight, and aromatic materials such as spices, solvents, ink, cleaning supplies and disinfectants should not be stored in the same area.
When empty PET bottles are shipped to or through areas where the outdoor temperature may exceed 90°/32°C, it is recommended that a temperature-controlled container or trailer capable of maintaining a temperature of 80°F/27°C or lower be used.
Polypropylene (PP) Closures
Closures are also an important part of your cannabis packaging. The storage time of unlined closures should be minimized. As with bottles, a strict first-in-first-out inventory should be maintained.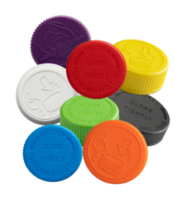 Elevated storage temperatures allow unlined PP closures to further shrink. Harsh conditions can actually cause severe distortion. The degree of distortion and shrinkage depends on the closure design and storage conditions. High storage temperatures accelerate the aging process of the closure; moderate storage temperatures should be provided to ensure consistent closure dimensions and properties. Like HDPE bottles, this type of closure can withstand temperatures of 110°F/43°C for brief periods.
When stored in humid conditions, pay attention to the integrity of the cardboard cartons the closures are stored in. The use of stretch wrap and/or controlling warehouse conditions will help alleviate damage to the cardboard. Just like their bottle counterparts, PP unlined closures should be kept as clean as possible and it is best to store in original sealed cartons.
Proper Storage Supports Your Bottom Line
Storing plastic bottles improperly can reduce the integrity of the plastic, therefore making it unsuitable to contain your cannabis product. Poor storage can also be detrimental to filling lines and cause production problems, which can result in reduced efficiencies and added costs.
Product recalls can also be a by-product of poor storage due to increased chances of product contamination. If plastic bottles and closures are not properly stored before using, distortion and shrinkage can damage the bottle labels used to identify your product. Shrinkage of your plastic closures result in a poor sealing surface which is detrimental to the freshness of your cannabis product. All of these side-effects can be very damaging to your brand image, from which it's hard to recover. Consumers will lose confidence in your brand – leading to reduced profits for your bottom line.
Whether your cannabis business is in the early start-up stages or established with loyal customers, properly storing your plastic packaging will help protect your brand, decrease the risk of product recalls and increase your profitability.