Back in August, Lake Superior State University (LSSU) announced the formation of a strategic partnership with Agilent Technologies to "facilitate education and research in cannabis chemistry and analysis." The university formed the LSSU Cannabis Center of Excellence (CoE), which is sponsored by Agilent. The facility, powered by top-of-the-line Agilent instrumentation, is designed for research and education in cannabis science, according to a press release.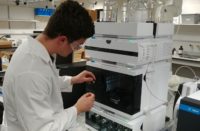 The LSSU Cannabis CoE will help train undergraduate students in the field of cannabis science and analytical chemistry. "The focus of the new LSSU Cannabis CoE will be training undergraduate students as job-ready chemists, experienced in multi-million-dollar instrumentation and modern techniques," reads the press release. "Students will be using Agilent's preeminent scientific instruments in their coursework and in faculty-mentored undergraduate research."
The facility has over $2 million dollars of Agilent instruments including their UHPLC-MS/MS, UHPLC-TOF, GC-MS/MS, LC-DAD, GC/MS, GC-FID/ECD, ICP-MS and MP-AES. Those instruments are housed in a 2600 square-foot facility in the Crawford Hall of Science. In February earlier this year, LSSU launched the very first program for undergraduate students focused completely on cannabis chemistry. With the new facility and all the technology that comes with it, they hope to develop a leading training center for chemists in the cannabis space.
Dr. Steve Johnson, Dean of the College of Science and the Environment at LSSU, says making this kind of instrumentation available to undergraduate studies is a game changer. "The LSSU Cannabis Center of Excellence, Sponsored by Agilent was created to provide a platform for our students to be at the forefront of the cannabis analytics industry," says Dr. Johnson. "The instrumentation available is rarely paralleled at other undergraduate institutions. The focus of the cannabis program is to provide our graduates with the analytical skills necessary to move successfully into the cannabis industry."

Storm Shriver is the Laboratory Director at Unitech Laboratories, a cannabis testing lab in Michigan, and sounds eager to work with students in the program. "I was very excited to learn about your degree offerings as there is a definite shortage of chemists who have experience with data analysis and operation of the analytical equipment required for the analysis of cannabis," says Shriver. "I am running into this now as I begin hiring and scouting for qualified individuals. I am definitely interested in a summer internship program with my laboratory."
LSSU hopes the new facility and program will help lead the way for more innovation in cannabis science and research. For more information, visit LSSU.edu.