Consumers are largely unaware that most commercial cannabis grown today undergoes some form of decontamination to treat the industry's growing problem of mold, yeast and other microbial pathogens. As more cannabis brands fail regulatory testing for contaminants, businesses are increasingly turning to radiation, ozone gas, hydrogen peroxide or other damaging remediation methods to ensure compliance and avoid product recalls. It has made cannabis cultivation and extraction more challenging and more expensive than ever, not to mention inflaming the industry's ongoing supply problem.
The problem is only going to get worse as states like Nevada and California are beginning to implement more regulations including even tougher microbial contamination limits. The technological and economic burdens are becoming too much for some cultivators, driving some of them out of business. It's also putting an even greater strain on them to meet product demand.
It's critical that the industry establishes new product standards to reassure consumers that the cannabis products they buy are safe. But it is even more critical that the industry look beyond traditional agricultural remediation methods to solve the microbial problems.
Compounding Risks
Mold and other microbial pathogens are found everywhere in the environment, including the air, food and water that people consume. While there is no consensus yet on the health consequences of consuming these contaminants through cannabis, risks are certainly emerging. According to a 2015 study by the Cannabis Safety Institutei, molds are generally harmless in the environment, but some may present a health threat when inhaled, particularly to immunocompromised individuals. Mycotoxins resulting from molds such as Aspergillus can cause illnesses such as allergic bronchopulmonary aspergillosis. Even when killed with treatment, the dead pathogens could trigger allergies or asthma.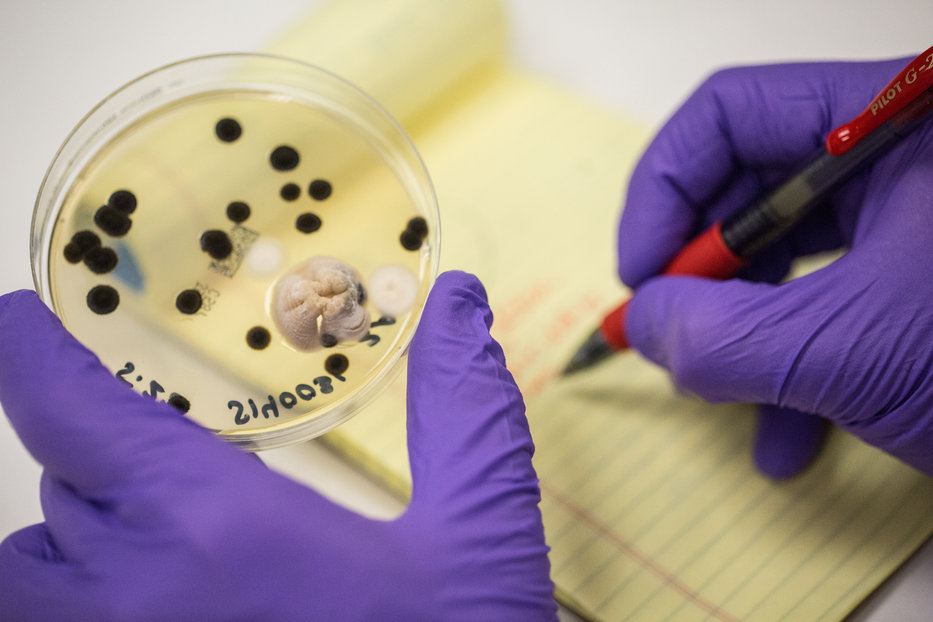 There is an abundance of pathogens that can affect cannabis cultivation, but the most common types are Botrytis (bud rot, sometimes called gray mold) and Powdery Mildew. They are also among the most devastating blights to cannabis crops. Numerous chemical controls are available to help prevent or stem an outbreak, ranging from fungicides and horticultural oils to bicarbonates and biological controls. While these controls may save an otherwise doomed crop, they introduce their own potential health risks through the overexposure and consumption of chemical residues.
The issue is further compounded by the fact that the states in which cannabis is legal can't agree on which microbial pathogens to test for, nor how to test. Colorado, for instance, requires only three pathogen tests (for salmonella, E. coli, and mycotoxins from mold), while Massachusetts has exceedingly strict testing regulations for clean products. Massachusetts-based testing lab, ProVerde Laboratories, reports that approximately 30% of the cannabis flowers it tests have some kind of mold or yeast contamination.
If a cannabis product fails required microbial testing and can't be remedied in a compliant way, the grower will inevitably experience a severe – and potentially crippling – financial hit to a lost crop. Willow Industries, a microbial remediation company, says that cannabis microbial contamination is projected to be a $3 billion problem by 2020ii.
Remediation Falls Short
With the financial stakes so high, the cannabis industry has taken cues from the food industry and adopted a variety of ways to remediate cannabis harvests contaminated with pathogens. Ketch DeGabrielle of Qloris Consulting spent two years studying cannabis microbial remediation methods and summarized their pros and consiii.
He found that some common sterilization approaches like autoclaves, steam and dry heat are impractical for cannabis due the decarboxylation and harsh damage they inflict on the product. Some growers spray or immerse cannabis flowers in hydrogen peroxide, but the resulting moisture can actually cause more spores to germinate, while the chemical reduces the terpene content in the flowers.
The more favored, technologically advanced remediation approaches include ozone or similar gas treatment, which is relatively inexpensive and treats the entire plant. However, it's difficult to gas products on a large scale, and gas results in terpene loss. Microwaves can kill pathogens effectively through cellular rupture, but can burn the product. Ionizing radiation kills microbial life by destroying their DNA, but the process can create carcinogenic chemical compounds and harmful free radicals. Radio frequency (which DeGabrielle considers the best method) effectively kills yeast and mold by oscillating the water in them, but it can result in moisture and terpene loss.
The bottom line: no remediation method is perfect. Prevention of microbial contamination is a better approach. But all three conventional approaches to cannabis cultivation – outdoors, greenhouses and indoor grow operations – make it extremely difficult to control contamination. Mold spores can easily gain a foothold both indoors and out through air, water, food and human contact, quickly spreading into an epidemic.
The industry needs to establish new quality standards for product purity and employ new growing practices to meet them. Advanced technologies can help create near perfect growing ecosystems and microclimates for growing cannabis free of mold contamination. Internet of Things sensors combined with AI-driven robotics and automation can dramatically reduce human intervention in the growing process, along with human-induced contamination. Natural sunlight supplemented with new lighting technologies that provide near full-light and UV spectrum can stimulate robust growth more resistant to disease. Computational fluid dynamic models can help growers achieve optimal temperature, humidity, velocity, filtration and sanitation of air flow. And tissue culture micropropagation of plant stock can eliminate virus and pathogen threats, to name just a few of the latest innovations.
Growing legal cannabis today is a risky business that can cost growers millions of dollars if pathogens contaminate a crop. Remediation methods to remove microbial contamination may work to varying degrees, but they introduce another set of problems that can impact consumer health and comprise product quality.
---
References
i. Holmes M, Vyas JM, Steinbach W, McPartland J. 2015. Microbiological Safety Testing of Cannabis. Cannabis Safety Institute. http://cannabissafetyinstitute.org/wp-content/uploads/2015/06/Microbiological-Safety-Testing-of-Cannabis.pdf
ii. Jill Ellsworth, June 2019, Eliminating Microbials in Marijuana, Willow Industries, https://willowindustries.com/eliminating-microbials-in-marijuana/#
iii. Ketch DeGabrielle, April 2018, Largest U.S. Cannabis Farm Shares Two Years of Mold Remediation Research, Analytical Cannabis, https://www.analyticalcannabis.com/articles/largest-us-cannabis-farm-shares-two-years-of-mold-remediation-research-299842