Cannabis sativa contains over 500 different bioactive compounds that can be separated through an extraction process. This is carried out in an extraction lab and the end result is the production of cannabis extracts with a high concentration of specific cannabinoids (such as THC or CBD) with up to 99% purity levels. Cannabis can get easily contaminated with pesticides, heavy metals, residual solvents or other contaminants and thereby pose a risk to the health and safety of consumers. In-house testing allows manufacturers to ensure that the cannabis products they put out to the market are not only potent but also are free of all sorts of contaminants.
The cannabis extraction market worldwide was valued at $9.7 billion in 2020. According to data from Grandview Research, the market size is expected to hit $23.7 billion by 2027, growing at a CAGR of 16.6%. While setting up a cannabis extraction facility can be cost-intensive at the start, the running costs are minimal, making this a profitable venture in the long run. However, you will need to consider these 7 important factors.
1. Location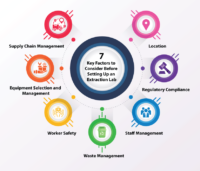 Cannabis is a highly regulated industry, regardless of the country. In the U.S, it is illegal at the federal level, and therefore there's a need for judicious selection of location to avoid run-ins with the federal government. If you are in the U.S, you will need to check the specific laws in your state. These rules dictate how close an extraction facility can be to a daycare facility, children's park, school, residential areas, etc. The rules may also spell out how many cannabis facilities can be located in one area and how close to each other they can be. At the end of the day, you also want to ensure that the location that you settle for is readily accessible, secure and close to resources.
2. Regulatory Compliance
A cannabis extraction facility needs to meet regulations that apply to the manufacturing and production of consumable goods to ensure that the safety of workers and end consumers is guaranteed. Here are a few that are of priority:
current Good Manufacturing Practices (cGMP): The CGMP is a regulatory standard enforced by the FDA. It defines the creation, implementation and monitoring of manufacturing processes to meet the quality and safety threshold. It requires manufacturers to use technology and have systems in place to ensure product safety and effectiveness. Cannabis extraction facilities should be GMP certified for operational standardization and for performing transnational business.
National Fire Protection Association (NFPA): Extraction labs use flammable materials which can easily trigger fires. NFPA, which is a non-profit organization, has created standards and codes to minimize injuries, death, and economic losses attributable to fire accidents. The standard describes how labs should be set up and how flammable liquids should be stored and transported to prevent accidental fires.
Local Fire Codes: These are a set of codes/requirements that must be adhered to in all commercial and industrial buildings to prevent fires. They include the availability and proper use of the following:
Fire extinguishers
Extension cords
Smoke detectors
Fire exits
Fire signage
Fire assembly points
Sprinkler heads and pipes
Fire alarms
Here are some important fire codes that should be followed in a cannabis extraction facility:
NFPA 1: The Fire Code Handbook
NFPA 30: The National Code for Flammable and Combustible Liquids
NFPA 45: Fire Protection for Labs Using Chemicals
NFPA 70: The National Electrical Code
NFPA 58: The Liquid Petroleum Gas Code
Occupational Standards for Health and Safety (OSHA): Cannabis extraction facilities are compelled by federal law to comply with OSHA requirements for occupational health and safety, and specifically regarding biological and chemical compounds that lab staff may come into contact with during their work. OSHA standard 29CFR1910.1200 requires labs to have a written hazard safety standard for all chemicals, and the standard should be accessible to all employees at all times. Labs are required to have an inventory of all hazardous chemicals with associated details recorded in a Safety Data Sheet (SDS).
3. Staff Management
Lab staff need to train on all hazards in the facility and be given first aid measures in case of an accident. The staff will need to sign that they have received training on the same.
4. Waste Management
Cannabis waste in an extraction facility includes plant trimmings, leftover extraction chemicals, disposed of samples and other debris left behind. Waste needs to be segregated according to hazardous or non-hazardous categories and disposed of accordingly. The lab needs to put measures in place for proper waste segregation so that the waste does not get mixed.
5. Worker Safety
Worker safety in an extraction facility is of paramount importance and should be based on the kinds of risks that each staff gets exposed to in the line of duty. This makes it necessary to have a Job Hazard Analysis (JHA) to assess hazards and put measures in place to avert accidents and injuries.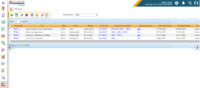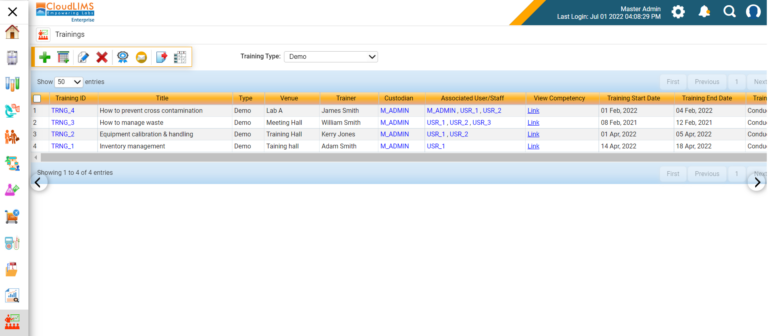 6. Equipment Selection and Management
Cannabis extraction equipment can cost anywhere between $5,000 to $100,000, depending on the type and scale of extraction. When choosing the equipment, you need to factor in the cost efficiency, output, and the final product. All equipment used in an extraction lab should be Underwriters Laboratories Listed (UL-Listed). The equipment also needs to undergo regular maintenance to ensure maximum efficiency and productivity, and to prevent accidents and minimize wear and tear. National Recognized Testing Laboratory (NRTL) certification is necessary to achieve this.
7. Supply Chain Management
Supply chain management refers to the strict monitoring of the entire workflow to ensure effectiveness, eliminate wastage, and boost productivity and profitability. This means tracking raw materials from the time they are received by the extraction facility to when they are released as cannabis extracts. A Laboratory Information Management System (LIMS) comes in handy to support supply chain management in an extraction facility.
Role of a LIMS in Setting Up a Cannabis Extraction Facility
A laboratory software for CBD/THC laboratories, also known as a Laboratory Information Management System (LIMS), helps automate workflows, and thereby improve efficiency and productivity in an extraction facility. A laboratory software for CBD/THC laboratories streamlines in-house testing processes and guarantees that the final extracts produced are potent and free of impurities. A LIMS also comes in handy in managing Standard Operating Procedures (SOPs) and human resources, tracking samples and lab inventory, scheduling equipment calibration and maintenance, and ensuring compliance with the necessary regulations.
When setting up a cannabis extraction facility, sufficient time needs to be allocated to the planning to ensure all-important considerations are in place. This starts with finding an ideal and compliant location, ensuring regulatory compliance, ensuring worker safety, efficiently managing staff, inventory, and waste, and the careful selection of equipment. A laboratory software for CBD/THC laboratories ties these factors together to ensure a smooth workflow and maximum productivity of the facility.