New cannabis businesses must demonstrate proof of compliance to myriad laws and regulations as part of the initial license application process. And once a license is issued, it is easy to prioritize day-to-day business operations over ongoing compliance reporting requirements especially when sales are booming and compliance requirements are multi-layered, vague or obscured in non-cannabis specific programs and regulations.
But seemingly benign neglect of some minor reporting requirements can have major consequences to new and established businesses alike.
This article explores five compliance reporting requirements that cannabis businesses may not know about, and suggests ways to maintain a strong compliance posture across all regulatory agencies.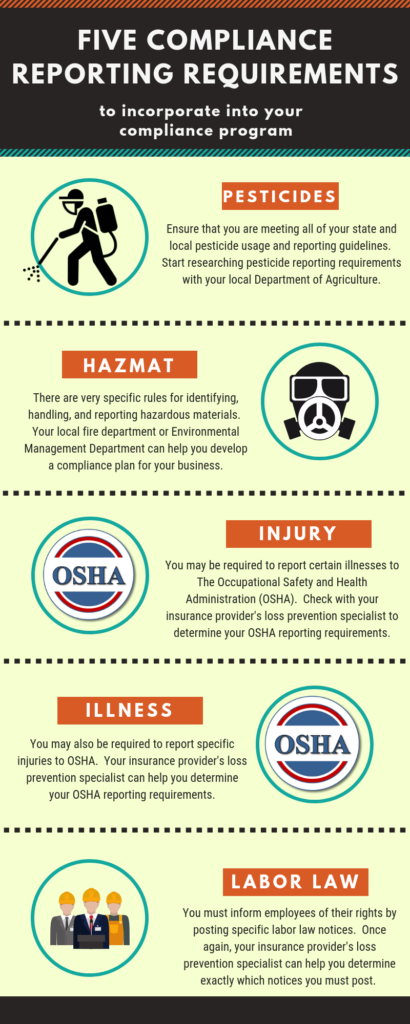 Pesticide Reporting
All licensed growers are required to prove compliance to state pesticide usage regulations. However, expectations on how and when to provide that proof of compliance vary greatly from state to state.  Furthermore, the responsibility of education and enforcement for pesticide usage in the cannabis industry often falls to non-cannabis specific agencies such as state departments of agriculture or environmental compliance.
For example in California, cultivators must report detailed monthly pesticide use reports via the State's Agriculture Weights/Measures Division reporting portal, while Washington State regulators simply expect cultivators to keep records locally on site and provide them when requested.
With so many places to look, the best place to start your pesticide reporting requirement search is with your local agriculture department. They should be able to answer your questions and provide you with a list of resources to help you better understand how to comply with state pesticide usage and reporting regulations.
Hazardous Materials Reporting
Like pesticide use and reporting, hazardous waste handling and reporting requirements are complex and vary state to state. In fact, there may even be nuanced variations in handling requirements at the county level. The best approach to ensure compliance with a complicated set of regulations is to start by consulting your local county fire department. They will have the most specific set of rules for hazardous materials handling and reporting and can help you develop a site-specific compliance plan.
Two OSHA reporting requirements
Depending on how your cannabis business is classified, you may be required to keep injury and illness incident records and provide reports to the Occupational Health and Safety Organization (OSHA) for specific time periods.
Contact your business insurance provider's loss prevention representative for more information about how your business is classified, which specific OSHA reporting requirements apply to you, and how to stay in compliance with applicable OSHA requirements.
Click here to learn more about how OSHA organizes reporting requirements by business type.
A note of caution here: OSHA non-compliance penalties can be steep and "I didn't know I was supposed to do that" is not an acceptable defense when it comes to explaining any OSHA violations.
Labor Law Notification Requirements
Federal labor law requires that you notify employees of their rights. At a minimum, you post information regarding wages and hours, child labor, unemployment benefits, safety and health/workers' compensation and discrimination in a conspicuous place where they are easily visible to all employees. Some states requires additional information be posted in a similar manner, so it's important to be sure that those notices are posted along with the federal requirements.
This is a simple, yet easily overlooked, requirement for all businesses, regardless of industry. Ask your insurance provider for a copy of the notice to print and post right away (if you have not already) for a quick compliance win!
These five reporting and notification requirements may seem tedious, overly complicated and burdensome in the face of day-to-day business operations, but compliance to these requirements not only protects your business and employees, it also enhances the overall reputation of the industry. The good news is that regulatory agencies welcome a proactive approach and are happy to work with cannabis businesses to provide guidance and information for developing compliance plans.