With data forecasting expert BDSA predicting that the global cannabis market will reach $56B by 2026, there is no time to waste. Whether it's Oklahoma, New York or even Macedonia, the frenzy is on. Investment decisions are immediate, and you have to be correct out of the box. This is where an expert like Andrew Lange and his company, Ascendant Management, come in. Andrew has designed more than 1.5 million square feet of cannabis facilities and moved them into profitable production in North America and Europe. One of his active customers is Onyx Agronomics in Washington. Bailee Syrek is the director of operations at Onyx and this is the story of the key points in designing a precision cannabis facility with state-of-the-art efficiency.
Background
Andrew Lange, a navy veteran, runs a global cannabis consulting business based in Washington. With a "prove it to me" approach, he regularly tests the best new technologies in the facilities he designs. He integrates his knowledge of what works in practice into his subsequent facilities. One of his previous projects, Onyx Agronomics in Washington, started in 2014 and moved quickly into production in a retrofitted warehouse. Many of his best ideas started with Onyx, including some new innovations in the latest expansion there this month. Onyx is a tier 3 cannabis cultivator.
Bailee Syrek's operation at Onyx currently produces 9,000 lbs. of dry trim bud per year in 8,000 square feet of canopy. She operates the state-of-the-art, clean room style, indoor grow facility around the clock, delivering 2.7 grams/watt from every square foot of canopy in her building. She runs a highly efficient facility.
Onyx has had an ongoing relationship with Ascendant Management and chose to leverage them again with their current expansion to increase their capacity further. Onyx uses a range of advanced technologies including aeroponic cultivation equipment and control software from AEssenseGrows to hit their metrics.
Precision, Quality & Consistency
"I look for ways that my clients can differentiate themselves," says Lange. Maybe it's his military background, but Andrew demands precision, quality and consistency in the operations he designs. "Cannabis is a just a plant really so we look for the highest performance grow methodology. I find that to be AEssenseGrows aeroponics," says Lange. "The AEtrium Systems provides a good foundation to manipulate for grow recipes and business process. I add teamwork, communications, and operations procedures to that foundation."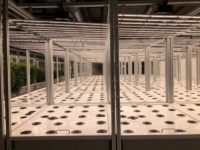 At Onyx, Bailee Syrek works closely with her channels. She invites her customers in regularly to review the Onyx cultivars and to cover their ideal requirements. These can range from bud size for their packaging to THC or terpene profiles (Yes, channels do want both higher and lower THC content for different consumers and price points). Based on that feedback, Bailee and Andrew work together to dial in the ideal grow recipe in the AEssenseGrows Guardian Grow Manager central control software. They push their target strains to optimize the results in the direction requested by their customers. For example, "How do you get the highest possible THC out of 9lb Hammer?" You'll have to ask Andrew and Ascendant Management.
Driven by customer requests, Onyx is adding new strains to build on their innovative brand. Bailee expects to reach new levels of terpene bundles with Cheeseburger Jones, Koffee Breath, Shangri-La and OK Boomer. Utilizing Andrew's expert knowledge, they can take typical sub-20% cannabinoid bundles and improve them using aeroponics and better controls, into standout aeroponic 30% packages.
The Onyx Vision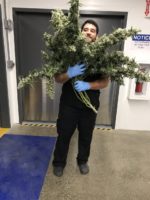 Bailee Syrek believes this is the most exciting time yet for Onyx. Delivering premium grade cannabis as a white label flower supplier for years, Onyx is a profitable and successful business. But even with doubling capacity every year, they are still having trouble keeping up with customer demand. Bailee wants to get to the point where she can always say yes and accept an order from their white label customers. With this objective, she again engaged Ascendant and Andrew to get beyond 15,000 lbs. of output in 2021 to make her customers happier. Beyond that basic expansion, she is also ambitious and is preparing plans for additional lines of revenue with their own proprietary flower, oil and derivative products.
"This expansion will be a new challenge," says Syrek. "Flower production is in our wheelhouse. We have tighter operations, with the most consistent bud size, terpenes and test results in our state. These new products will require that same quality but now in new areas."
Her Path to Leadership
Bailee started with Onyx in a compliance position that grew out of the constant demands for government licensing and reporting. In that compliance role, she had the opportunity to work a bit in every department, giving her a good understanding of all of the facility operations and workflows. All of that experience led her to eventually take over the operations leadership role. She instills care and effort to maintain the cleanest and most efficient operations possible. "With aeroponics, we don't have to lug soil from room to room or in and out of the facility. This saves us a ton of work that we can redirect to plant health and maintenance," says Syrek. "Medical precision and GMP quality is a given. Each room on average is 105 lights and one room manager and one cultivation technician take the room from clone/veg transfer to harvest as a two-person team."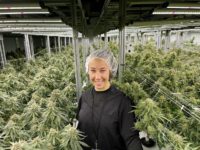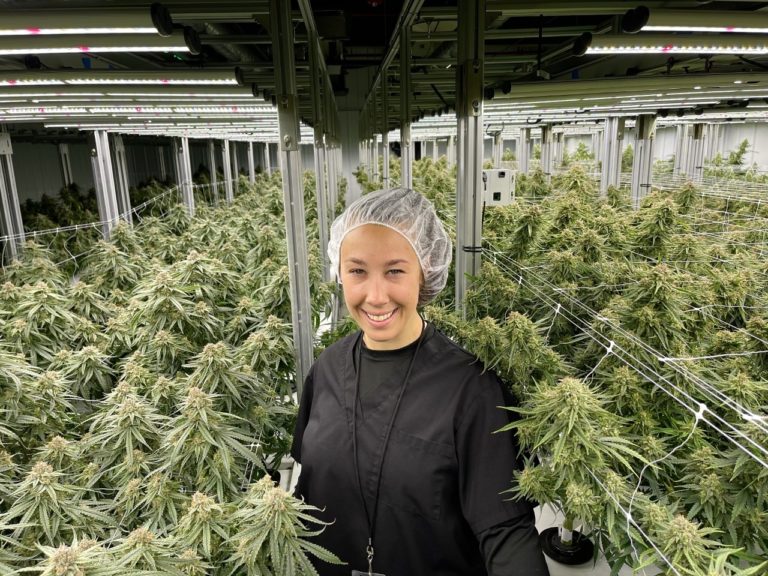 Bailee prides herself with results. "Medical grade precision is normal for us. We use medical grade SOPs for every aspect of our production." Bailee has designed these guides into their control system that runs on the Guardian Grow Manager software. From sensor tracking, to performance graphs to time cards; everything is integrated in her performance monitoring.
A quality focus is very apparent in every Onyx flower room. Every watt of light energy is transferred to the pristinely manicured canopy. Naked stems feed nutrients up to the fat buds at the trained canopy surface. Fan leaves are removed and all possible energy turns into bud weight and potency. The room technician has a passion for plant health, table care and plant maintenance all the way through to the harvest bonanza.
What is the biggest challenge for Bailee as she drives the operation? Even at 105-110 grams per square foot per harvest, they are sold out. "Every customer wants to buy beyond our capacity. It is a good problem to have," Bailee says. "Customers want our quality and love the consistency. This is the most exciting thing about our expansion. We will finally be able to make additional channels happy with high quality supply."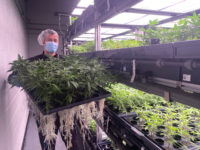 This is where Andrew credits Onyx's performance. "Most well running operations deliver 1.1-1.8 grams of dry trim bud per watt of electricity used in powering a grow room," says Andrew. The Onyx grow formula results leave this in the dust. Running Fluence SPYDR 2i grow lights and the AEtrium System aeroponics, Onyx plants are delivering just shy of 4 lbs. per light with every harvest cycle. At 630 watts max output, that delivers ~2.7 grams/Watt, the most efficient operation he has seen. The Onyx process and execution works.
"Bailee is a great example as a professional. She builds a motivated team that executes better than her competition," says Andrew.
At the same time, Onyx runs a highly space efficient nursery with just enough mother plants feeding energetic cuttings into the 4-layer stacked AEtrium-2.1 SmartFarms in their environmentally controlled clone room. They produce more than enough healthy clones to jump from veg to flower in the span of a week. Grow time, harvest turn time and no veg space, results in very efficient use of power in the complete operation.
Mirroring Onyx for Medical Grade Cannabis in Europe
Andrew Lange's current passion is a green-field project in Portugal. Self-funded, Andrew says that this facility will be one of the first that is pure enough in operations to supply non-irradiated clean-room-level-quality cannabis beyond the precise standards required by European regulators. Current importers have not been able to clear the European standards for cleanliness without irradiating their buds. Other companies like Aurora have abandoned efforts to access the market due to the precision requirements. Typical methods used for fruit imports use gamma radiation to get bacterial counts down. This was tried with cannabis to sterilize buds, but the problem with cannabis is this degrades the quality of the flower.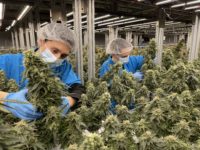 Andrew's Portugal facility will be using a sterile perimeter surrounding his grow space (mothers, clones/veg, flower rooms) and harvest and processing areas (dry, trim, packaging). Andrew creates a safe environment for healthy production. A steady harvest cleaning regimen is built into his operational designs from the beginning. All operators are trained in procedures to exclude pathogens and limit all possible transmission (airborne, physical/mechanical touching, or water carried). Every area is cleaned during and between harvests. Andrew is confident he will reach a consistent level of accuracy and purity beyond European requirements because it is routine in all of his designs.
Certified Efficiency is the Message
Good Manufacturing Practices (GMP) and Good Agricultural and Collection Practices (GACP) are required for certification and access to European markets. Andrew always builds tight operations, but in this case, his Portugal facility is designed with the fit and finish to be GMP and GACP compliant from day one with advanced air filtration and air management throughout.
Automated aeroponics is a foundation technology that Andrew recommends for his facility designs. The automatic data logging, report generation, cloud access and storage make this a foundational technology. Andrew does get some resistance from cultivators that are used to the classic soil media approaches but he explains that software configurable grow recipes, precision controls, zero soil/no pests and hyper-fast growth makes aeroponics the foundation of competitive advantage. Precisely controlled medical quality precision operations are built on top of this foundation.
The initial phase of the Portugal facility is 630 lights and this facility is Andrew's latest personal investment. From secure perimeters to modular grow rooms and highly automated equipment, this location will be state-of-the-art in terms of grams/watt yields and renewable energy with an output of 6 metric tons per year. Solar powered electricity from a 4-megawatt farm will use Tesla megapacks for storage and be grid independent.
Technology & Innovation, Onyx & Ascendant
From his first experience with AEssenseGrows aeroponics, Andrew has been able to design complete grow recipes in the Guardian Grow Manager software with very tight precision on dosage. This makes it possible to create ideal recipes for each strain (nutrition, irrigation cycles, lighting and environmental management). This frees up the operations teams to focus on plant health and execution. The nutrients, pH, CO2, temperature and humidity, follow the Guardian directions that he sets.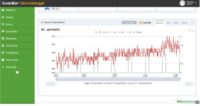 Working with Bailee at Onyx, Andrew is now consulting on the post-harvesting side of operations (drying, trimming, extracts and packaging). In parallel with his efforts, Bailee is optimizing THC & terpene production on the cultivation side with UV lighting (considering far-right red frequency light recipe enhancements).
That is the Ascendant Management approach to innovation. Trial, test constantly, perfect ideas in practice. Optimize the results for consistent, high-quality results. Even while driving for the personal craft touch, use automation to increase efficiency of mundane, but important tasks. With these methods, Andrew believes that the Onyx labor cost is one third of typical soil media grow operations. Zero soil aeroponics offers many benefits. Bailee's team is able to give each plant more attention and delivery better quality. Automation is a win-win for them.
Bailee finds that constant testing is useful for two things: one, great results, and two, surface the best talent with their hand's-on approach.
Always Finish with People
Bailee says that her staff works incredibly hard. "We are a different grow, with better ergonomics on the job, aeroponics for precision and yields, and advanced technology at the leading edge in every part of our grow. No dirt up and down stairs. People are proud to work here. We are not your dad's grow operation."
"We promote from within. Everyone starts as a room tech and has the opportunity to move up. Teams are isolated by rooms so there is no contamination between rooms or humans. Put in the work, and you will get promoted with expansions, and grow with the company as we take a bigger share in the market." Female employees make up almost half of the current staff, and Bailee encourages employees to refer their friends. "Good people invite good people," she says.
Her training program introduces the technical aspects of their unique operation, the positive expectations and career path for every new employee. The social environment is friendly with good pay and regular raises. Each new employee fills a range of roles during their 1-month training circuit and are assigned to a cultivation space under a lead as an official cultivation tech at the end of 30 days. "One thing that we do more than at other grows is constant cleaning," says Bailee. "This is an ever-present mantra for the staff."