Formed in 2015, Outco is a vertically integrated, licensed producer of medical cannabis in Southern California. Outco manages Outliers Collective, the first licensed dispensary continually operating in San Diego County. They operate the first licensed cultivation on Native American land in Southern California, the first cultivation building permit in Southern California and the first licensed extraction facility in San Diego County. Outco is on track to be the largest licensed producer of medical cannabis in Southern California.
The company prides themselves on attention to detail; the well versed team implements real science in their cultivation and extraction processes. Lincoln Fish, co-founder and chief executive officer of Outco, has more than 30 years of experience as an entrepreneur. Before entering the cannabis industry, Linc started and sold companies in the healthcare technology and nutraceutical spaces.
Fish's experience with FDA regulations in nutraceuticals prepared him for running a business in such a tumultuous, highly regulated environment like cannabis. "One thing I took from the nutraceutical industry is how to present products to consumers and letting them know it is safe, effective and consistent," says Fish. He says he noticed a serious lack of consistency in products. They tested 25 different vape cartridges, with their own oil, to find a consistent product they can use and know that consumers will safely and consistently get the same results. "There is a lot of room for more professionals and a lot of room for more science," says Fish. "We try to position ourselves in a way that is consistent with where we think policy will go so we are very careful with recommendations from a scientific standpoint, patient information and product safety."
According to Fish, they currently distribute cannabis products to about 75 licensed dispensaries in Orange County, San Diego and Los Angeles. With construction underway at their cultivation facility on Native American land, Fish says they plan to generate roughly 2600 pounds of cannabis each month. Gearing up for that in addition to the expanding recreational market requires some planning in advance, says Fish. Part of that plan is making sure quality controls are in place to keep consistency in the product quality and dosage. They are also actively seeking to open their distribution channels further.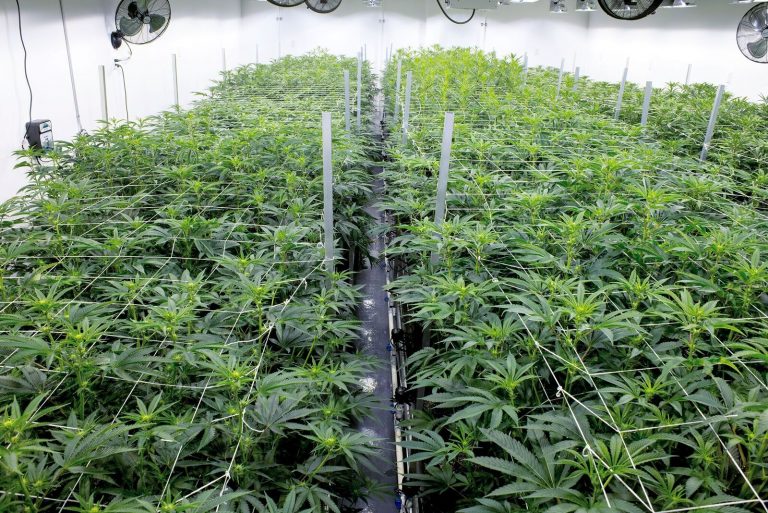 "We are building out a full lab of our own in addition to third party testing to perform internal quality controls," says Fish. Equipped with their own laboratory instrumentation like HPLC and GC, they hope to establish proper in-house quality controls as well as provide that resource to younger startup companies. As one of the founding partners of Canopy San Diego, an ancillary startup accelerator, Fish sees great potential in working with younger companies to get them off the ground. Fish met Outco's vice president of extraction, Dr. Markus Roggen, at a Canopy San Diego event. It was there that they had the idea to build a startup accelerator for companies that actually touch the plant- extractors, cultivators and infused-product manufacturers, as opposed to a startup accelerator that would only help ancillary businesses.
Dr. Roggen, who is an organic chemist by training, heads up Outco's supercritical CO2 extraction operation. "I came to the 'art' of cannabis extraction with an open, yet scientifically focused mind," says Dr. Roggen. "My approach was to look past the myths and stories about extraction methods and focus on finding data, as there really wasn't much available. I therefore, from the beginning, started to study the capabilities of our extraction equipment by chemometric methods." Chemometrics is the science of relating measurements made on a chemical system or process to the state of the system via applications of mathematical methods. "Already the first sets of experiments showed that long-held beliefs in the cannabis community were inaccurate," says Dr. Roggen. "For example the particle size of extracted material matters. Or that it is possible to preserve and even isolate terpenes by CO2 extraction methods." With plans to have a full plant and analytical chemistry laboratory on site, they hope to perform more research that focuses on optimizing extraction processes.
Dr. Allison Justice leads their cultivation team with a background in greenhouse management and commercial horticulture. Dr. Justice says plants are grown, starting at a young age (seed or vegetative cutting), with the protection of biological control agents. "Biological control is a management strategy that entails the release of beneficial insects or fungi, such as parasitoids and predators, in order to suppress or regulate insect populations in greenhouses and grow rooms," says Dr. Justice.
When implemented properly, this eliminates the need to use synthetic pesticides. "Biological control agents are not put in place to eradicate pest populations yet are applied as preventives to minimize plant damage and maintain their own populations." They are constantly evaluating light types, spectrum and intensity to determine optimal ranges, according to Dr. Justice. They don't use any pre-mixed "cannabis" nutrient supplements for their plants, instead they design an experiment to determine the desired levels and ratios of essential plant nutrients. "We have found it crucial to determine what ratios of nutrients the plant actually needs and by knowing this, we know how to manipulate the recipe determined by the plant's given nutritional symptoms," says Dr. Justice. Every type of adjustment in cultivation and extraction is based on results from experimentation rooted in legitimate science. Instead of guessing when it might be time to harvest, they use a water activity meter, logging and recording all the data to determine the appropriate time to trim and cure plants. Performing analytical testing at every step is key, says Fish.
Looking toward the recreational market, Fish sees an obvious opportunity to expand their wholesale operations substantially, with several larger new cultivation projects planned. "The key though is to produce flower and concentrate offerings with the same standards we employ for medical cannabis," says Fish.