Some consumers participating in the legal cannabis market want to avoid inhalable products. They are concerned about the effects of the smoke or they want their usage to be discreet — without the pungent aroma emanating from burning cannabis flower. For those consumers, edibles are the preferred option and a growing product category.
Within the edibles space, the beverage segment — with limited product options in some states — may offer significant potential for growth. In 2021, cannabis-infused beverages accounted for only 1% of total legal cannabis product sales and about 5% of the edibles segment in the United States, reports market researcher BDSA. But cannabis beverage sales are growing around the U.S.
In California, cannabis drinks grew their market share in the edibles category from 4% in 2018 to 7% in 2021. Nevada saw beverages increase their share of edibles revenues from 7% to 10% in the same time frame. And cannabis beverages' share of edibles sales in Massachusetts went from less than 1% in 2019 to 8% in 2021.
Pegged at $180 million in revenue last year, the cannabis beverage market is projected to reach nearly $500 million by 2026, predicts BDSA.
Today, gummies and chocolate products dominate the edibles category. Although beverages are currently a small segment of edible sales, they may have some inherent advantages — familiarity, faster-acting products from improved bioavailability, and taste and flavor innovations — over other cannabis products. Since beverages can incorporate many different flavors from fruity, cola and sweet to coffee, tea, sour and bitter, these myriad flavor variations can mask or minimize any off-tastes associated with THC.
Viewed as part of their everyday regimen, consumers drink beverages for hydration, nourishment, refreshment and enjoyment. Cannabis beverages are well-suited for consumers' lifestyles, while gummies and chocolates may be perceived as sugary treats and special occasion items.
Brand owners are beginning to recognize the limited availability of products and growth potential of cannabis-infused beverages and are looking to enter the category. Packaging plays a key role in cannabis beverages, with sustainability, regulatory compliance (e.g., child-resistant), labeling compliance (e.g., warning symbols and text), convenience and branding all contributing to the success of the expanding product category.
Sustainable Packaging
Consumers, especially younger generations, are concerned about the environment and support brands that align with their values. According to the 2020 Sustainable Market Share Index from the NYU Stern Center for Sustainable Business, sustainability-marketed products delivered about 55% of the market growth in consumer packaged goods (CPG) from 2015 to 2019 in the U.S. despite being only 16% of the market. Sustainability-marketed goods grew seven times faster than products not marketed as sustainable and nearly four times faster than the overall CPG market.
As a primary consumer touchpoint, packaging is a good way for cannabis beverage brands to show their commitment to the environment. But finding the most sustainable packaging option for a particular application may not always be as straightforward as it seems. Many considerations are involved — material choice (e.g., plastic, glass, or aluminum), recyclability of the material, the weight of the material, recycled content of the final package, package design (minimalist vs. excessive), transportation costs and other factors like reusability.
To help facilitate the process, Berlin Packaging uses life cycle analysis to determine a product's environmental impact or carbon footprint over its entire life cycle, including sourcing & raw materials extraction (minerals resource use), manufacturing (energy and water usage), distribution (freight miles, fuel usage) and end-of-life (recovery, recycling, reprocessing).
We have the know-how to improve the sustainability of any packaging material — whether it be lightweighting, use of post-consumer recycled (PCR) content, greater recycling rates and more.
Regulatory Compliance
Because legal cannabis products are regulated by individual states and not at the federal or national level, the regulations for cannabis packaging requirements can vary widely from one state to another. However, there are some common rules that all states follow.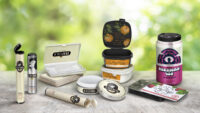 All cannabis products — including beverages — require child-resistant packaging to meet the standards of the Consumer Product Safety Commission. For aluminum cans, Berlin Packaging offers a child-resistant capable mechanism that fits snugly over the top of a can. Available in polypropylene or a bio-based resin, the single-use device can be custom developed to fit the exact specifications of the customer's cans. In-stock products are available for standard 202 can ends.
Along with child-resistant capable packaging, states also require some type of warning symbol and statement on the label to indicate the product contains cannabis. Depending on the state, the symbol may be a triangular or diamond shaped in a bright or contrasting color to call attention to it on the label. The symbol typically houses a cannabis leaf image or "THC".
Convenience
Like any packaged drink, cannabis beverages need to check all the boxes for consumer convenience — easy to drink, portability, cupholder friendly and resealable.
Users can easily reseal PET and glass bottles with continuous thread or lug finish closures, but cans present a challenge. Berlin Packaging offers a solution with a resealable can that opens like a traditional stay-on-tab. Here's how it works. Lifting the pull tab breaks the tamper-evident band and unlocks the slider mechanism. Pulling the slider opens the can and makes the familiar venting sound — even after reopening.
The configuration of the opening creates a smooth laminar flow to improve the drinking experience. Moving the slider back to its original position and pushing down the pull tab, which produces a clicking sound, reseal the closure. The tamper-evident band remains on the can underneath the pull tab.
Branding
Cannabis beverages come in drops, shots, syrups, carbonated, iced tea, lemonade, fruity, water, sports & energy, mocktails, tea, coffee and hot cocoa.
Because cannabis has been associated with medicinal uses, many consumers use cannabis products to manage their wellbeing and health. Thus, some cannabis products have been positioned to relieve stress, promote relaxation and sleep, reduce pain and inflammation, improve mental focus, enhance mood or simply for indulgence and enjoyment.
Product positioning and the experience the brand owner wants to create for the consumer can help inform the brand design, personality, and narrative or storytelling. It's also important that the brand design and messaging resonate with the product's target audience.
Studio One Eleven, Berlin Packaging's in-house innovation division, can help cannabis beverage marketers with their product branding from concept to commercialization. We offer market research and consumer insights, brand strategy and visual branding design, brand name development, structural package design, and more. Our services are available at no additional charge in exchange for a customer's packaging business.
Cruise Beverage distributes nitrogen-infused CBD drinks with all-natural ingredients in 12-oz aluminum cans under the B Happy brand. The team at Studio One Eleven helped Cruise Beverage and its B Happy brand tell their story of free-spirited enjoyment with updated branding, expressive flavor names (i.e., Loosen Up Lemon, Peaceful Pear, Mellow Mango, and Blissful Blood Orange), and unique packaging graphics.
Uplifting illustrations speak to the brand's sense of freedom and relaxation, and the hand-drawn style reflects the craftsmanship of the CBD beverage product. A white background with flavorful pops of color says clean and fresh, while tiny bubble imagery communicates the delightful effervescence of the fizzy drinks.