Busy entrepreneurs often skip steps in their business development process, particularly in the cannabis space. Since this is a new industry, there isn't a long history of marketing/advertising efforts to look back on; the standards are still being developed. But more often, businesses simply may not have a budget large enough to pay an agency, and they may not feel confident executing these efforts on their own.
Fortunately, you can do a lot independently to get your name out there. This three-part series will give you a quick primer on branding – what it is, why it's important and how to do it. But first, we need to discuss the differences between branding, marketing and advertising so that you know what kind of tools you have at your disposal.
What is Branding?
Branding should be considered a prerequisite to marketing and advertising.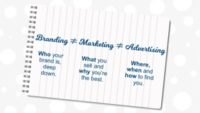 Branding is simply thinking about your company from the inside-out. It's asking yourself questions about the kind of person your brand would be, down to its beliefs, personality and sense of style. Ultimately, we do this to build a deep emotional connection with potential customers. When you know who you are and put yourself out in the world, you're signaling to them that you are a good match for each other.
When you have a brand that consistently forms emotional relationships with customers, that bond converts to both income and long-term company value, making your spending on marketing and advertising go further. It gives you a competitive advantage over companies with weak or non-existent branding (and in the U.S. cannabis industry, there are plenty of those). Moreover, it's a key factor that venture capitalists and friendly Fortune 500s look for in potential investments.
So, what should you be asking yourself when it comes to branding? Start with exploring the fundamentals. Decide on the philosophical, emotional and visual characteristics of your brand.
As far as the philosophical questions go, it's important to codify your mission, brand values, customer promise, core competency and future vision to build a strategic brand. Think about what you're offering, how it will change lives, and what unique qualities will help you make it all happen.
The Four Ps: Product, Price, Place and Promotion.The philosophical characteristics help you decide who you are. Your emotional characteristics are the ones that connect you with the world. These would include your creation story, your brand personality and tone of voice. How does your brand see and respond to the world? Why? People love consistency. Having a consistent presentation makes your brand feel more authentic; in turn, people are more receptive to you.
The visual qualities are how the world should see you. These assets should include your color palette, fonts, imagery and logo. Making decisions about your brand's appearance may feel subjective and overwhelming to people, but it doesn't have to be. Basically, evaluate these ideas and assets in terms of how your audience is likely to respond to these elements. For example, how does your happy-go-lucky audience feel about a logo that is lime green versus corporate blue? Which color best reflects your brand sensibility? You know who you are; the visual characteristics are how you plan to show it.
Marketing
As a discipline, marketing traditionally involves making strategic decisions about the four Ps: Product, Price, Place and Promotion. These decisions become significantly easier once you have defined your brand.
Essentially, marketing addresses the way your brand lives in the world. It tells potential customers what you sell, and why they should choose your brand. It involves making thoughtful decisions and having a strategy for decisions such as product names and your corporate culture.
You also need to think about your pricing strategy and how that manifests in front of customers. For example, are you a high-end product with a premium price or the Walmart of weed? What's your customer service strategy? Are your budtenders in flannel or lab coats?By now, you know who your brand is and how you want to present it to the world. Now you need to get consumers to see it that way. That's where advertising comes into play.
Marketing also involves decisions about collateral—namely, your product packaging, brochures, signs and trade show booths. It also impacts your brand's in-person presence. That could include experiences like events your company attends, trade shows where you have a booth or table, sensory experiences or even AR/VR experiences with your product.
By now, you know who your brand is and how you want to present it to the world. Now you need to get consumers to see it that way. That's where advertising comes into play.
Advertising
Generally, advertising relates to paid campaigns that are carefully written and designed to tell potential customers where, when, why and how to connect with your brand and buy your products and services.
Fortunately, you have the tools to thrive by putting in the work to get to know your brand.These campaigns are often launched within the space of owned media, such as television commercials, radio and print ads and billboards. There are tons of digital and social media options. Your job is to find the ones that your customers interact with and decide what you want to say about yourself. For example, what kind of sites would you want to place ads on? What state of mind are customers in when they go to those sites? And what message do you want them to get from you in that moment?
Normally, answering these questions would be daunting. But since you've already decided who your brand is, you may already know what colors you want to use for this ad. You've already considered what your mission is. You know how your brand should appear to the world. And since you've unlocked these truths, you'll be able to develop campaigns that feel genuine, unique, and memorable.
Connecting with consumers and making them remember you isn't optional. It's what will ultimately decide whether your business survives or not. Fortunately, you have the tools to thrive by putting in the work to get to know your brand. It's tough, and it may not come easily at first. But we don't start a business because it's easy. We accept the risks and frustrations because we love what we do. Tell everyone why they should too.