Dispensary sales in key US markets (CA, CO, WA, NV) remain up in Q1 2020 over Q1 2019, though the end of March saw sharp declines in sales according to a recent Marijuana Business Daily report. Massachusetts is also on track for record Q1 sales despite the closure of recreational stores, according to a recent BDS Analytics report.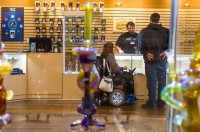 While it is still early to say what the impact of COVID-19 will be on dispensary sales into April, it is clear that the cannabis industry's position as an 'essential business' is likely to help. States like Massachusetts are just allowing medical use businesses to remain open while states like California and Washington are allowing cultivators, producers and dispensaries to remain open. Meanwhile, according to Locate.AI's analysis of retail traffic, the rest of the retail sector is down between 44% and 99% recently, depending on the category.
On March 24, the Washington State Liquor and Cannabis Board declared cannabis an essential industry including producers, processors and retailers. For dispensaries, they are now allowing curbside pick-ups for all adult customers. Colorado has gone further to restrict adult sales to curbside pick-ups only for recreational cannabis. Medical customers are still allowed to enter stores, but must practice social distancing. Across the states, dispensaries are offering curbside and in-store pick-up. In addition, at some dispensaries, delivery fees are being waived for larger purchases.

The International Chamber of Commerce recently published "Coronavirus Guidelines for Business," summarizing actions businesses can take to reduce risks for operations and employees. Going further, The New England Complex Systems Institute (NECSI) recently published practical business safety guidelines detailing how these essential businesses can stay open and ensure safety. The guidelines, which are typically one to two pages and easily readable, are applicable to dispensaries. Certain suggestions, such as avoiding crowded spaces and maintaining 6ft distance will be familiar. Other suggestions go beyond common advice offering sensible recommendations to reduce risk of transmission as much as possible, such as the following:
"Consider setting up one or more 'necessities only' sections that enable a short shopping trip for most of the customers. Setting up such short shopping areas outside when weather permits, or at remote locations, can dramatically reduce the shopping density inside the store." or
"Use floor markings or other visual system to indicate a one-way loop (with short cuts, but no back way) inside the store to promote a dominant walking direction and avoid customers crossing paths or crowding."
While many cannabis businesses have already gone beyond recommendations from the local health authorities, there are some that would still benefit from adopting the NECSI Guidelines to further protect their customers and employees. The guidelines are written for laypeople and are easy to print and share.
NECSI's coronavirus guidelines can be found on the group's volunteer website endcoronavirus.org.
endCoronavirus.org is a volunteer organization with over 6,000 members built and maintained by the New England Complex Systems Institute (NECSI) and its collaborators. The group specializes in networks, agent-based modeling, multi-scale analysis and complex systems and provides expert information on how to stop COVID-19.
The New England Complex Systems Institute (NECSI) is an independent academic research and educational institution with students, postdoctoral fellows and faculty. In addition to the in-house research team, NECSI has co-faculty, students and affiliates from MIT, Harvard, Brandeis and other universities nationally and internationally.