The topic of sustainability has grown in importance and priority for both consumers and regulators. From reducing emissions to lowering energy and water consumption, cannabis growing facilities face unique challenges when it comes to designing sustainable operations. Moreover, as the cannabis market grows and usage becomes more accepted, regulatory bodies will continue to increase the number of directives to help ensure the safety and quality of cannabis products.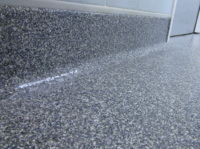 Ubiquitous throughout cannabis grow rooms and greenhouses, flooring can be easily overlooked, yet offers an economical way to create more sustainable facilities. Many of today's grow rooms are located in old retrofitted warehouses or former industrial buildings that were designed without sustainability or environmental concerns in mind.
Combined with energy efficient lighting and more thoughtful water usage, flooring can help create a more efficient facility that not only improves business operations, but also contributes to a better bottom line.
Sustainability Challenges Facing Cannabis Facilities
Whether in an old warehouse space or a new structure designed from the ground up, cannabis businesses face unique operational challenges when it comes to sustainable best practices.
Energy Consumption: Like any indoor farm, lighting plays an important role in cannabis growing facilities. Traditional grow lights can utilize a large amount of electricity, putting a strain on the company budget as well as regional energy resources. Switching to highly-efficient LED lighting can help facilities reduce their consumption, while still maximizing crop yield.
Water Consumption: Among the thirstiest of flora, cannabis plants require consistent and plentiful watering for healthy and fruitful crop production.
Carbon Dioxide (CO2) Enrichment: In many cases, carbon dioxide is introduced into facilities to help enhance the growth of crops. However, this practice may pose safety and health risks for workers, the surrounding community and the planet at large. CO2 is a greenhouse gas known to contribute to climate change.
In order to head off upcoming regulatory restrictions, as well as to alleviate the mounting safety and health concerns, it behooves cannabis grow room managers and owners to explore alternatives for improving sustainability in their facilities.
Flooring Requirements for More Sustainable Cannabis Facilities
Spanning thousands or even hundreds of thousands of square feet throughout a facility, flooring can be a unique way to introduce and support sustainable practices in any grow room or greenhouse.
When seeking to improve operational efficiency and implementing the use of sustainable practices in cannabis facilities, look for flooring systems with the following characteristics:
Impervious Surfaces— Fertilizers, fungicides, and other chemicals can infiltrate porous unprotected concrete to leach through the slab matrix and into the soil and groundwater below. Non-porous flooring options, such as industrial-grade, fluid-applied epoxies and urethanes, are impervious in nature, helping to isolate contaminants on the surface, thus enabling proper cleanup and disposal.
Light-Reflective Finishes— Light-colored white or pastel floor surfaces in glossy finishes can help reduce the amount of energy needed to properly illuminate grow rooms. By mirroring overhead lighting back upward, bright, light-reflective flooring can help minimize facilities' reliance on expensive ceiling fixtures and electricity usage.
USDA, FDA, EPA, OSHA and ADA Compliancy— With cannabis industry regulations currently in flux, grow facilities that select food- and pharmaceutical-compliant flooring will be ahead of the game. Governing bodies in some states have already begun expanding the facility requirements of these sectors to the cannabis market.
Durable and Easy Care— Having to replace flooring every couple of years imposes high costs on businesses as well as the environment. Installation of many traditional types of flooring produces cut-off waste and requires landfill disposal of the old floor material. In contrast, by installing industrial-grade flooring systems that are highly durable and easy-to-maintain, facilities can count on long-term performance and value, while helping to minimize disposal costs and concerns.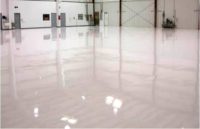 Optimal flooring can help cultivation facilities reduce waste, improve the efficacy of existing lighting and lengthen floor replacement cycles for a better bottom line and a healthier environment. Additionally, having the right grow room floor can assist facilities in meeting regulatory requirements, help ensure production of quality products and improve the safety for consumers and staff.
Flooring Benefits for Employees and Consumers
Safety is paramount in any workplace. When it comes to the manufacture of foodstuffs and other consumed products, government oversight can be especially stringent. With the right compliant flooring in place, cultivation facilities can focus on the rest of their business, knowing that what's underfoot is contributing to the safety of employees and their customers.
Here's how:
Chemical Resistance— Floors can be exposed to a high concentration of chemicals, acids and alkalis in the form of fertilizers, soil enhancers and other substances. In processing locations, the proper disinfecting and sanitizing of equipment can require harsh solvents, detergents and chemical solutions, which can drip or spill onto the floor, damaging traditional flooring materials. It pays to select cannabis facility flooring with high chemical resistance to help ensure floors can perform as designed over the long term.
Thermal Shock Resistance— Optimal cannabis facility flooring should be capable of withstanding repeated temperature cycling. Slab-on-grade structures in colder climates may be especially vulnerable to floor damage caused by drastic temperature differences between a freezing cold concrete slab and the tropical grow room above. This extreme contrast can cause certain floor materials to crack, delaminate and curl away from the concrete substrate. The resulting crevices and uneven surfaces present trip and fall hazards to employees and leave the slab unprotected from further degradation. As an alternative, thermal shock-resistant floors, such as urethane mortar systems, furnish long-lived functionality even when regularly exposed to extreme temperature swings.
Humidity and Moisture Resistance— Traditional floor surfaces tend to break down in ongoing damp, humid environments. Cannabis facility flooring must be capable of withstanding this stress and more.
Pathogen Resistance— Undesirable microbes, fungi and bacteria can thrive in the moist, warm environments found in grow rooms. Floors with extensive grout lines and gaps provide additional dark, damp locations for pathogen growth. Fluid-applied flooring results in a virtually seamless surface that's directly bonded to the concrete. Integral floor-to-wall cove bases can further improve wash down and sanitation.
Proper Slope and Drainage— Where food and/or pharmaceutical facility regulations have already been extended to cannabis operations, flooring is required to slope properly toward a floor drain. This prevents puddling, which can be a slip hazard as well as a microbe breeding ground. Unlike more typical materials, resinous flooring offers an economical solution for correcting floor slope wherever needed.
The Problems Presented by Traditional Flooring Options
Previously, cannabis growers often relied on traditional greenhouse-type flooring, including tamped down dirt floors, gravel or bare concrete. However, current and upcoming regulations are curtailing the use of these simple flooring options.
Growers often compare and contrast the benefits and value of traditional greenhouse flooring with more modern solutions, such as fluid-applied epoxy and urethane floors.
Dirt and gravel flooring offers little opportunity to properly sanitize, thus potentially inviting microorganism and pathogen invasion, contamination and costly damage. Growers who have turned to bare concrete floors face other concerns, including:
Unprotected concrete is inherently porous and therefore able to quickly absorb spilled liquids and moisture from the air. In addition, organic and synthetic fertilizers, fungicides, and chemicals can leach through the concrete floors, contaminating the groundwater, injuring the surrounding environment and wildlife.
Older slabs often lack an under-slab vapor barrier. Even in new construction, a single nail hole can render an under-slab barrier ineffective. In these situations, moisture from underneath the floor slab can move upward osmotically through the alkaline slab, leading to blistering and damage to standard commercial floor coverings.
Bare concrete floors can stain easily. These dark stains tend to absorb light instead of reflecting it, contributing to a potential increase in energy usage and cost.
The mold proliferation encouraged by the warmth and humidity of grow rooms can easily penetrate into the depths of unprotected slab surfaces, eventually damaging its structural integrity and shortening the usable life of the concrete.
While traditional greenhouse flooring options can initially seem less expensive, they frequently present long-term risks to the health of cannabis grow businesses. In addition, the performance of dirt, gravel and bare concrete floors runs counter to the industry's commitment to reducing the carbon footprint of growing facilities.
Choosing Sustainable Grow Room Flooring
It's no secret that the cannabis industry is undergoing enormous change and faces numerous environmental challenges. Luckily, optimal flooring options are now available to help growers economically increase their eco-friendly practices on many fronts. By focusing on quality resinous flooring, cannabis growers can get closer to meeting their sustainability goals, while simultaneously contributing to improved operation efficiency, enhanced yields and an increased bottom line.