With legalization rapidly increasing across states, the cannabis market is exploding. And with estimates of sales in the billions, it's no surprise that greenhouses and grow rooms are emerging everywhere. As growers and extracting facilities continue to expand one important consideration that most tend to underestimate, is how flooring can impact both their production and product. Bare concrete is often a popular choice in cannabis facilities, as there are typically very minimal costs−if any at all−associated with preparing it for use. However, concrete floors can pose unique challenges when left untreated, which could inadvertently create unforeseen problems and unexpected costs.
Understanding the Risks of Bare Concrete Flooring
Whether a facility is growing or extracting, the proper flooring can play a critical role in helping maintain optimal safety and sanitation standards, while simultaneously contributing to production. That's why its important for growers and extractors to know and understand the potential risks associated with bare concrete.
Concrete is porous: While concrete is a solid material, people may forget that it is porous. Unfortunately, these pores can absorb liquids and harbor small particles that spill on the floor. They create perfect hiding places for bacteria and other pathogens to proliferate. Pathogens can then contaminate product within the facility, causing a halt on production, and/or a potential product recall. This can incur unexpected costs associated with shutdown time and loss of product.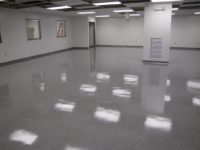 Concrete can be damp: When in a facility with an untreated concrete floor, at times the slab can feel slightly wet or damp to touch. This is due to moisture within the concrete that can eventually work its way up to the surface of the slab. When this happens, items that are placed on top of the floor can be damaged by trapped moisture above the slab and below the object. When this happens, if a product is not protected properly, it can be damaged.
Concrete is dark and unreflective: An untreated concrete slab can often make a room feel dark and it does not reflect lighting within the room. This can result in the need for extra lights and electricity to properly grow cannabis.
Concrete lacks texture: When working in areas where water and other liquids can fall to the ground and accumulate, flooring with traction can play a key role in helping aid against slip and fall incidents. Untreated concrete typically does not provide sufficient texture and can become very slippery when wet.
The Benefits of Bare Concrete Flooring
While the previously mentioned risks can be associated with bare concrete flooring, there is an upside to the situation! Concrete is the perfect substrate for adding a coating that is built to withstand the industry's demands.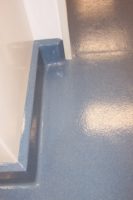 With the application of a fluid-applied or resinous floor coating, the risks of bare concrete flooring can be mitigated. There are a variety of resin and fluid-based coating systems that can be applied, such as:
Epoxy and Urethane Systems
Urethane Mortar Systems
Decorative Quartz Systems
Decorative Flake Systems
These durable coatings have numerous benefits and can offer:
Protection against the proliferation bacteria and other pathogens: Unlike porous concrete, a smooth and virtually seamless floor coating eliminates the little crevices where pathogens can grow. This in turn helps aid against the growth of bacteria, keeping hygiene standards at the forefront and grow rooms in full operations.
Protection against moisture damage: As moisture within the concrete can move upward to the surface of the slab, there are moisture mitigation coating systems, that keep it trapped below the surface, thus helping toprotect items placed on the floor.
Brighter spaces and light reflection: Installing a floor coating that is light in color, such as white or light gray, can help brighten any space. The benefits of this are twofold: First, it can help with visibility, helping employees navigate the space safely. Secondly, light reflectivity of the flooring improves lighting efficiency, resulting in fewer light fixtures and smaller electric costs.
Texture options to help aid against slip and fall incidents: Floor coating systems can offer a variety of texture options−from light grit to heavy grit−depending on how much accumulated water and foot traffic the area receives. Without additional texture in wet areas, slip and fall incidents and injuries are inevitable.
A wide range of colors and decorative systems: These coating systems can be designed to match the aesthetics of the building or corporate colors. Some manufacturers even offer color matching upon request. When it comes to colors, the options are virtually endless.
Choosing the Right Flooring: Considering Bare Concrete
Choosing the right flooring for a cannabis greenhouse or processing facility requires important consideration as every grow room and greenhouse is different. Bare concrete is a popular flooring option for manufacturing and processing facilities across industries, however, as discussed, it can pose unique challenges due to its innate nature. That said, by taking the right steps to ensure that the concrete substrate is properly sealed, it can then be an effective and hygienic flooring option, offering high durability and a longer life cycle.