The cannabis industry in the United States represents about a $50 billion asset class making it one of the largest new asset classes in the country. Commercial real estate lending is a key enabler for companies seeking to expand and scale. Pelorus Equity Group is one of the largest commercial lenders in cannabis with over $170 million deployed since its first cannabis transaction in 2016.
Since 1991, Pelorus principals have participated in more than $1 billion of real estate investment transactions using both debt and equity solutions. Pelorus offers a range of transactional solutions addressing the diverse needs of cannabis related business operators. While most cannabis private equity lenders focus on real estate acquisition and refinancing, Pelorus has leveraged its experience in more than 5,000 transactions of varying size and complexity to offer value-add loans, a rarity in the industry.
We spoke with Rob Sechrist, president of Pelorus Equity Group and manager of the Pelorus Fund. Rob joined Pelorus in 2010 after several years in the California real estate market. In 2018, Pelorus launched the Pelorus Fund where Rob is currently the manager. The Fund converted to an REIT in 2020.
Aaron Green: How did you get involved in the cannabis industry?
Rob Sechrist: Pelorus is a value-add bridge lender. We've been lending for a long time, originally in the non-cannabis space. We've done 5000 transactions for over a billion dollars – more than a lot of banks.
In 2014, our local congressman Dana Rohrabacher passed the Rohrabacher-Blumenauer Amendment that defunded the Department of Justice from prosecuting any cannabis related business in a medically licensed state. We were a supporter of that legislation and once that passed, we took a serious look at utilizing our expertise in being a value-add lender and applying it to the largest asset class of real estate that is newly coming about today. That cannabis related asset class is about $50 billion.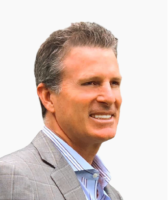 We decided that we had the expertise to move into this space and to build these facilities out for our borrowers so that the cannabis use tenants would have a fully stabilized facility and make it operate. After the amendment passed in 2014, by 2016 we had originated our first transaction. Since that time, we've originated 51 transactions in the cannabis space for over $177 million so far. It wasn't that big of a pivot when you're just providing the value-add loan.
"Value-add" in the loan business means that a portion of the loan amount, let's just say is a million dollars, maybe 250,000 of that, is a pre-approved budget to go back into the property. In cannabis property those are typically tenant improvements and/or equipment to fully stabilize that tenant. So, we're the first fully dedicated lender in the nation exclusively to cannabis and we've done more transactions than anybody else in the nation.
Green: What are some challenges of cannabis lending compared to traditional lending?
Sechrist: The number one challenge in cannabis is that you must disclose to your investors that you're originating the loans to cannabis use tenants. Many people have concerns that lending indirectly might be federally illegal. If you did not disclose that to your investors when you form that capital stack to fund these transactions, you're going to run into issues. So, you would need to create a vehicle where you disclose to your investors that you're intending to lend into cannabis and it's still federally illegal. Doing one-off stand-alone transactions deal by deal is not sustainable if you're going to be a large lender.
There are other challenges. Because cannabis is still federally illegal, it gives insurers and other third parties the ability to deny a claim, or certain lender protections. Some examples include errors and omissions insurance, title insurance, property insurance, etc. and all of them say in those policies that if you're doing something federally illegal, then the policy is null and void. So, you must think your way through very carefully all the things that could potentially be an issue. You also have to disclose to those third parties and find a way to get them to acknowledge it to make sure you have the coverage if you ever have to make a claim. That's a very difficult process.
Green: How has the investor profile in cannabis lending changed over time?
Sechrist: Our fund was structured to allow for institutional capital from the inception. We were able to do that because we are completely non-plant touching. Our fund only lends to the owners of commercial real estate. We do not lend to any cannabis licensed operator directly whatsoever. Our borrowers – the owners of the properties – would then have a lease agreement with the cannabis use tenant. Even if it's an owner-operator, those are separate entities. That's how we've distinguished ourselves.


Regarding the investor profile, the first $100 million plus we raised was primarily from retail investors who were individuals writing checks up to a million dollars. Once we had three years of audited track record and our fund was $100 million, we then pivoted over to family offices and institutional investors and pension funds. We're now working primarily with those types of investors.
The reason that we started with retail investors is that it's very easy for me to explain our model to a single decision maker and answer their questions. Once I move into family offices or institutional investors, the opportunity goes to a credit committee where I'm relying on some other party to educate the investor about our investment. It's enormously challenging at that point if it's not me doing the talking. I know the answers, but I'm having to rely on somebody else to answer questions. We've tried to educate everybody we speak with and craft our documentation in such a way that even when it's not myself answering the questions directly, people can understand how we thread the needle through some of the legal hurdles.
Green: How do you prioritize deal flow, and what are the qualities of a successful loan applicant?
Sechrist: We typically maintain a pipeline of around $150 million in transactions at any one time.
Applicants must have real estate. We're not doing business loans or operator loans directly to tenants or business operations. So, that's the starting point. We want a real estate piece of collateral where we feel more than comfortable with the loan-to-value and ratios and the loan to cost and other figures, that we feel that this transaction is going to be a success for our borrower and ultimately the tenant.
Next, we will only work with very experienced operators who have a proven track record where this is not their first transaction. Ideally, we are working someone who is looking to expand their operations and who is ready to either move from being a tenant of their previous facility and buying their next facility.
The next aspect that we're looking for is the strength of the borrower's guarantor. They must be able to qualify to support that transaction. Many of our transactions are millions or 10s of millions of dollars. You must have a sponsor that can support that size of a transaction.
Green: What sort of value-adds should a cannabis property owner look for in their lender?
Sechrist: Most people that are looking for loans are only familiar with getting loans for themselves on their owner-occupied house. Most loans have points, they have a rate and a term, loan-to-value and things like that.
"We wanted to make sure that when we underwrite the transaction, that every single piece of capital is necessary to get that facility all the way to where that tenant can start generating their first crops and make their lease payments."When you move into construction loans or value-add lending, there are other elements that are more important than the pricing of the loan. The number one thing is to get that property fully stabilized and built as quickly as possible. Cannabis tenants are generating 10 to 15 times more revenue per month than non-cannabis tenants.
If you go to a bank and borrow money it may be a third of what it costs to borrow from us, but they process draws maybe once a month. So, if you're having to advance the money for improvements of the property, and then the bank reimburses once a month, at a certain point you're not going to be able to advance any more money until you get reimbursed. The project comes to a stop. So, in your mind, you might have saved an enormous amount on the pricing of the rate, but it's costing you dearly in revenue and opportunity costs. We typically process 50 to 100 draws post-closing on transactions, and we get that facility built and the money reimbursed to all the contractors on a multiple-times-a-week basis. It's happening in real flow all the time.
A typical problem for a tenant is that the tenant improvements are orders of magnitude higher than a non-cannabis tenant – anywhere from $150 to $250 per square foot. In addition, the equipment is often enormously expensive as well. It's tough to put money into a buildout for a building that you may not own. Our vision at Pelorus was, let's not force these tenants – the cannabis operators – to raise equity at the worst possible time when they're not generating revenue through the facility. Let's shift that capital balance for those tenant improvements and equipment from the from the tenant to the owner of the building, which is where it's secured and adds value to that building anyway. Our vision was to shift that money from the balance sheet of the tenant over to the owner of the real estate so the tenant didn't have to sell equity to come up with that money. Then the tenant is paying for the improvements in the lease rate and the borrower is paying for improvements in the note rate. And so we've shifted tenant improvements from being an equity component to now it's just priced in the debt. This way you know what the terms are and you know what your total exposure is there.
We wanted to make sure that when we underwrite the transaction, that every single piece of capital is necessary to get that facility all the way to where that tenant can start generating their first crops and make their lease payments. Most of our peers in the space don't look at it that way. They just do the acquisition or the refinance. They don't do anything for the tenant improvements. They don't do anything for the equipment. The tenant is left out there to either raise that equity or the borrower – the owner of the real estate – is having to come up with that additional capital on their own. We think you're set up for failure in that circumstance. So, we blend all that into one capital stack. It's important that the tenants can get all the way up to being able to cash flow and support that facility and be fully stabilized so they can refinance into a lower cost bank or credit union transaction.
Green: What federal policies and trends are you monitoring?
Sechrist: First, I think that it's important to remind people that the Rohrabacher-Blumenauer Amendment has protected everybody from any prosecution. So, there's no jeopardy out there that exists. The second thing I like to tell people is there are 695 banks on FinCEN's website of cannabis Tier 1 depositors, and of those, we're tracking numerous FDIC insured state banks and credit unions that are lending directly. We've been paid off by banks.
So, there's this massive misconception that there's no banking at all and that everything is happening by cash. The only cash buildup that happens is at the retail dispensary level because credit cards aren't allowed for retail sales at the dispensaries. Out of the 2,000 transactions that we've either processed or reviewed, not one has ever not had banking set up. So, it is a big misnomer that there's no depositor relations for Tier 1 banking, which is plant touching.
Tier 2/3 depositors are ancillary, which is what we are at Pelorus. There are 100 private lenders and dozens and dozens of state and federal credit unions or state banks and credit unions, not federal, that are FDIC insured and lending. Those banks are difficult to get loans from because they only want to do urban environments. They want to do fully stabilized companies and they want to use alternative views and the facility has to have seasoning for cash flow. It's difficult to qualify for them. So, banking and lending exists out there, and most people are not aware of that.
Green: What are you most interested in learning about? This could be either in cannabis or in your personal life.
Sechrist: My two passions are snowboarding and racetrack driving. I just came back from the Mille Miglia race in Italy, and I do a lot of driving on the racetracks. I'm always looking to learn from those experiences.
In the cannabis sector, social equity programs are happening across the nation and cannabis licenses are being issued to operators. We would like to help participate in some system of educating these applicants that win the awards. Lending to an owner of a property who just won a license but has no experience is going to be problematic. Somebody needs to be thinking that out and making sure that these people that win have enough experience and education to set them up for success. Cannabis is one of the most complicated businesses ever, and they've got this license as their ticket, but they need to know how to make sure they're going to be successful.
Green: Great Rob, that concludes the interview.
Sechrist: Thanks Aaron.