Lean management or Lean thinking is a process for continuous improvement that can be applied to any business. Most frequently Lean is attributed to the manufacturing sector due to its origins in Japan at the Toyota Motor Company. Lean originated in post-war Japan where resources were scarce as the country rebuilt itself after World War II. The scarcity of resources forced the Japanese to do more with less which manifested itself within the Toyota organization as the Toyota Production System from which Lean originated.
Today, Lean thinking is being applied to every industry and we believe that the cannabis industry, and in particular laboratories, can benefit tremendously from its principals.
What Is Lean and How Does it Apply to Cannabis?
Lean thinking is a set of powerful tools for any business or organization that wants to be the best in their industry and deliver superior value their customers. This is especially relevant to the fast-growing cannabis and hemp testing industry where customers demand fast turnaround times and error-free results.
The reason that Lean applies to all businesses and especially the cannabis industry is because of its focus is on eliminating waste. Waste comes in many forms including defects, waiting time, extra motion, excess inventory, transportation, over production, over processing and underutilized talent.
Companies that adopt Lean management eliminate waste using a wide variety of tools that help surface issues and eliminate the root causes. When companies eliminate waste, they simultaneously improve both their speed and quality, two attributes that customers really care about. Given the fast-changing nature of the cannabis industry and differences state by state, we believe that using Lean thinking to eliminate waste is critical to being a top performing business in the cannabis industry.

One important tool that many businesses begin with is known as 5S or 6S. At our laboratory we recently implemented 6S to organize both our office and laboratory spaces. 6S is a process improvement tool that stands for Sort, Set in Order, Shine, Standardize, Sustain and Safety. The process involves each technician or analyst assessing their areas and asking critical questions such as: Can I easily reach everything I need for this test or process? Is there wasted motion due to the placement of items within the lab? Can I easily tell how much consumable inventory I have on hand at a glance?
This process also helps improve safety because the workspace is better organized, easier to navigate and designed with safety in mind. Each person is responsible for maintaining their workspace and regular audits by rotating teammates, helping drive continuous improvement to our 6S. It is a fundamental process for any business starting to adopt Lean thinking.
Another very helpful process that any cannabis business can implement is the Gemba walk. Gemba is the Japanese word for "actual place" and refers to the place in a business where value is created for the customer. Value in our cannabis business is created in our testing lab. By improving everything in our testing lab we improve our quality and speed for our customers. In our laboratory we begin the Gemba walk as a team reviewing our key performance indicators (KPIs). From there, the management team visits each station to review additional KPIs and discuss any issues that group may be having. We try to surface issues, however small they may be, so that they are solved and hopefully eliminated. This process is key to helping us keep a pulse on the lab, engaging employees and better understand the improvements that need to be made.
How to Implement Lean Processes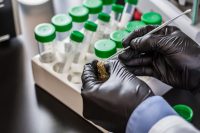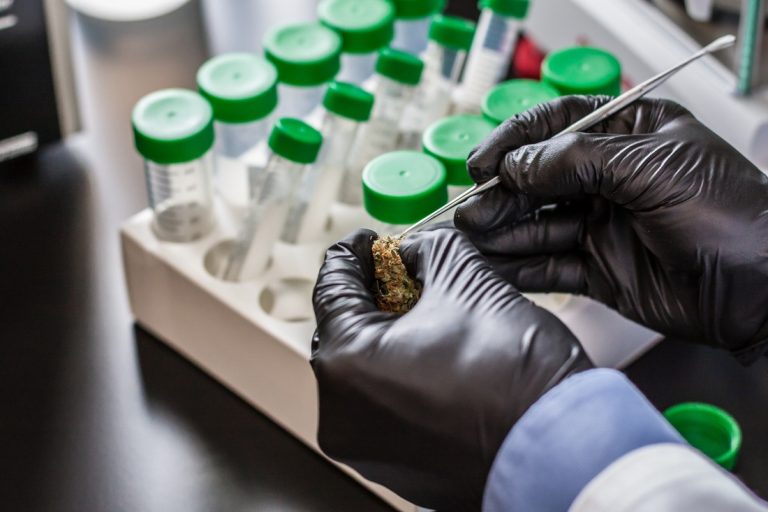 Lean thinking is a very accessible set of tools. Unfortunately, it is quite difficult to implement because of the dedication that it requires. Implementing Lean and changing the culture requires a significant amount of time, investment in training and management commitment. Time and capital for training can be scarce at some businesses in the cannabis industry. For the businesses with capital, it is extremely important that management commit to implementing Lean and changing their culture. Without the support of the executive team most businesses stop implementing new procedures and revert to how they are used to operating. It is also common for changes in management to result in lean becoming deprioritized in place of a new initiative.
If the executive team is inexperienced in Lean management, it will be important to find a Lean consultant that can guide the training and events. A Lean consultant should be able to provide you with thorough training on each tool and help your business implement them in real time to improve the business. The training and knowledge gained during these events are extremely valuable and practical tools that every employee can use.
Results From Implementing a Lean Organization
If a business is able to successfully implement Lean management the results for their customers can be dramatic. In the laboratory setting, turnaround times will be reduced, and more importantly, will remain consistent despite fluctuations in sample volume. Faster turnaround times for cannabis companies means that they can bring inventory to market faster which can be critical for supply constrained businesses.
Additionally, implementing Lean helps reduce the number of errors, rework and retests so the quality of the results for the customer is dramatically improved. Root cause issues are solved, processes are updated and then shared with the entire team so that everyone can learn and benefit from the improvement. Without quality results, a testing laboratory does not really have a product or service to offer so it is critical to get it right every time.
All areas of the cannabis industry are becoming more competitive, and it is important for every business to make sure they can stay competitive considering changing market dynamics. Lean management has helped businesses in other industries stand apart from the rest and we believe that the cannabis industry will be no different. Academic literature has studied and documented the positive impact that Lean has on businesses globally. Lean management has repeatedly shown that businesses that can truly implement Lean thinking in everything that they do will have an inherent advantage because they'll be faster, more agile, higher quality, more efficient and focused entirely on creating value for their customer.