This is the third in a series of articles designed to introduce an integrated pest management framework for cannabis cultivation facilities. To see Part One, click here. For Part Two, click here. Part Four comes out next week and covers direct control options for pest reduction. More to come!
This is Part 3: Preventive Measures
Preventive measures are a great investment in the profitability of your operations. Our objective is to ensure successful repeat harvests forever. Build your procedures with this in mind. This means maintenance and regular review. We all realize that this work can be monotonous drudgery (we know!), but these procedures will ensure your success.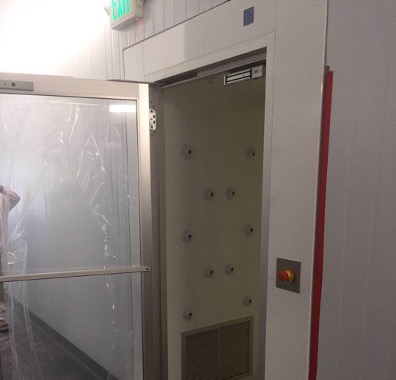 As a summary to begin, pest access must be limited wherever possible. Employees are the first place to start, but we must also return to our site map and review our facility design and workflows. Every operation has to move plants from nursery through harvest and post-harvest. Where should cleaning happen? Of course, you have to clean up post-harvest but when should this occur during the grow cycle? What is the best way to monitor and clean environmental management systems (i.e. air, water) and what are the weaknesses in the physical barriers between operations? Let's walk through these issues one-by-one.
Employee Access and Sterile Equipment
Follow procedures to screen and protect your employees both to eliminate pests and to avoid exposing your employees to harmful chemicals or storage areas. Look for ways to isolate your workflow from pest access. Be certain that your facility is airtight and sealed with filtration of molds, spores and live organisms in your air intake areas. Air showers at your access points are important to screen your employees on their way into your gowning areas and grow facility. Clothing should be standardized and shoe coverings or crocs should be provided for all employees that access your interior. Look for ways to stop all pests (embedded, crawling, hopping or flying) in all of your room assignments (mothers, clone, veg, flower, trim and drying). This can be improved with shoe baths, sticky mats, frequent hygiene (hand washing and cleaning stations) and procedures for entry.
Always consider requiring hair & beard nets, shoe covers and disposable gloves in plant sensitive areas.
Chemical Access & Protective Equipment

Personal protection equipment (PPE) is very important to protect any employee that will come in contact with materials, liquids or vapors for chemical resources. Establish procedures for chemical use and train employees in the safe handling of these materials. Typical equipment includes high density chemical protective gloves, boots, respirators, Tyvek (or equivalent protective wear) suits and eye protection or goggles.
Chemical access areas and their use should be restricted to employees familiar with their authorized application. Always remember that cannabis is an accumulator plant, and it will absorb and hold onto chemical treatments. Appropriate isolation and safety procedures must be followed for chemical use. Not following these restrictions can expose your employees to dangerous chemicals or get your entire harvests rejected at testing.
Facility Map & Workflow
Because insects would like to be everywhere and they come in many types (root zone, crawling, flying, microscopic, bacterial or biofilm), the facility workflow must understand where they are and how they might migrate if they penetrate your defenses. Note airflows in your rooms and fan locations so migrations can be predicted once an infestation is located. Where are your opportunities for full clean-up and disaster recovery in your building? Where should you stage maintenance filters, test kits, water and cleaning materials. How best to clean up and dispose of sealed garbage containers or cleaning materials?
Operational Cleaning & Post-Harvest Reset
When compiling your preventative measure documents, it is critical to create a repeatable operating procedure for cleaning and sanitizing your rooms, systems, and growing spaces after each harvest. Plant material handling, cleaning surfaces and wipe methods should all be documented in your Standard Operating Procedures (SOPs). Define what "clean" is. Removing plants and plant debris is pretty clear but define how to drain reservoirs, clean pipes, change filters and clean and sterilize your rooms. Operators must be trained in these SOPs and reminded of their content on a regular schedule. This is how you avoid outbreaks that can crush your profits.
Physical Barriers & Maintenance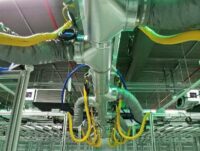 Document your sealed spaces and define your normal room and access door barrier interfaces. Review the status of any known cracks or gaps in your perimeter. Are there any known leaks or piping that has been seen as a risk or a problem in the past? Are there any discoloring or resident mold locations (Never happens, right?). Baseline how much time and people resource a harvest operation and cleaning effort should take. Will you do this after every harvest or compromise your risk by delaying to every third or fourth harvest? Create your barrier SOP.
Environmental Control & HVAC
Managing the air quality provided to your plants is critical to your yields. Controlling CO2, air movement rates (the leaf happy dance), humidity, air filtration and sterilization methods must be maintained and cleaned on a regular basis. Do you need to change the HEPA or other particulate filters? Is there any UV light sterilization maintenance? We have all seen the home HVAC air conduit cleaning commercials. Your commercial facility is no different. How will you clean your air and water plumbing systems? How often will you perform this full reset? When will you calibrate and data log your sensors for temperature, humidity, CO2 and water resources? Put everything about your environmental set points into your maintenance document and decide when to validate these. Molds, mildews and biofilm hazards are all waiting for unmonitored systems to open the door for access.
In Conclusion, This Week
If you're an IPM nerd and this dynamic topic did not put you to sleep, you can read more detail and examples for your integrated pest management procedures in ourcomplete white paper for Integrated Pest Management Recommendations, download the document here.
In our next chapter, Direct Control Options, we will review what you can use to protect or recover control of your facility including both chemical and non-chemical tools and methods. In our final two chapters, we will discuss extermination of the determined pests that breach your defenses. And with great expectations, our final chapter will discuss emergency response and time to go to war!
Part Four comes out next week. See you again soon!