The cannabis supply chain – from seed to sale – is rife with intricacies including regulations and compliance. It requires coordination from multiple vendors responsible for different aspects of the end product. And as the industry either grows or retracts, use of data is vital to right-size supply to demand, enhance operational efficiencies and boost cost effectiveness.
However, there's an industry-wide, data-management vulnerability among many cannabis companies, and it's this: many are using spreadsheets in different aspects of data collection, management and analysis. This becomes a shaky foundation on which to manage processes, especially for applications like quality management. And to be fair, it's not just this industry, but arguably cannabusinesses have more on the line in light of the ever-changing regulatory environment.
Many cannabis companies have some systems in place for order processing, inventory management, production management and the like, but they often still use spreadsheets to fill the intelligence gaps among various systems that don't talk to one another. Managing supplier quality often falls into one those gaps.
The Problem with Spreadsheets
Most businesspeople understand spreadsheets. They know how to build and use them. Spreadsheets are incredibly powerful tools that are used to run more business processes than perhaps any other software product in the world. When a cannabis business first starts out, spreadsheets offer an affordable data management capability. But there comes a time when the business will need a more sophisticated, end-to-end enterprise solution.
Consider a recent incident in which the use of spreadsheets went terribly wrong. The British Government recently misplaced nearly 16,000 COVID-19 test results due to an Excel spreadsheet error. As a result, potentially infectious people may not have been notified by contact tracers that they should self-quarantine.
In the ERP space, spreadsheets have been an issue since the 90's, but this recent incident serves as a reminder that an overreliance on spreadsheets is still alive and kicking. One of the problems is that spreadsheets are often pushed beyond their intended use. Microsoft Excel has become the software Swiss Army Knife. There's a development environment inside the software, and the system is often used as a database, not just as a calculation engine.
Companies outgrow spreadsheets when the volume of data fields increase, multiple users need access to the data, iron-clad audit trails are needed and when processes become more complex.
There's also a breaking point. Cannabis companies may enter a dangerous zone of "too many spreadsheets," when data security and integrity are at risk. Interestingly enough, this also happens in large companies, as they often have a mish-mash of on-premises legacy systems, acquired systems and new cloud-based systems – and spreadsheets are then used as the data consolidation tool for all these applications.
Applicability to the Cannabis Supply Chain
Visibility into the cannabis supply chain requires detailed track and trace capabilities across many suppliers. Anything left out means guesswork and more opportunities for mistakes. In other words, cobbled-together spreadsheets are the last thing cannabis businesses should rely on. Aggregating data into a spreadsheet from various systems and paper-based processes invites errors and can result in insights that are weeks or months out of date. Worse yet, there's no drilldown capability when questions arise and no easy roll-up of information for decision-making.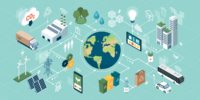 When supply chain quality must be sustained, the role of a common and integrated cloud platform for quality and ERP cannot be understated. Such a platform can capture sales, operations, inventory and purchasing data, and also integrate with production and quality control. This makes your quality processes and data integral to ERP and eliminates the data fragmentation, control and auditability issues associated with spreadsheets. In addition, companies can leverage operational insights from data reporting and analytics to find areas where they can enhance productivity, optimize inventory, improve planning accuracy and build better forecasts.
Moving to the Cloud
Modern cloud ERP provides this type of seamless platform. It's easier to implement and does not consume as many IT resources as traditional on-premise ERP systems. Better yet, the more recent versions of cloud ERP are built using low-code technology which enables business users to customize screens, modify workflow processes, build their own apps and embed AI without needing expensive IT consultants or waiting for busy IT staff.
In other words, the flexibility that's been the lure of spreadsheets is now available in cloud ERP, but the system utilizes proverbial governance guardrails that keep business users from swerving off the road and completely wrecking the system. For example, templates for apps and workflows are provided as a starting point. Business rules and "drag and drop" customization capabilities offer guided options, clearly defining what can and cannot be changed.Rootstock will be presenting during the Cannabis Quality Virtual Conference episode, Supply Chain Quality, on October 27. Click here to learn more
And as a result, quality steps aren't skipped; audit trails remain intact and data is protected with rock-solid security permissions and data backups. And unlike spreadsheets, new ERP systems are designed for multiple users and remote access via mobile devices. In short, with the latest generation of ERP, companies can leverage the best of both worlds – an end-to-end cloud platform that provides data integration across an organization's operation and the flexibility and ease-of-use of spreadsheets.
Supply Chain Case in Point
One customer we worked with previously coordinated its supply chain via email and Excel spreadsheets. It cut and pasted requisitions into individual supplier spreadsheets and emailed those out, and it kept a master spreadsheet to keep track of all supplier performance. Team members had to sift through spreadsheet columns and rows to find information they needed.
Today with a cloud platform, the company built an online community so processes could be automated and conducted via real-time connection and communications. Another immediate benefit was the customized supply chain dashboard. All relevant data across their entire supply chain was displayed in one place and in a user-friendly manner.
The dashboard showed production forecasts over a certain period of time. The company could detect whether the supply chain was on track or having issues with certain suppliers. It could see planned requisitions and monitor them until fulfillment was complete. It could also monitor the performance of various suppliers, whether they had on-time deliveries or not – and trace back items received. The company essentially has a snapshot of the overall health of its supply chain and all the underlying activity.
Let's face it. 2020 has been a difficult year, but perhaps it's the year that companies finally forego spreadsheets and enlist an industrial-strength cloud platform.