Update: Gov. Reeves signed the bill into law today. Mississippi is the 37th state to legalize medical cannabis in the country. 
On January 26, 2022, both the Mississippi House of Representatives and the state's Senate voted overwhelmingly to approve SB 2095, the bill that will legalize medical cannabis in the state. The House voted 104-13 and the Senate voted 46-4 to approve the bill, sending it to Governor Tate Reeves' desk.
Back in 2020, voters in Mississippi approved Initiative 65, a ballot measure to legalize medical cannabis. Last year, the state's supreme court overturned it and invalidated the ballot initiative method.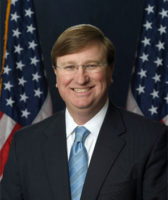 Gov. Reeves has been historically against cannabis legalization, but has changed his tune recently. On February 1, 2022, Gov. Reeves told reporters that he has not decided if he'll sign the bill or not. The Governor's office is still reviewing the bill.
Once both chambers of the state's legislature approved the final language in the bill on January 26, it gave the Governor five business days to act on it. That deadline is today and he was left with three options: sign it, veto it or let it become law without his signature. If he did decide to veto it, the legislature had more than enough votes to override that.
The legislation adds a 5% tax on top of the state's 7% sales tax on all cannabis sales. New amendments to the bill tasks the Mississippi State Department of Health with regulating the market. Patients can buy up to 3.5 grams per day, six days a week, with a limit of three ounces per month.