According to a press release sent out last week, Perry Johnson Laboratory Accreditation, Inc. announced the accreditation of CannaSafe Labs to ISO/IEC 17025. CannaSafe is based in Van Nuys, California and provides a number of different testing services, including full regulatory compliance testing for the state's requirements.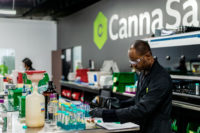 CannaSafe was allegedly the first to break the news about vaping health issues caused by EVALI, the lung condition responsible for the 2019 vape crisis. According to the press release, they provided testing data that proved black market vapes contained dangerous chemicals, likely including vitamin E acetate, the chemical that the CDC says is linked to EVALI.
CannaSafe say they have plans to expand into a number of states beyond California. They are also planning to build a facility dedicated to CBD testing to meet market needs in the near future.