In September of 2019, Charles Wilcoxen fell seriously ill after vaping cannabis oil from a cartridge. Just days after he began experiencing symptoms he was hospitalized and later diagnosed with lipoid pneumonia, the mysterious lung illness now known as EVALI associated with the 2019 vape crisis.
Wilcoxen spent three days in the hospital and ever since he was diagnosed, he has been unable to exercise, return to work full time or even play with his daughter. Attorneys for Herrmann Law Group representing Wilcoxen filed a product liability lawsuit, Wilcoxen v. Canna Brand Solutions, LLC, et al., in Washington State Court, naming six cannabis companies as defendants: Canna Brand Solutions, Conscious Cannabis, Rainbow's Aloft, Leafwerx, MFused and Janes Garden.
This case was allegedly the first lawsuit in the wake of the 2019 vape crisis. The Vanderbilt University Law School Blog has a very comprehensive post on this case that has the original complaint and a lot of information on the lawsuit.
Canna Brand Solutions, the primary defendant named in the complaint, is a packaging supplier and distributor for CCELL vaping products (heating elements, pens and batteries) in the state of Washington. The complaint alleges that Wilcoxen believes he used a CCELL vape. CCELL is a Chinese company, which makes it notoriously difficult to pursue legal action against them, hence why Canna Brand Solutions was listed as a defendant instead.
On August 31, 2020, Judge Michael Schwartz dismissed all claims against Canna Brand Solutions. "All claims asserted by Plaintiff against Canna Brand in the above-mentioned matter shall be voluntarily dismissed without prejudice and without costs or fees to any of the parties to this litigation," Judge Schwartz says in the dismissal. Judge Schwartz dismissed the case without prejudice, meaning it could be brought to the court again should the plaintiff's attorneys decide to do so.
With the allegations against Canna Brand Solutions focusing on CCELL products, it seems that the case was dismissed largely due to a lack of evidence connecting exactly which product resulted in the illness, as well as the lack of culpability for a distributor of products they did not manufacture.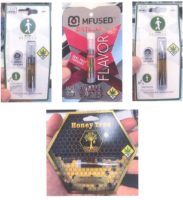 Daniel Allen, founder and president of Canna Brands Solutions, claims that the product mentioned in the complaint did not come from his company. "We stand by our high quality and customizable CCELL vaporization products," says Allen. "We feel vindicated in this case by the judge's decision, which shows the claims against our company and products were completely unfounded from the beginning."
He also added that the quality and safety of the products they distribute is their highest priority. "The product in question involved in this case did not come from Canna Brand Solutions," says Allen.
Wilcoxen's illness and subsequent long-term lung injury is extremely unfortunate. Thousands of people have been hospitalized and 68 deaths have been confirmed by the CDC. The CDC is still calling the illness EVALI (e-cigarette, or vaping, product use-associated lung injury). According to the CDC, there is no real known cause of EVALI, but they have found that vitamin E acetate is "strongly linked" to the outbreak. Knowing that, it is entirely possible that Mr. Wilcoxen's illness was a result of one of the cannabis products he consumed, just most likely not anything that came from Canna Brand Solutions. A closer look at the contents with an independent lab test of the THC oil he consumed could shed some more light on what exactly caused the illness.
I would venture to guess that one of the products he consumed did have vitamin E acetate. Because the case was dismissed without prejudice, it could be brought to the court again if, say, Mr. Wilcoxen's attorneys were to obtain more evidence, such as an independent lab report showing vitamin E acetate in the contents of one of the products he consumed. If Mr. Wilcoxen's attorneys can figure out which product actually contained vitamin E acetate, perhaps the lawsuit could get a second shot and Mr. Wilcoxen could have a greater chance at getting some long-overdue and much-deserved restitution.