Launched in August of 2014, Women Grow began with the goal of establishing an organization for professional networking that supports women leaders in the cannabis industry. On a platform of fair and inclusive business practices, the organization emphasizes the importance of a social mission in business planning.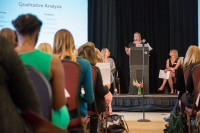 Through a variety of networking and educational events, Women Grow brings together a community of established and new industry professionals that helps connect and empower women to grow their business and succeed in the cannabis marketplace. Jazmin Hupp, CEO and co-founder of Women Grow has been referred to as a "genius entrepreneur" by Fortune Magazine and was named one of the top businesswomen in the cannabis marketplace by Forbes. "Women can be very community and healthcare-minded, providing the backbone for establishing an ethical cannabis industry with a focus on health and wellness," says Hupp.
According to data from the U.S. Department of Labor, women make approximately 80% of all healthcare decisions for their household. Not only is Hupp's organization helping to empower women in the workplace and in leadership roles in the industry, it also teaches good business practices. "The primary demographic purchasing cannabis in the future will be women, because they purchase 90% of OTC medicine and do 80% of household buying," adds Hupp. "Women are the leading purchasers of alternative foods, health and wellness products, and they drink more alcohol by volume than men." 
According to Hupp, women control the majority of consumer spending and will be looking for a safer way to recreate than consuming alcohol, and cannabis products will provide an answer. "If your target market is going to be driven by female spending, it just makes good business sense to put women in executive roles and on marketing teams," she adds.
Because cannabis is still a schedule I narcotic in the eyes of the federal government, there are issues that involve more than just effective marketing tools. "Child Protective Services has the ability to deem a household with marijuana present unfit for children, largely due to the stigma and federal classification of cannabis," says Hupp. "Mothers are particularly hesitant to get involved [directly in a cannabis business] because of the possibility of losing their children, hence why some mothers work on the ancillary side of the industry, as opposed to working directly with the plant."
Women Grow is actively working to address these needs in America's fastest growing industry on a national scale by advocating for the end of marijuana prohibition. "This is a brand new industry that can be conscious of social, economic, and racial injustices so there are no glass ceilings for women or minorities," Hupp says. "This comes out of a very socially conscious movement where leaders understand the benefits of inclusion, diversity, and the importance of socially responsible decisions."
With the cannabis marketplace still in a nascent stage, opportunities to support diversity and inclusive business practices makes this industry particularly unique.