On October 7, 2020, the Washington State Liquor and Cannabis Board (WSLCB) issued an emergency suspension for El Rey De La Kush, based in Riverside, Washington, for allegedly distributing cannabis products across state lines. This information was found in an email sent out by the WSLCB late Wednesday night on October 7. El Rey De La Kush does not have a website, but it looks like they own this Facebook page.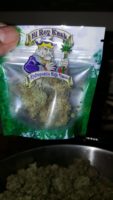 Back in September, the Wenatchee Police Department told the WSLCB that they were investigating 4.3 pounds of cannabis they found shipped from a residence in Wenatchee via UPS. When they served a search warrant, they found roughly 620 pounds of cannabis with traceability tags leading them back to El Rey De La Kush.
The suspect in the case is Brandi Clardy, who is affiliated with the company in question and listed on their license. The original licensee, Juan Penaloza, passed away in July this year and Clardy had been the chief operator following Penaloza's death.
In an interview with the police, the WSLCB says that Clardy admitted to the crime of removing cannabis from the premises with the intent to distribute across state lines.
The WSLCB says cannabis products were actively being diverted to Texas, where adult use cannabis sales is still very illegal.
The license remains suspended for 180 days, after which point the WSLCB will "pursue permanent revocation." This marks the first and only emergency suspension issued in 2020.