According to a press release published in late August, CBD watchdog Leafreport found a large number of inaccuracies when testing CBD-infused beverages on the market today. Leafreport conducted independent lab testing on 22 different CBD-infused beverages and found more than half of the products had less CBD than the label claimed. To be specific, 12 out of the 22 products tested contained less CBD than advertised.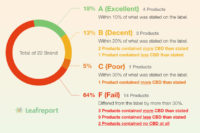 Canalysis Laboratories, the lab contracted to conduct the testing, found two of the products didn't even contain any CBD. 18 of the beverages had CBD levels with a label claim variance greater than 10%. 14 of the beverages had CBD levels with a label claim variance greater than 40%. Only 4 of the beverages achieved an 'A' letter grade for coming within 10% of their advertised CBD levels.
According to Lital Shafir, head of product at Leafreport, the CBD beverage market is a bit tricky, largely due to product formulation issues. "This is in line with our expectations because CBD beverages are difficult to formulate and contain relatively small amounts of CBD, which means that variations of even a few milligrams can have a big effect," says Shafir. "The CBD industry is completely unregulated and there have been many cases of companies selling products that contain little to no CBD. That's why third-party testing is important for brands in this industry."
Interestingly, this report did not find a positive correlation between a company's reputation and their product's test results. The full study can be found here. Leafreport is an independent, peer-reviewed website dedicated to increasing transparency in the CBD marketplace.