More and more we are seeing the development of proprietary hardware platforms in cannabis. With proprietary technology in hand, manufacturers often lean on MSOs, LPs and other brand partners to grow their business through existing sales channels.
We spoke with Mike McDonald, President and CEO at Ammonite, to learn more about the history of the Dablicator™ platform and Ammonite's North American brand partner strategy. Mike formed Ammonite as a spin-off company from Jetty Extracts after getting to know the founders in a real estate transaction. Prior to Ammonite, Mike was an operator in the manufacturing and product development space, having helped to launch the Giant bicycle brand as well as growing and eventually selling the Atlas Snowshoe Company to K2 Sports.
Aaron: How did you get involved in cannabis?
Mike: Well, like a lot of folks in the industry, my background is pretty eclectic. I come primarily from an operator's perspective – I've been in manufacturing, product development and company growth for my whole career. I lived in Taiwan for several years and helped to launch the Giant bicycle brand worldwide. I was also involved with a ski business that was started at Stanford as a thesis project called Atlas Snowshoe Company. Fast-forward, we built it into the largest snowshoe brand and activity in the US and later sold it to K2 Sports. So, I've always been involved in the growth of product-related businesses.
I've also done some real estate development as well; I actually sold our building to the Jetty guys, which is how we met. In that process, I got involved with their company, helped Jetty reorganize its business model, raise some money, and then just got addicted to the whole industry and really found it fascinating. I liked the team at Jetty and couldn't resist jumping in, and now I've been full-time in the business for over three years.
Aaron: How did you get involved in Ammonite?
Mike: Ammonite is actually a spin out company from Jetty Extracts, which is one of the largest brands in California. Our main Ammonite product is called the Dablicator™ Oil Applicator, which was originally invented at Jetty as a medical device for cancer patients. We saw a big demand for it as a private label partnership product, so we decided to spin out a separate hardware company and really focus on developing unique IP and CBD and cannabis related hardware.
Aaron: What trends are you following in the industry?
Mike: Certainly the MSOs of the world are really expanding and the top three to five are making a mark with growth and more sophistication in the market. I think the social equity movement is really a big component that we're all excited about in the industry. You're seeing the larger players really put their money where their mouth is around that. We've always been a big part of that in California.
Specifically, regarding trends in the cannabis space, Colorado and California are probably the two most mature markets. We generally say what's happening in California and Colorado eventually make their way out to the rest of the world. Vaping was invented in California and Colorado, and now it's a huge part of the business where before, four or five years ago, the market was mostly flower-centric.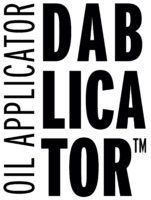 There's a trend away from inhalables, with more awareness around lung-related illnesses and of course COVID, so we're seeing a big growth in edibles, drinks and so forth. Interestingly enough, although it's an inhalable, infused pre-rolls are a big growth sector as well. Jetty is actually launching an infused pre-roll program in February.
Folks are looking for ways to get their medicine without smoking – and this has definitely led to a growth in the oil application business. Oil application has traditionally been delivered via a syringe. Dablicator™ oil applicator is essentially an improved, more convenient syringe. On the medical side, patients have been taking oil sublingually, putting it in food and drink and so forth for years because a lot of them can't smoke. As that trend transfers over to the adult use market, oil application is becoming really big. You can take it sublingually; you can put it in your food or beverage. On the recreational side, you can add it to your loose flower or joints, or of course, dab it directly onto your rig via the heat resistant tip.
Further, you're probably familiar with a lot of these portable dab rigs that are taking off, like the G Pen Roam and the Puffco Peak and a variety of others. So now you can dab on the go with your standard wax and shatter in a jar. It's just not the most convenient way if you're up on a hike or on a mountain bike ride. So now, with a portable dab rig and something like the Dablicator™ oil applicator, you can have a really convenient mess-free way to enjoy cannabis. The big growth in concentrates and areas that aren't necessarily inhalables is where our product hardware really fits in.
Aaron: How did you come up with the idea for the Dablicator?
Mike: The Jetty team had a friend that had brain cancer. He was doing a lot of chemotherapy and was having trouble eating and keeping weight on and he couldn't smoke. So, the guys at Jetty began to bring him cannabis oil, which he was able to use ingesting it from a spoon initially and it really helped him with his pain, his anxiety and his appetite. In that process, we realized that there wasn't really a great way to deliver oil. Syringes were there, but they were kind of sketchy and they weren't convenient.
So, the Jetty team developed a better mousetrap. Several iterations later, this Dablicator™ product was ready for patients. In fact, it became a big part of the Jetty Shelter Project, a non-profit where the team delivers cannabis to cancer patients, and it was a very much sought-after product delivery device in that world. So, it was developed inside of a need on the medical side and it's really sort of grown inside the expansion on the adult-use side.
Aaron: Can you explain how the Dablicator™ oil applicator works from a perspective of form and function?
Mike: Pre-Dablicator™ you would use a syringe type product – for direct oil application, sublingual application, or as an add on to your flower. The difference between Dablicator™ oil applicator and a traditional syringe is that Dablicator™ is a twist and plunge product. Imagine a pen filled with oil, but instead of inhaling it, you're able to dispense it through a tip that is heat resistant, which means you can apply directly to your dab rig nail. You're able to put it in your pocket without fear of cannabis oil leakage. It's discreet, precise, compact and portable.
Aaron: How does the user dose using Dablicator™ oil applicator?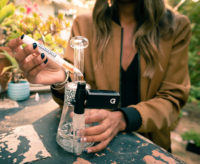 Mike: Basically, there's measurements on the plunger of 55 milligrams apiece – one click is 55 milligrams, and you can dispense as many clicks as you like. What's cool about the product itself is if you've clicked too many times accidentally, you can back it off and the excess oil won't dispense. You can go to dablicator.com and see demo videos as well.
Aaron: Dablicator™ oil applicator started as a Jetty Extracts spin-off. I see you are now white labeling for other oil brands. How do you go about selecting your partners?
Mike: We call it our brand partner program. It's not too dissimilar to what other hardware manufacturers, like PAX and GPen, are doing. We've got a patented and innovative device where our brand partners, MSOs and leading brands throughout the US and Canada, can take their existing vape and tincture oils and offer them in Dablicator™ oil applicator hardware.
Our focus is signing up major, well respected brands and MSOs on to the "platform," meaning they are able to immediately offer between six and ten new SKUs to their consumers. They take their existing oils, put them into a custom branded Dablicator™ hardware unit and add their custom branded packaging. It's a full turnkey solution. For example, one of our partners, 710 Labs, is developing their RSO and were shopping for a delivery method specifically geared towards medical patients. Within eight weeks, we had a custom program for them and delivered hardware, and we assisted on the packaging front as well.
Our partners have to be reputable folks that are interested in developing or delivering oil in a unique and innovative way. Frankly, our early partners are those that see where the growth is. 710 Labs is on the platform, as well as Surterra in Florida, Ancient Roots in Ohio, and we've got multiple conversations going to some of the other MOSs and the LPs in Canada.
Aaron: Are the brand partners loading the oil applicator themselves?
Mike: We customize the product for them and then ship them unassembled and empty. In their lab, they use the same machinery and equipment they use to fill their vape cartridges. They then fill their Dablicator™, assemble it, package it and ship it out just like any other product that they're processing and manufacturing.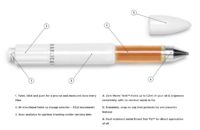 Aaron: What kind of oils are suitable for Dablicator™?
Mike: Pretty much any oil that's going into a vape cart is suitable and then some. Some of our customers, including Jetty, started out with a THC distillate. Live resin is becoming a big product category in California as well as solventless oils. Dablicator™ oil applicator can accommodate everything from distillate to live resin to solventless to RSO and even full spectrum CBD. If it can flow, if it doesn't crystallize up like shatter and sugars and diamonds, you can put it into Dablicator™, even the thickest of oils. It's designed to contain any kind of liquids that are flammable.
Aaron: What geographies are you currently in?
Mike: We're in multiple states throughout the US and actually just signed up with an LP in Canada. We only launched the program in August of 2020, and today we've got partners California, Colorado, Ohio, Arizona, Missouri, Florida, soon to be Michigan, Illinois, and throughout Canada.
Aaron: Any plans for international expansion beyond North America?
Mike: We're getting inquiries on a regular basis from all over the place, including internationally. We're in conversations with some folks down in Brazil. Spain is actually a big cannabis market and we're having some conversations with some folks there. The inquiries are coming in faster than we can process the relationships, but right now our major focus is on North America.
Aaron: What are your goals with Ammonite?
Mike: We are developing a category, right? So today, oil dispensing isn't top of mind. Today, if you want oil, you go into a dispensary and say, "Hey, give me those syringes." My goal is that a year from now, you can walk into Harborside in Oakland and you see a wall of different branded Dablicator™ oil applicators. The goal is to really turn the oil dispensing business into a category, and then position Dablicator™ oil applicator as the best and leading product in that category.
Aaron: What are you personally interested in learning more about?
Mike: Well, I've got two teenagers – two daughters, as a matter of fact, a freshman and a senior – and they're being homeschooled right now. So that's been quite an interesting development!
I think on the cannabis side, it's just fascinating what it is as a business model. It's the most recent multi-billion-dollar opportunity in consumer products. You only get a chance to participate in something like that maybe once in a lifetime. I'm really looking forward to seeing it become more adopted into the mainstream and it's already becoming that way from a consumer perspective. I am watching the cannabis market become legal from a federal perspective, hoping that the social equity component of the industry really stays with it.
I've been in a lot of businesses over the years; I feel like one of the gray hairs in this business that is actually an operator versus someone who came over from the financial side. I am continuing to learn, grow and work with great people and this has been a really amazing experience for me.
Aaron: Okay, great. Mike, that's the end of the interview. Thank you for your time today!