The cannabis industry, like many others, felt the effects of the stay-at-home orders issued in March in response to the COVID-19 healthcare crisis. While medical cannabis companies were considered "essential" in most states, many recreational dispensaries had to close their doors, or pivot to a curbside pickup operations model. According to the State of the Cannabis Industry 2020 report, following a two-week spike in mid-March, as consumers stockpiled product ahead of stay-at-home mandates, sales took a temporary downturn.
The industry rebounded in a big way, however. The report notes that, since April 20, cannabis sales have steadily increased, and are, in fact, up approximately 40% from 2019. But while medical and recreational dispensaries are now open to the public and thriving, it's far from business as usual.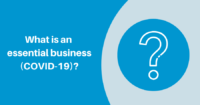 Like any other retail store, cannabusinesses must follow local- and state-issued health and safety mandates designed to prevent the spread of COVID-19. Complying with these new requirements can be difficult for business owners and management teams on a normal business day – never mind in today's climate, where demand for cannabis products continues to soar.
Turning to Technology
With more health regulations to follow than ever before and stores experiencing a consistent increase in daily foot traffic, it's no longer realistic to expect managers to manually monitor every employee and customer to make sure guidelines are met. For example, it's difficult to manage social distancing within the store – but there are commonly lines outside of cannabusinesses, where social distancing and mask-wearing precautions also need to be followed. Wouldn't you rather have managers spend their time on customer service and initiatives that will deliver business value, rather than spending time making sure people are following safety protocols?
Technology can help mitigate these new health compliance challenges – and you may even already have the solution deployed: Internet Protocol (IP) security cameras. Often implemented by businesses as a security tool, IP cameras are now also an effective way to ensure employees and customers are following health and safety protocols.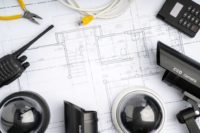 Most IP cameras are equipped with artificial intelligence (AI) that can analyze information in real-time and make split-second response decisions. In the context of health compliance, they can be trained over time to recognize when requirements are not being followed and immediately alert the appropriate managers. This means managers only need to address violations, rather than observing everyone all the time, and they can resolve compliance gaps as they're happening. In other words, AI takes on the compliance burden for you. And, as an added bonus, many AI-enabled surveillance systems give managers the ability to pull up live video feeds from their smartphone, so they can conduct compliance checks remotely, at any time. This is especially helpful to managers covering multiple stores (suddenly, they can be in more than one place at a time!).
Here are three specific ways IP security cameras can help dispensaries and other cannabusinesses ensure compliance with COVID-19-prompted health guidelines:
Social distance monitoring
Six-feet social distancing rules are now the norm across the U.S., and IP security cameras are able to measure the space around employees and customers to detect when the six-foot rule is violated. For example, some systems place a ring around each person, and the ring's color changes when people come within six feet of each other. This capability can be helpful when trying to do things such as supervise the line to get into your store, manage your checkout queue, or monitor the distance between customers browsing in store aisles.You can use IP security cameras to create a healthier and safer work environment
Occupancy management
In many states, organizations must follow orders that restrict occupancy to 50% capacity. Rather than having an employee at your front door tallying the number of people going into and out of your store, IP security cameras can do the counting for you. With this capability, you can control foot traffic and keep the number of shoppers within defined occupancy requirements – without having to allocate personnel to do the task manually.
Face mask detection
AI-enabled IP security cameras can also help businesses comply with mandatory face mask orders. The technology can be trained to detect employees and customers who aren't wearing face masks or other required personal protective equipment, and then alert appropriate management personnel.
A Dual Purpose – Security and Compliance
IP security cameras now have a dual purpose. Beyond simply helping organizations protect their premises from crime, they now also empower them to ensure compliance with health and safety requirements. You can leverage the technology to remediate compliance issues in real-time and demonstrate to public officials that your business remains in compliance with all health mandates. Most importantly, you can use IP security cameras to create a healthier and safer work environment – and, in these uncertain times, this is a certainty you can count on.