According to projections, counterfeiting and piracy could reach $2.3 trillion in the US alone, bringing the economic cost to $4.2 trillion globally by 2022. The pandemic made the billion-dollar problem even worse. Products that you directly ingest or place in contact with your body have become a target for counterfeiters introducing some serious side effects.
More than 70% of the CBD products purchased at unlicensed CBD shops in the Los Angeles area failed after-market laboratory testing according to the SC Labs report brought by the United Cannabis Business Association (UCBA). More than half of the tested samples labeled as hemp or hemp-based did not qualify as hemp. Perhaps the biggest concern is the level of contamination which in some cases, were several hundred times the allowed limit.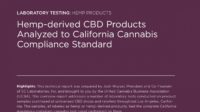 With the rise of synthetic cannabinoid agonists, some of them having a structure similar to THC, it is hard to keep track of the complete list. The majority of these chemicals are produced in Asia without standards or regulations. The most extreme case has been a version of synthetic cannabis laced with rat poison that led to several deaths.
Last year in Florida, synthetic THC was to blame for daily emergency calls to Poison Control. Poisoning cases linked to counterfeit cannabis edibles tripled between 2019 and 2020.
Vaping is growing rapidly in popularity. An illicit market has emerged and with it a rise in Vaping-Associated Pulmonary Illness (VAPI). Over a hundred cases have been reported in California contributing to over a thousand reported cases nationwide. 
Consumers pay a harsh and unnecessary price with their health, risking long-term damage or even death. If you don't know the source, it is very difficult to identify counterfeit cannabis products. Still, some telling points can help you identify the fakes:
Authentic-looking products available at dubious prices perhaps bought at a gas station or a convenience store.
Packaging that matches a reputable brand, without the brand's logo and missing required details such as an amount of CBD and THC per serving.
Missing laboratory testing information

Legitimate product manufacturers and brand owners suffer financial losses, as well as something even more precious – trust and reputation.
Essential elements of a brand protection program
Are you running a business in the cannabis industry? It is your top-quality product the customers want and not some third-rate knockoff. How can you provide your customers with the means to verify that their product is genuine? Let's weigh several methods.
1. Provide images and videos of an authentic item on your website
Pros:
Customers can visually compare the details of the product.
Cons:
Customers need to know your website and navigate to a specific page with product details. You need to capture several details of the product.
2. Label each item with a unique product code. Optionally use a hologram image as an additional anti-forgery
measure
Pros:
Customers can verify a single product code instead of several visual details.
Cons:
You must be able to generate unique product codes and maintain a database of these codes for later verification.
You need to implement a solution for customers to authenticate their product codes.
3. Use a product number authority like ProdNum to issue and validate unique QR product codes for you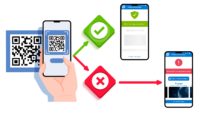 Pros:
Customers don't need to retype an alphanumeric product code, merely scan a QR code with a camera to get instant verification.
The manufacturer doesn't need to implement and maintain a custom solution.
Cons"
You need to arrange printing of the QR codes on the package or stickers you will attach to each product.
The inevitable drawback of a profitable cannabis business is the fact it attracts counterfeiters. Businesses and customers joining forces in the never-ending battle against counterfeiting is a winning scenario for both.