As a medical cannabis professional, I, like most industry leaders, have been left out of the conversation around the Governor's call to legalize recreational cannabis. Much like flying a plane without the advice of the pilot, those of us who are rooted in this space should be given a seat in the cockpit if we're headed in this direction.
While Governor Wolf has called for legalization, which is absolutely necessary, those who understand where legislation has gone wrong and what works well – including business owners and most importantly, patients – have been largely left out of the conversation.
I meet regularly with legislators and unlike many, I speak and listen to both sides. I applaud the call for legalization by Governor Wolf, however, I question his true intentions. Is this political posturing to make Republicans look out of touch? Any political strategist would say that if you actually want something done, you must work with the opposition. Like many issues today, change can only be created once we come together. This is no different.
Few people understand that cannabis was used as medicine for thousands of years and legal in the U.S. until 1969. In 1971, Nixon told us that cannabis was "bad" and drug abuse was public enemy number one, so Americans listened. Nixon then goes on to break American law, be impeached, resigns, and yet, Americans continue to follow his lead, vilifying cannabis users, 46 years later. As a society, we are taught to conform to what we are told by elected officials and community leaders as truth.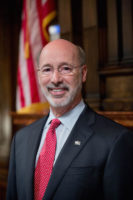 Act 16 legalized cannabis – a term illegal to use by someone like me, who has been mandated by The Commonwealth of Pennsylvania, to use ONLY the racist term "marijuana" – but in a way that shames users. The system fails our patients at every turn leaving business owners hostage to an unmanageable "seed to sale" platform, leaving many patients without access to their medicine. Low income patients have been left out of our program by high prices and have not received any of the subsidies they were promised, even though the program has produced hundreds of millions of dollars.
Pennsylvania law strictly prohibits anyone charged with the use of cannabis to work in the industry. You cannot own a cannabis business or work for a cannabis company if you have been arrested for possessing a $10 joint. Yet, my customers skip to their cars with hundreds of dollars of weed in their bags and go about their day. Meanwhile, a 19-year-old black kid's life just ended after he was pulled over, driving while black and the officer finds a joint. He can never receive financial aid for college or get a job because he has "a record." The reality is, the black teen's life will most definitely come to an end because of a joint while others can smoke walking down Broad Street and no one blinks.
Pennsylvanians want legal cannabis. It has a consistent history of reducing opioid deaths, state by state, by 25%. How many lives would be saved if we allowed those who cannot afford legal cannabis but fear prosecution for illegal use, to grow their own?
I have no judgement against those who have been conditioned to believe cannabis is an "illicit drug" because this is how we've been programmed. Cannabis has healed but has killed no one. We must educate our legislators before we vilify them. There are more Republicans quietly for legalization than against, but they need information, not shaming.
Legalization of cannabis is necessary to preserve our health and welfare, because we've become a society addicted to chemically derived pharmaceutical drugs designed to cause dependence. Cannabis is not physically addicting. It can prevent and eliminate seizures, shrink and even kill cancer tumors, settle the nervous system from diseases like Parkinson's and MS and help those with anxiety, depression and PTSD. Legalize cannabis and clean up our homelessness, allow people of color to profit from an industry which has capitalized on them, allow low income people and all people to grow their own medicine, and reduce the violence in our streets caused by prohibition.
Pennsylvania needs a legalization law that includes real, hard-working Americans. I am one of the few, born and bred small business cannabis owners in Pennsylvania and I want opportunity for my neighbors and fellow Pennsylvanians in this space. We need legalization to save our communities, but we need two separate application processes – one that is directed toward those disproportionately impacted by the war on drugs which should be crafted to protect applicants who cannot afford thousands of dollars of application fees and the uncertainty of losing hundreds of thousands of dollars via legislative delays. The system is broken. There must be two points of entry.
Pennsylvania Republicans will legalize cannabis. Pennsylvania Democrats will not. Democrats hold no power or authority in our Republican controlled state, and they have shown no attempt to educate. Cannabis legalization is necessary to save the state, but money should not be the reason. Pennsylvanians deserve the education to understand what they do not understand.
Instead, lets legalize and allow 50% of the licenses to be awarded to social equity applicants (those disproportionately affected by the war on drugs) with a bill that is written in the best interest of the social equity applicant and the consumer. The other 50% of the applications should be open to current license holders (who should be grandfathered in with a high price license acceptance fee) and small business owners from Pennsylvania. (It is federally illegal to require residency requirements).
We must not eliminate the Multi State Operators (MSOs) because a free market depends on expertise and stability – and whether anyone wants to hear it or not, being disadvantaged is not enough to be a successful businessperson. We need a balance, but more importantly, as with our nation in crisis, we need to come together.
We CAN… 
Provide affordable, non-addictive medicine to patients.
Allow people to grow their own cannabis.
Create BILLIONS in tax revenue nationally by taxing adult use cannabis.
Demand social equity reform where anyone can profit from the plant.
Free Americans from prisons and parole and expunge records.
All of this is a cry for peace. As a wise person once said, "Drunk men in a bar start a fight, high men start a band."  Spread peace not hate. Thousands die from excessive alcohol consumption every year, but legalization of cannabis does not increase usage. No one has ever died from cannabis. Tell me again why we shouldn't legalize? Those who believe we should not might as well push for alcohol prohibition again – it has no medicinal properties and kills.
Hopes and dreams will not help our humanitarian crisis – but action and education just might…