This is Part 4 in The 3-Legged Stool of Successful Grow Operations series. Click here to see Part 1, here to see Part 2, and here to see Part 3. Stay tuned for Part 5, coming next week.
Integrated Pest Management (IPM)
Aeroponic & hydroponic systems can operate with little to no soil or media. This eliminates the pest vectors that coco-coir, peat moss/perlite and organic media can harbor as part of their healthy biome approach. Liquid nutrient systems come at the nutrient approach from a different direction. Pure nutrient salts (nitrogen, potassium, magnesium and trace metals) are provided to the plant roots in a liquid carrier form. This sounds ideal for integrated pest management programs, but cultivators have to be aware of water and airborne pathogens that can disrupt operations. I will summarize some aspects to consider in today's summary.
The elimination of soil media intrinsically helps a pest management program as it reduces the labor required to maintain a grow and the number of times the grow room doors are opened. Join that with effective automation with sensors and software, and you have immediate improvements in pest access. Sounds perfect, but we still have staff to maintain a facility and people become the number one source of contamination in a grow operation.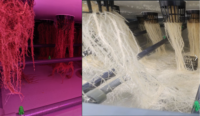 Insects do damage directly to plants as they grow and procreate in a grow room. They also carry other pathogens that infect your plants. For example, root aphids, a very common problem, are a known carrier of the root pathogen, Pythium.
Procedures
One of the most common ways for pests to access your sealed, sterile, perfectly managed facilities are in the root stock of outsourced clones. If you must start your grow cycles with externally sourced clones, it is strongly recommended that you quarantine those clones to make sure that they do not import pest production facilities into your operation. Your operation management procedures must be complete. If you take cuttings from an internal nursery of mother plants, any pathogens present in your mother room will migrate through cuttings into your clones, supply lines, and subsequently, flower rooms.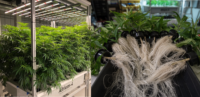 Start your gating process with questioning your employees and visitors. Do they grow at home or have they been to another grow operation in the last week? In the last day? You may be surprised by how many people that gain access to your grow will answer these questions in the affirmative.
Developing standard operating procedures (SOPs) that are followed by every employee and every visitor will significantly reduce your pest access and infection rates, and hence, increase your healthy harvests and increase your profitability. Procedures should include clothing, quarantining new genetics and cleaning procedures, such as baking or irradiating rooms to guarantee you begin with a sterile facility. This is covered more in the complete white paper.
Engineering Controls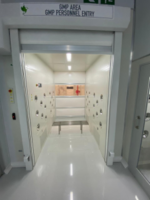 Technology is a wonderful thing but no replacement for regimented procedures. Considered a best practice, professional air showers, that bar access to internal facilities, provide an aggressive barrier for physical pests. These high velocity fan systems and exhaust methods blow off insects, pollen and debris before they proceed into your facility. From that access port into your grow space, positive air flow pressure should increase from the grow rooms, to the hallways, to the outside of your grow spaces. This positive airflow will always be pushing insects and airborne material out of your grow space and away from your plants.
Maintaining Oxidation Reduction Potential (ORP)
ORP is a relative measurement of water health. Perfect water is clear of all material, both inert and with life. Reverse osmosis (RO) is a standard way to clear water but it is not sufficient in removing microscopic biological organisms. UV and chemical methods are needed in addition to RO to clear water completely.
ORP is an electronic measurement in millivolts (mV) that represents the ability of a chemical substance to oxidize another substance. ORP meters are a developing area and when using a meter, it is important to track the change in ORP values rather than the absolute number. This is due to various methods that the different meters use to calculate the ORP values. More on this in the white paper.
Oxidizers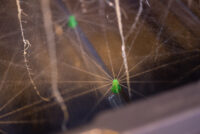 There are two significant ways to adjust the ORP of a fertilizer/irrigation (fertigation) solution. The first is by adding oxidizers. Examples are chemical oxidizers like hydrogen peroxide (H2O2), hypochlorous acid (HOCl), ozone (O3) and chlorine dioxide (ClO2). Adding these to a fertigation solution increases the ORP of the fertigation solution by oxidizing materials and organic matter. The key is to kill off the bad things and not affect the growth of plants. Again here, the absolute ORP metric is not the deciding factor in the health of a solution and the methods by which each chemical reaction occurs for each of these chemicals are different. This is compounded by the fact that different ORP meters will show different readings for the same solution.
Another wonderful thing about automation and aeroponic and hydroponic dosing systems is that they can automatically maintain oxidizing rates and our white papers explain the methods executed by today's automation systems.
Water Chilling
Another way to adjust ORP is to reduce the water temperature of the reservoirs. Maintaining water temperature below the overall temperature of your grow rooms is imperative for minimal biological deposition and nutrient system health. Water chillers use a heat exchanger process to export heat from liquid nutrient dosing reservoirs and maintain desired temperatures.
The benefit of managing ORP in aeroponic and hydroponic grow systems is highly accelerated growth. This is enhanced in aeroponics due to the effectively infinite oxygen exchanging gases at the surface of the plant roots. Nutrient droplets are sprayed or vaporized in parallel and provided to these root surfaces. Maximizing the timing and the best mineral nutrients to the root combustion is the art of grow recipe development. Great recipes drive superior yields and when combined with superior genetics and solid environmental controls, these plants will deliver spectacular profits to a grow operation.
Another Hero Award
Before closing this chapter, we have many cultivators that are producing stellar results with their operational and IPM procedures, so it is hard to choose just one leader. That said, our hats are off to RAIR Systems again and their director of cultivation, Ashley Hubbard. She and her team are determined to be successful and drive pests out of their operations with positive "little critters" and the best water treatment and management that we have seen. You are welcome to view the 7-episode walkthrough of the RAIR facility and their procedures here.
To download the complete guide and get to the beef quickly, please request the complete white paper Top Quality Cultivation Facilities here.
Stay tuned for Part 5 coming next week where we'll discuss Genetics.