With much of the world shutting down and many of us forced to take refuge behind our own doors, we have some time to reflect on what actions led to this. There has been, in my opinion, a clear disconnect between our actions and health outcomes. We need to bridge this gap; We now have a moment to build that bridge. We can start by reassessing our endpoint measurement of health and disease and focusing on what leading measures will impact our lagging results. Think of it as HACCP-lite or home office HACCP. Small changes in the way we think and behave can lead to significant change.
Lagging measures – Lagging measures make great headlines and typically measure an outcome. These are easily quantifiable and therefore receive a good deal of the focus.
Leading measures – Leading measures are inputs that happen during the process and in advance of an outcome.  Leading measures are often difficult to quantify.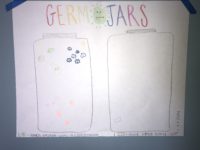 We are currently focused on the lagging measures for a communicable disease, COVID-19. Illness and death numbers stemming from the pandemic continue to rise, as is expected with more available testing. It is easy for us to dwell on these numbers as they climb and dominate the news. A study in Australia last decade indicated that just over 1% of those experiencing flu like symptoms sought treatment and eventually got tested. I'm not going to use the tip of the iceberg cliché, but there it is. Focusing on the rapidly rising rates of COVID may be easy to do, but it won't help our future selves.
What we should be doing during this time, however, is looking at our own leading behaviors and how changing them can help prevent this situation from reoccurring.
Here are some inputs we can rethink:
Hand washing – The average American uses the restroom 6-7 times per day. This week I started a "Germ Jar" activity with my kids (spring break week!) to track washing. If we wash our hands every time we use the restroom and every time we eat, that's roughly 10X per day. Our leading indicator of household health, then, is 10 hand washes per day. This principle can, and should be applied to workplaces, including schools, airports and hospitals. What if we had mandatory handwashing prior to airport security and boarding? My estimation is that data would indicate a sharp decline in illness and transmission rates.
Disinfecting/Sanitizing – Similar to hand washing, cleaning surfaces serves as a vital indicator of future health. Examples, such as this District in Freeport, Il, indicate that increasing frequency of disinfecting can lead to a dramatic decrease in numbers sick. In my new office setting, we have set a goal via the Germ Jar of 3 times per day wiping down high touch surfaces. As we reenter close-proximity society, we need to have a better understanding of what high touch surfaces are, both for those who are tasked to clean them, as well as those that are doing the touching. Reduction of touches coupled with above washing behaviors post-touch can help prevent disease transmission.
Monitoring – Lastly, we need to do a better job at monitoring ourselves and our environments. In my new office, we have enacted a temperature check every morning and night. If we practiced symptom reporting (coughing, sneezing, chills) and monitored temperature in other settings, such as offices and schools, could we start to see pockets of infection and trends? Taking it a step farther, while we invest a tremendous amount of time and money into protecting our food supply from foodborne illness, we rarely discuss preventive monitoring for other diseases, such as influenza and now COVID-19. Technologies are rapidly coming available that will allow us to perform quick diagnostics of both individuals and environments. If we were to monitor the air and surfaces of a school nurse's office, would we find data that could prevent transmission of disease? Can we transfer HACCP-lite to additional (all) settings?
Over the next weeks and months, we are going to be inundated by the spike in COVID illnesses and deaths. During this time, it is on each of us to realize how our past behaviors led to the state we are in. When we return, viruses will not be absent from the world, our hospitals, schools, offices or our bodies. We can, starting now, begin to measure and change our leading behaviors and begin to shape a healthier future.