In 2002, Dale Katechis revolutionized craft beer. A seemingly simple packaging decision, putting craft beer in a can, sparked an international movement and put craft beer on the map.
Before the craft beer market really gained steam, consumers associated good beer with glass bottles and larger brands selling cheap beer with cans. Through education, creative marketing and a mission to put people over profits, Dale helped the craft beer market expand massively while sticking to his roots. He also managed to convince people to drink good beer from a can.
When Dale founded Oskar Blues about twenty years ago, he didn't just succeed in selling beer. Through collaboration and information sharing, Dale propelled craft beer as a whole and lifted all boats with a rising tide. He's hoping to achieve similar results with his new role in the cannabis space.
Veritas Fine Cannabis, the first craft cannabis cultivator in Colorado, announced that Dale joined the company's leadership team. Jonathan Spadafora, partner and head of marketing and sales at Veritas, told us that he's excited about working with Dale. He says Dale is already helping them open a whole world of branding and marketing opportunities. "This is our Shark Tank moment – we've got someone who's been through the fire before and will help us keep differentiating, finding new avenues and new ways to solve problems," says Spadafora.
His colleague, Mike Leibowitz, CEO of Veritas, shares the same sentiment. "Dale maintained company culture and quality as he grew Oskar Blues into a household name," says Leibowitz. "Maintaining our unique company culture is paramount as we work to build Veritas Fine Cannabis into the same."
Dale's role in the leadership team at Veritas is about sticking to his roots. Through raising industry standards in the best interest of quality products and consumers, the team at Veritas hopes to expand the brand nationally, just like Oskar Blues did, while instilling a culture of disruption and innovation without compromising quality.
We caught up with Dale to learn more about his story and what he hopes to bring to Veritas, as well as the cannabis industry at large. And yes, I had a couple of Dale's Pale Ales (his namesake beer) later that evening.
Aaron Biros: Your success with Oskar Blues is inspiring. Taking an amazing beer like Dale's Pale Ale and putting it in a can sounds simple to the layperson, but you launched a remarkable movement to put craft beer on the map. How do you plan to use your experience to help Veritas grow their business?
Dale Katechis: I am hoping that I can apply some of the lessons that I've learned through making mistakes of growing a business from the ground up. There's obviously a lot of road blocks in cannabis and that is certainly one of the qualities of Veritas – how they've grown and how they had to do it in an environment that is much more challenging than the beer space.

My experience in small business development could potentially help them navigate this next renaissance of the space. I'm going to help them compete and bring the industry to a level that helps everybody win. I certainly felt that way in the craft beer movement. It was very important to us to bring the whole industry along because we were educators, we weren't salesmen. In doing that, lifting everyone to a level where the industry benefits as a whole is a part of small business growth. To me that's the most fulfilling part. It wasn't just about the Oskar Blues ego at the time, it was about the craft beer scene. And what's happening in cannabis now is very similar to what happened in the nineties with the craft beer scene.
Aaron: How did you get interested in joining the cannabis industry? What made you choose Veritas?
Dale: Most of my life, I've been an enjoyer of cannabis. Very recently, in the last two years, I've been intrigued by getting involved in the space. I've been shopping around for opportunities and nothing really excited me until I met Jon Spadafora and Mike Leibowitz.
It was really the two of them, the comradery and how they treat their staff that was so similar to the culture at Oskar Blues. Call it a "passion play" if you will, but this was the best opportunity to get involved with a small company and hopefully be a value add for them being in the room and sharing ideas.
Aaron: As a pioneer and leader in the craft beer space, do you notice any commonalities between the growth of the craft beer market and the legal cannabis market?
Dale: It is kind of crazy how many similarities there are. Not just the industry as a whole, but specifically the commonalities between my business, Oskar Blues, and Veritas. Overall, that's really what allowed me to want to lean in a bit more. I wasn't in the place where I wanted to start anything on my own. I didn't want to be involved in fixing anything. I've been involved in those situations before and I'm at a point in my life that I don't want to fix anything. Thankfully there's nothing that needed to be fixed at Veritas. That was an exciting piece of the equation for me.
Back to your question, how the consumer looks at cannabis versus how the consumer looks at beer in the craft beer space is very similar. There is a bit of an educational piece that's happening where it's almost a requirement in the cannabis industry and Veritas is leading that charge out front.
That's what's going to catapult Veritas and other companies if they follow suit. It's their mentality and their philosophy of bringing the industry along as a whole, and I think it's going to end up boding well for the consumer. The craft beer space was the same.
We had to educate people on a beer can and why we felt like a can of beer was important and exciting. The industry and the consumer associated cans of beer with large, industrial lagers and the can got a bad rap as a result. Not because it wasn't a great package, but because they were putting bad beer in a good package. So, we had a long road of educating the consumer on the benefits of the can and I think what Veritas is doing with packaging now, how they use quality as such a fundamental pillar of their business, how they focus on the employee experience and the consumer experience sets them up for success, instead of just looking at the bottom line.
I've said it throughout my entire career, and at Oskar Blues, we never focused on the profits. You do the right thing for the biggest group of people moving the ball forward and the bottom line takes care of itself. Jon and Mike understand that so I don't need to fight that battle. It's another big similarity to the craft beer space.
Aaron: How can cannabis companies keep their craft? How can we, as an industry and as individual businesses, celebrate craft cannabis and follow in the footsteps of independent craft beer?
Dale: I believe that we're starting to see some of that consolidation [that has been taking place in the craft beer market]. We're at a time in the market right now where companies with such a solid foundation like Veritas don't need to go that route to grow. I think we'll start to see a lot more consolidation in the cannabis industry soon.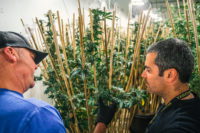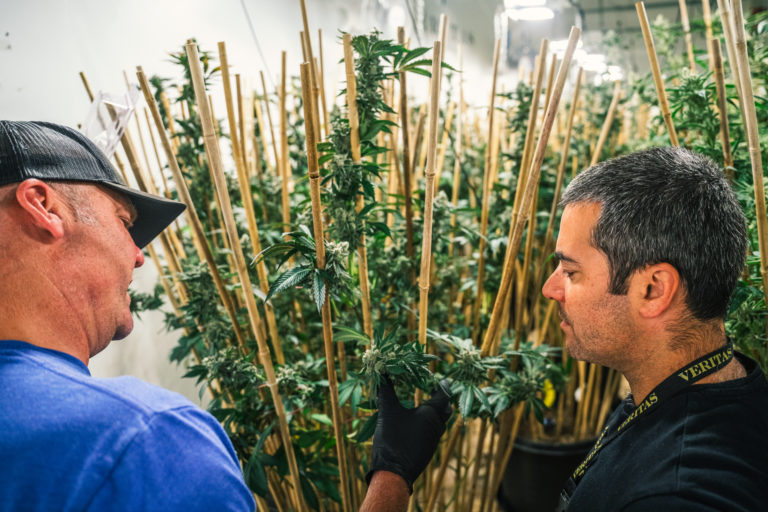 Back to the point of bonding together as an industry and as a whole. Championing some of the regulatory hurdles that are coming and sticking together is crucial. One company can't do it. There's going to have to be some comradery in the industry among everyone trying to hold the bar up high instead of racing to the bottom. You die by a thousand cuts. I've lived that life in craft beer and we saw what happened 6-7 years ago when the industry overexpanded because of exponential growth. A lot of egos got in the room, and a lot of breweries spent a lot of money building out capacity and then that same year the market popped out. Everyone who didn't have a solid foundation, got washed out of the industry.
That's why I appreciate what Jon and Mike are doing and how they built Veritas. It's very similar to how we built Oskar Blues. We had humble beginnings; we didn't spend money on things outside of our core competency. We focused on quality, employee experience, morale and holding on to the culture of Oskar Blues. That's what Jon and Mike are doing with Veritas and I think that's really important.