Here's some news that might sound familiar: recently, Governor Andrew Cuomo insisted that cannabis would soon be legal in New York. Perhaps this seems like déjà vu given that he made the same pronouncement back in 2018, insisting that cannabis would be legal in the Empire State by 2020.
Might this simply be wishful thinking on Governor Cuomo's part? Perhaps, but if cannabis is, in fact, legalized—whether this year or anytime down the road—it'd be a boon to cannabis entrepreneurs looking to expand into New York and capitalize on the vast resources of its citizenry. Still, by virtue of the inherent challenges and question marks related to legal cannabis in the state, these would-be cannabis titans should keep their excitement in check.
Questions Abound
When any jurisdiction considers legalizing cannabis, uncertainty follows. In the case of New York, the questions are many: Will the recreational use of cannabis be legal or just further decriminalized (as was done last year)? And if recreational cannabis is given the green light, what sort of distribution regulations will be in place; where will it be permitted to be sold; will the four-dispensary limit remain in effect; and what'll the parameters regarding growing in state be? To properly formulate New York business plans with eyes wide open, players in the cannabis biz must be given answers to these and other related queries that are crystal clear.
Does Cannabis Equal Revenue?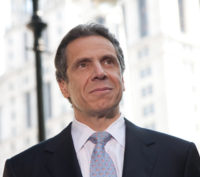 No doubt about it, Governor Cuomo was beyond enthusiastic when he publicly promised for a second time that legalization of cannabis is coming later this year, citing the $300M in potential tax revenue the state can glean once that mission is accomplished. Yet this guarantee and income forecast might be best taken with a grain of salt in light of New York's history when it comes to legal vices. Remember, the state managed to run off track betting into bankruptcy, partially as a result of oppressive taxation and the OTB being staffed with political cronies. No wonder former Mayor Rudy Giuliani called OTB "the only bookie joint to ever go broke."
Consequently, New Yorkers and cannabis entrepreneurs must adopt a bit of skepticism when it comes to the "pot of gold" at the end of the "legalized cannabis rainbow." This is especially true given the downturn of the cannabis business in Canada, as reported by the New York Times. According to the news outlet, the cannabis slump up north can be attributed to several factors, including an extremely slow licensing process; limits placed on the number of licenses issued to distributors; marketing restrictions (e.g., how, where, and to whom cannabis companies can market themselves); and infrastructure challenges. Is it realistic to think things would be any different in New York?
MedMen: A Case Study
To avoid the current fate of the legal cannabis business in Canada, adopting a streamlined and open-minded regulatory framework that translates to a robust and healthy cannabis economy within the state will be essential. However, New York's track record so far—at least as it pertains to medical cannabis—isn't very promising. The case of MedMen on Long Island is illustrative.
Colorado's economic success story—both in terms of growth and tax dollars—is a model to emulate.Late in 2018, MedMen, the best-known cannabis retailer in the U.S., attempted to change the location of its Nassau county medical cannabis dispensary from Lake Success to Manhasset, New York. This effort was met with outrage and vocal resistance from civic leaders, who objected to the proposed move, despite the fact that it was within the very same county. The stated reason: MedMen's sought-after location was in close proximity to an elementary school and within the town's main commercial district. But certainly, the stigma that attaches to the cannabis world (legal or not) was also squarely on the decision-makers' collective radar screen, which overshadowed the potential tax revenue that MedMen would've brought to Manhasset. No surprise, in light of the perceived obstacles and push back, MedMen scrapped its relocation plans.
The moral of that story is this: players in the cannabis industry must effectively make their cases to New York public officials, and regulators, in turn, must make informed decisions that best serve communities throughout the state and the growth of the cannabis sector, more generally. Colorado's economic success story—both in terms of growth and tax dollars—is a model to emulate.
Common Sense Regulation Is Key
In his quest to legalize cannabis this year, Governor Cuomo will continue to be confronted with his share of naysayers, like those from the County Health Officials of New York who persist in expressing serious concern about cannabis reform. In the face of such opposition, he must make clear that like cannabis plants, cannabis businesses need room to grow—and the benefit of reasonable, common sense regulation—in order to foster a healthy crop of thriving cannabis-related companies . . . and the tax revenue that comes along with them.